Red flashing lights, fog, loud music and students with glow sticks filled the stands of the Hutto-Patterson gym. No, it wasn't a rave. Ladies and gentlemen, it's basketball season.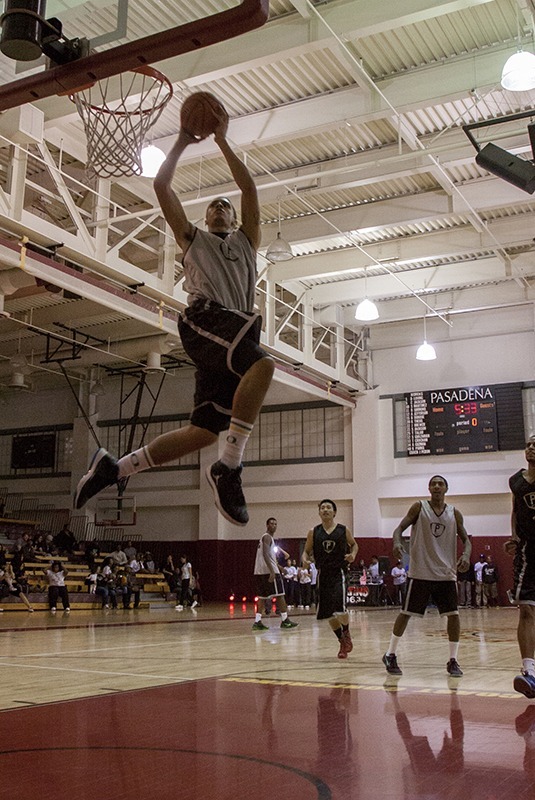 The Pasadena City College basketball programs held their annual Night of Madness event on Oct. 10.
"To us, midnight madness means it's here, it's time," said sophomore forward Averie Guzman. "It reminds us the season is coming and gets us pumped. It gets us ready, and knowing that the other athletes are here to come and support us just means that it's game time. It's time to win."
A huge inflatable screen set the backdrop for performances from the school's band, dance and cheer teams, and of course, both basketball programs. The emcee warmed up the crowd, which was a mix of athletes from almost all sports programs, staff, and students, with giveaways and trivia while waiting for both teams to make their entrance.
As fog filled the left hand corner of the stands, all eyes moved toward the big screen where each players' bio and technologically enhanced dancing image appeared as they individually made their way out onto the court. Shortly after, the women's team showcased their moves – dance moves that is, and a favorite with the crowd.
"Its fun, and we are with our teams the whole night. That's the best part," said Guzman.
Following that both teams gave the audience a sneak peak at what to expect this season with drills and light scrimmaging while pom-poms and megaphones were being handed out.
"I had to do this for a project, and I wanted the free giveaways," said student Sarah Ruben, a first timer at Night of Madness. "It's really cool."
Finally, a dunk and 3-point shooting contest topped off the last of the main activities. Pretty soon the court turned into a dance floor as the DJ played music until midnight.
November 7 will mark the start of the season for the men's basketball team at Ventura College, as the women's team hosts their home season opener on Nov. 14.
Latest posts by Tiffany Roesler
(see all)