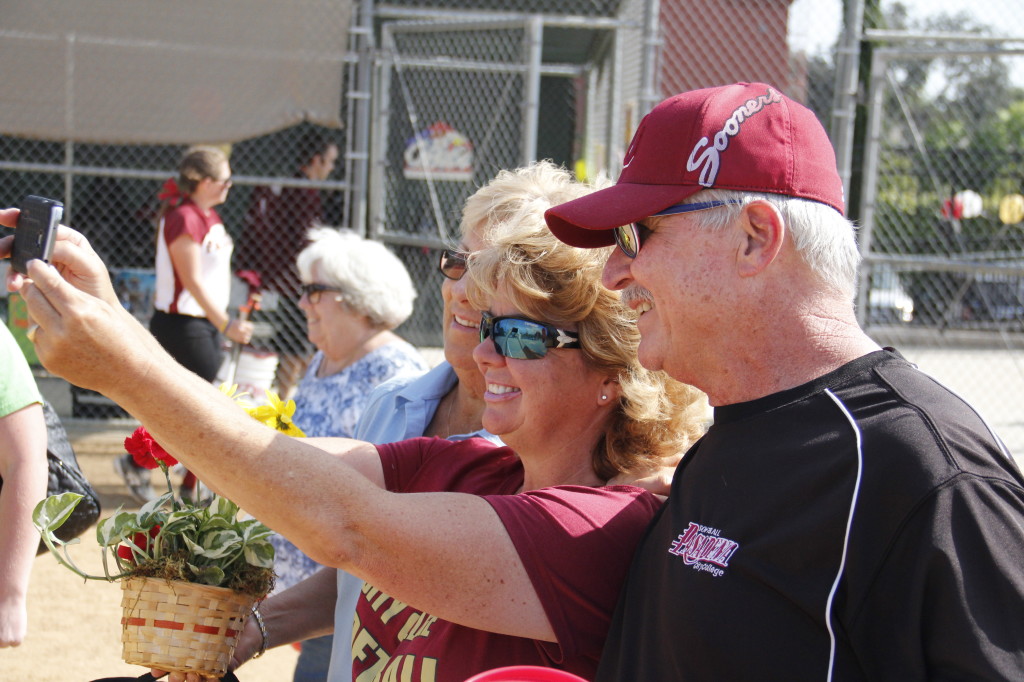 PCC softball honored veteran assistant coach Mary Geer, who is saying farewell to the softball program after 21 seasons, prior to the 2014 season finale held on April 22 against co-champions East Lost Angeles College. Geer threw a ceremonial first-pitch before the game.
The Lancers finished 13-25 overall and 5-6 in the South Coast Conference, placing sixth under first-year head coach Monica Tantlinger. Tantlinger was the fifth head coach that Geer aided in her time at PCC. During her career, Geer helped the Lancers make 12 playoff trips, all under former head coach Sandi Iverson (1980-2007), and was part of the 2001 National Fastpitch Community Colleges Coaching Staff of the Year.
"I don't see her not coaching anymore," said designated hitter Audrey Serna. "I'm shocked she's retiring because I know she has so much passion for the sport. She's pushed me to my breaking points, but I have become a stronger person by her doing that."
Seven sophomores were also honored alongside Geer. Serna, catcher Allie Lacey, first baseman Sara Quintero, shortstop Maddy Gianoli, pitcher Casey Ramirez, centerfielder Vanessa Contreras and leftfielder Viviana Ordaz all finished their two-year careers as Lancers.
In both her seasons at PCC, Serna led the Lancers with the highest batting average with .408 in 2013 and .426 in 2014 and had the highest on-base percentage with .492 and .524. She also contributed the most home runs, averaging two per season. Lacey recorded the second highest batting average this season, batting .375 with the second highest on-base percentage at .451.
Ramirez, who was voted most-inspirational, appeared in 27 games, and led the team in innings pitched with 113 as well as complete games with nine.
Despite losing strong hitters and starting pitcher Ramirez, PCC will still see the return of aggressive players such as third baseman Karen Najera, designated hitter Jennifer Pegg, second baseman Justine Zavala and pitcher Breanna Rodrigo.
"We may not have won every game, but we competed with each team," Pegg said. "We had our ups and downs like every other team. Some games we were very close, but mental errors were what killed us."
Najera led the team in assists, recording 81 with a fielding percentage of .912. Rodrigo, Pegg and Zavala all had fielding percentages above .900. The Lancers had at least 10 one-run games and lacked timely hitting, something even their stronger defense couldn't make up for.
"Disappointing is a rough word, because I don't necessarily want to have a negative tone," Tantlinger said. "Some [of it] was disappointing but a learning experience. I think the team would agree. They think that they should've finished higher which is good. I want that hunger. I'm happy with the season but definitely not satisfied."
Latest posts by Tiffany Roesler
(see all)