Bullying, body image and sex were the topics of discussion on March 27. when adult film star Kelly Shibari spoke to professor Hugo Schwyzer's Humanities 3 class. Shibari is the third adult film star to visit PCC this semester as part of Schwyzer's guest speaker series.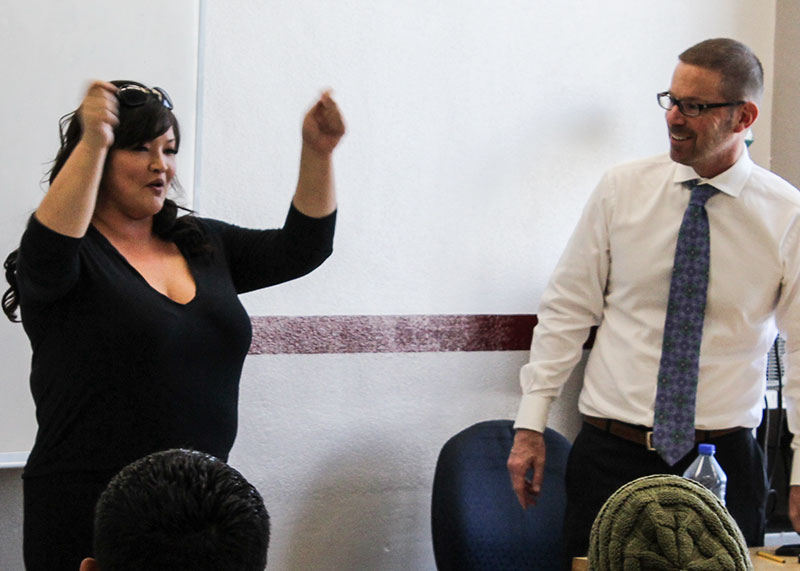 "She has the advantage of being the third speaker with the chance to connect with someone about ending shame, finding pleasure and transforming body image," said Schwyzer.
Shibari's talk with the class was different from the previous two speakers in that it not only had a more personal feel to it [Shibari recognized students in the audience and even hugged one as well] but the main topic was body image and the way we view ourselves. Don't say someone's pretty so I must be ugly. Say they're pretty and so am I, said Shibari.
Shibari who is a heavy-set adult film star; which in the industry is known as a bbw (big beautiful woman), told the class about her own personal experiences with body image issues.
"I was always a chubby kid. In Japan growing up, once you're picked on, you're picked on until you graduate. [But] now I'm like I make money being fat and having sex as my job, so F-you," said Shibari.
One student in attendance asked Shibari about struggling with judgment from other people because of the way you dress or sexual orientation.
"Judgment is so toxic, and the only thing you can do is not judge other people. If it makes you angry it's not a bad thing, but what you do with that anger is what's important," said Shibari.
Tatiana Zavala, psychology, felt that Shibari was supportive and sensible.
"She gave a really encouraging message and was down to earth, helpful and empowering," said Zavala.
Darryl Brown, sociology, felt Shibari was not only educational but helped clear up some things in regards to stereotypes.
"It was very educational; it covered a lot of areas I needed to clear up regarding stereotypes with bbw's as well as the rest  of the porn industry," said Brown.
Latest posts by Paul Ochoa
(see all)