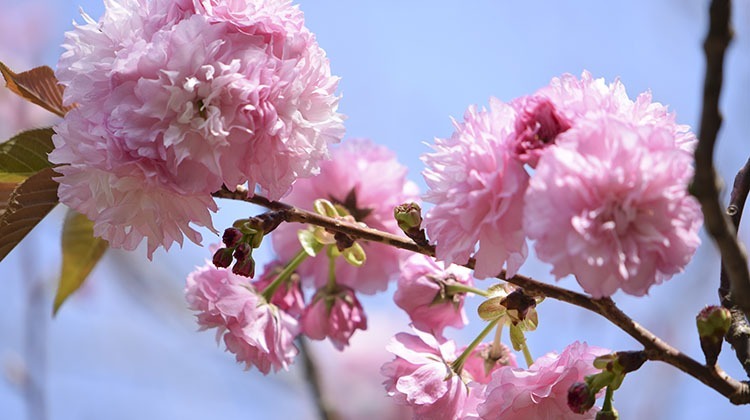 Located in La Cañada Flintridge among acres of woodland is Descanso Gardens. Formerly owned by Elias Boddy, this botanical garden hosts a plethora of horticultural displays as well as the annual Cherry Blossom Festival, held from March 21 to the 22, where visitors enjoy the cherry blossoms in bloom.
During the month of March, when most flowers are in bloom, Descanso Gardens opens up its gates to visitors to view its many species of cherry blossom trees and enjoy a festive atmosphere complete with origami instructors, musicians, garden tours, and a Japanese-inspired food menu.
"In our garden we have organized the roses by an international concept," said Carl Spencer, a docent for the garden who led visitors around the various garden paths.
For visitors who want to learn more about the different types of species that inhabit the garden, they had an option of taking a walking tour with an experienced tour guide. Besides talking about the history of the garden, the guide led guests to all of the cherry blossom trees that are littered throughout the estate.
The garden hosts several different species of cherry trees. Although most guests came to see the infamous cherry blossoms, Spencer made sure to point out other notable plants and flowers too.
"One of the plants that your will see throughout the garden is the crab apples," said Spencer, who went on to point out weeping willows, river birches, and the garden's impressive camellia collection—the largest in North America.
Spencer, as well as other docents, pointed out prime photo taking opportunities and allowed guests to linger in front of cherry blossom trees to take pictures. He was also quick to point out the work that the garden was doing to preserve its large collection of plants and to make sure that it didn't waste water, especially since it sustains a lake and several streams.
"We recycle all of our water," said Spencer. "Most of that water comes from the hills."
Although guests enjoyed all of the sights, a favorite spot was by the Japanese Garden where pink cherry and plum trees were in bloom. There, numerous visitors paused to take pictures and admire the orange bridge hidden among the trees and the koi-filled stream.
Also located in the Japanese Garden was the Camellia Lounge. The teahouse was opened for the Cherry Blossom Festival and served Patina's Japanese-inspired food. The high-end restaurant group also provided drinks and desserts.
Across from the Camellia Lounge was origami folding with Yami Yamauchi. Seated in front of the traditional Japanese farmhouse building, Yami, along with two other origami masters, taught children and adults several paper folding techniques.
"It's always fun and challenging to teach large numbers, regardless of age," said Michael Sanders, one of the origami masters that worked alongside Yamauchi. "I enjoy entertaining and folding for people as much as I do teaching it."
Visitors could also enjoy music under the Oaks Theater situated across from the Japanese Garden. On Saturday, Minyo Station, a popular band, infused Western pop with traditional Japanese music to create an enjoyable experience for guests. On Sunday, June Kuramoto, a classically trained musician, played the koto, the national instrument of Japan.
"I got bullied as a child for playing 'grandma's' music," said Kuramoto. "So I tried to blend Western music with the Japanese koto."
During Sunday's performance, Kuramoto played alongside member Kimo Cornwell of Hiroshima, a Japanese-American fusion ensemble.
The duo blended the koto and keyboard effortlessly, playing original compositions as well as Japanese classics that could be heard throughout Descanso Gardens.