A hungry mind can create an appetite for students putting in the time, and energy at school. PCC is a diverse ecosystem of culinary cultural backgrounds, and when hunger hits, there are certain dishes that are the unequivocal comfort food that have one's unique spin on an otherwise common recipe. The recipe below was submitted by Ken Juan, a biology major and student in HOSP 015 – Industry Culinary Foundations 1 with professor Chef Colleen Nanno, he plans to transfer to UC Davis, with hopes to become a veterinarian. Ken loves animals, admits that his love for eating them is contradictory, but agreed to submit a recipe that is his go to meal after a long day at PCC. 
"My kimchi fried rice recipe was made by looking at youtube videos and Korean food recipes online. I drastically changed the recipe infusing different types of spices and textures, but it is easy to make" Ken stated in an email.
Ingredients:
Kimchi

Day Old Rice

Sesame Seeds

Black Pepper

Leftover meat/short ribs

Sesame oil

Beef Fat

Fresh Mozzarella

Truffle Hot Sauce

Gochujang pepper paste (korean chili paste)

Buldak Sauce

Garlic

Corn

Salt (optional)

Egg (optional)

Seaweed (optional)
Instructions:
Take the kimchi out and crush its juices into another bowl. It will be used later. Chop up
the crushed kimchi into bite size pieces.
Mince the garlic and set it to the side.

In a non-stick pot or small pan add sesame oil and allow it to heat up for 30 seconds.
Add garlic in and once fragrance is out add in the crushed kimchi. Stir Fry until the
kimchi turns translucent.
Add in the leftover meat and corn. Allow it to warm up for about 30 seconds. Add in the
rice and break apart the rice. Stir to combine.
Add the kimchi juice back into rice and mix it. Add Buldak sauce, Gochujang pepper
paste, Truffle Hot Sauce in the pan and mix well.
Add Mozzarella in and place on top of the kimchi rice. Cover it with a lid and allow it to
steam for 30-60 seconds.
(optional) allow the rice to crisp up on the sides of the pot by cooking for an additional
2-4 minutes.
(optional) make a sunny side up egg on the side.

Serve and garnish with black pepper and green onions/seaweed.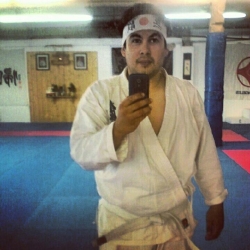 Latest posts by Michael Leyva
(see all)