After a brutal three game losing streak, the softball team managed to turn things around and kick start its longest win streak of the season.
"It's early in our season," head coach Monica Tantlinger said. "I just keep telling our kids that we just need to stick with the process of playing good softball. We may not always get the result we want, even when we play good softball. But if we can have routine plays, get timely hits, and have a good pitching performance, we're going to put ourselves in a position to win. I think that we refocused on what it was we needed to do and the goals we wanted to reach and it helped us in those four games."
The Lancers defeated East Los Angeles College 8-4 Tuesday at East Los Angeles.
Shortstop Danielle Ruiz and pitcher Austyn Helmuth are two of the biggest reasons for the turnaround. Ruiz went 5-for-12, 8 runs scored, 3 RBIs, 7 stolen bases and 5 walks in the four games. According to the California Community College Athletic Association, Ruiz now ranks 1st in walks, 3rd in steals and 29th in on base percentage in the South Coast Conference.
"Having the type of coaching that I have now, it really helped boost my confidence," said Ruiz. "Coach T is such a great coach and it really helped me throughout my performance."
Helmuth came in for the save at the bottom of the 5th inning. She earned the save by only allowing 2 hits, 1 run and a walk. According to the California Community College Athletic Association, Helmuth has recorded most saves in the state. 
"I prefer closing because I like to see what the hitters can do and what I can throw at them," said Helmuth. "I'm more a movement pitcher. I don't have the fastest pitches in the world, but I do have ones that can come in really tight and be really slow and have them chase after them."
In the second game, PCC defeated Compton College by way of mercy rule 14-2 Thursday at Compton College.
Ruiz led the team offensively by hitting 1-for-3. Ruiz scored 3 runs, had 3 RBIs and two walks. 
"I like to get deep into the count," said Ruiz. "I like to make pitchers work for what they earn."
Left fielder Miranda Padilla went 3-for-3, scored 3 runs and recorded a walk.
Helmuth not only pitched in all four games, she pitched all five innings against Compton, while only giving up 5 hits and 2 runs.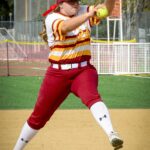 PCC hit 16-for-32. They recorded two doubles, one triple and 5 stolen bases. The rout was on after the 3rd inning. The Lancers Scored 4 runs in the 3rd inning and 7 runs in the 4th inning. This is the second time PCC has defeated Compton College this season. The first time they played Compton College they defeated them 17-0 by mercy rule. 
"We have three pitchers," said Tantlinger. "Austyn threw three innings in the game against Citrus and then turned around the next seven innings against Santa Ana."
The Lancers defeated Citrus College 7-4 Friday at Citrus College. 
The win gave PCC a winning record. Second baseman Ahylie Rosales and third baseman Samantha Diaz led the charge from the plate. Diaz hit 1-for-3, 2 runs scored, an RBI and a walk, while Rosales hit 2-for-2 and recorded 4 RBIs. 
Once again, PCC did the bulk of its damage in the 3rd inning. It started when catcher Melony Hernandez singled up the middle. A few plays later Hernandez stole second base. Every play after that was either a single, walk or sacrifice fly. The Lancers played up to its standards of getting timely hits and routine plays. 
PCC defeated Santa Ana College 3-1 Friday at Citrus College. 
This was the Lancers second game of the day. Centerfielder Olivia Nanez hit 2-for-4, 2 runs scored and an RBI. 
"Our coach at practice, she gave us a suggestion of splitting the plate in half, "Nanez said. "I look for pitches that are more on the inside or down the middle of the plate."
PCC will try to extend its winning streak when they face Long Beach College City College Tuesday 2:30 p.m. at Robinson Park. 
Latest posts by Kevin Seavers
(see all)