The PCC women's volleyball team defeated the higher ranked Moorpark Raiders 3-1 last week to secure a four win streak by sticking together and remaining mission driven throughout the match, according to head coach Mike Terrill.
The players wore matching ribbons in their hair, and after each rally—whether or not they got a point—the players on the court would do a quick huddle for support.
"We came from behind in those last couple sets, and we just showed a stick-to-itiveness," Terrill said. "I think we have to leave feeling really good and confident about our ability to always climb out of any deficit. The belief and trust in each other, I thought that was our biggest strength."
The match started off strong for the Lancers, who won the first set with confidence. The Raiders then turned up the heat and won the second set. The Lancers persevered, however, and managed to win the next two sets, but not without a decent fight from the Raiders.
Makayla Chiechi is one of the team's liberos, a special defensive position at the back of the court. The libero must also be a good team leader. They watch the opponent carefully and report good spots to strike, according to the athletes social network GMTM.
Makayla believes that the team's performance was due to their sustained energy throughout the match.
"Sometimes we fluctuate with our energy," Chiechi said. "I think we were able to take this team because we stayed high energy, and we were encouraging each other the entire game."
The best athletes are the ones that can stay focused and present for the longest amount of time, according to Terrill.
"We are all very good volleyball players, but if we could work on being in the present moment and on what we are going to do next we could really fulfill our potential," Terrill said.
The Lancers did well last year, winning 23 out of 25 matches, according to PCC. Although only one player, the setter Bia Silva, is returning from last year, the Lancers are starting the season strong with four wins out of six matches. If they are able to maintain energy and focus all season, maybe the trend can continue. The Lancers are ready and excited for this challenge, according to Makayla.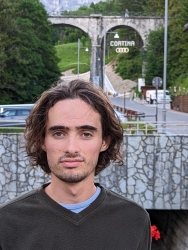 Latest posts by JD Alibrando
(see all)