On Friday the men's soccer team dominated El Camino College Compton Center with a final score of 5-2 at home in Robinson Stadium.  But more importantly they finish 7th in Southern California, sending them to the first round of the playoffs.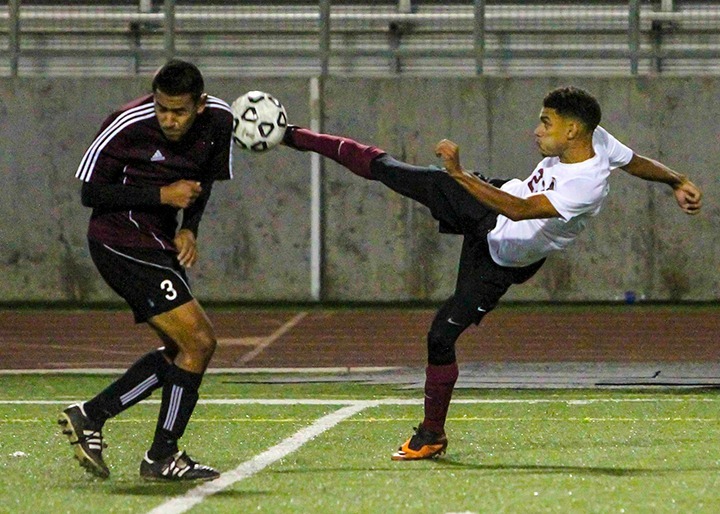 The Lancers will play Oxnard College (number 10 in Southern California with a record of 15-5-1) in the first round of the playoffs on Saturday Nov 23 at Azusa Pacific University at 2pm.
Pasadena gained home field advantage, but the soccer field at Robinson Stadium field is not wide enough to host an official game, so the Lancers play their 'home' game at an available nearby field, this time Azusa, last year the women's soccer team played at Occidental College.
The Lancers finished their conference season with a 7-4-3 record and 8-6-7 record overall.
Pasadena's goal keeper Gaetano Perez finished fourth in state with 110 saves.
"I think we are good for playoffs, we are set, a good team." Sergio Benitez said.
The opening goal of the Friday game came after just four minutes. Benitez fought for the ball and then sped down the right line, crossing it towards goal.  Luis Flores flew into the 6-yard box head first, knocking it into the back of the net.
"Sergio took it down the line, he crossed it and I saw the opportunity to take a dive on it.  I dove, made contact and it went in," Flores said.
ECC then came back to score a messy goal.  The ball came in from a corner and bounced around the box, eventually finding its way to the back of the net.
Benitez scored the second Lancer goal in his signature style.  Breaking free, Benitez chipped the ball over the keeper, softly bouncing it into the goal.
Zach Larson scored the third and fourth goals.  The first, using his speed and dribbling skills, beat a couple players to launch the ball into the corner from 20 yards out.
His next one was from a mistake from the ECC back line, where he took the ball and neatly slotted it between the goalkeepers legs.
With 20 minutes left ECC Compton Center received a penalty which Raul Estrada slotted easily home.
But Chris Chemlekian scored the fifth for PCC, putting the game out of reach.
Latest posts by Benjamin Simpson
(see all)