A crowd of PCC students attended a meet-and-greet with Los Angeles Laker Girls Teresa and Jacquelyn at Carl's Jr. across the street from the school on Colorado Boulevard. The Laker Girls were taking photos with fans and signing autographs.
"[It was] such a great turn out," said Stephan Goldberg, Carl's Jr. manager. "What's better than burgers and hot women? It's a great way to promote both the Lakers and Carl's Jr."
Some students had been waiting for the Laker Girls for a while. "I knew they were going to be here about two weeks ago," said Bryan Aguillon, kinesiology. "I'm a huge Lakers fan and wanted to come out and show my support. I can only hope that they end the season strongly."
To other students who were just going out for lunch, the event had been a complete surprise. "I happened to walk into the restaurant to grab a bite and they were here," said Jose Palacius, accounting. "It will be cool to get a photo with them and brag about it with a friend [of mine.]"
Teresa and Jacquelyn were sporting their Carl's Jr. outfits at the event, smiles never faded as the line wrapped around the inside of the building at times. Their public relations team gave out t-shirts, hats and foam basketballs to the first few fans that got there.
The Lakers, on the other hand are not looking so 'hot' right now, sitting in 9th place, the team is a game and a half out of the eight seed, looking for a playoff berth. They have been plagued by injuries through out the season and have not been able to connect on the basketball court.
With all these troubles, Laker fans still have hope in their team. "I can only hope that they end the season strongly," said Aguillon. "They should have a chance if they make it into the playoffs."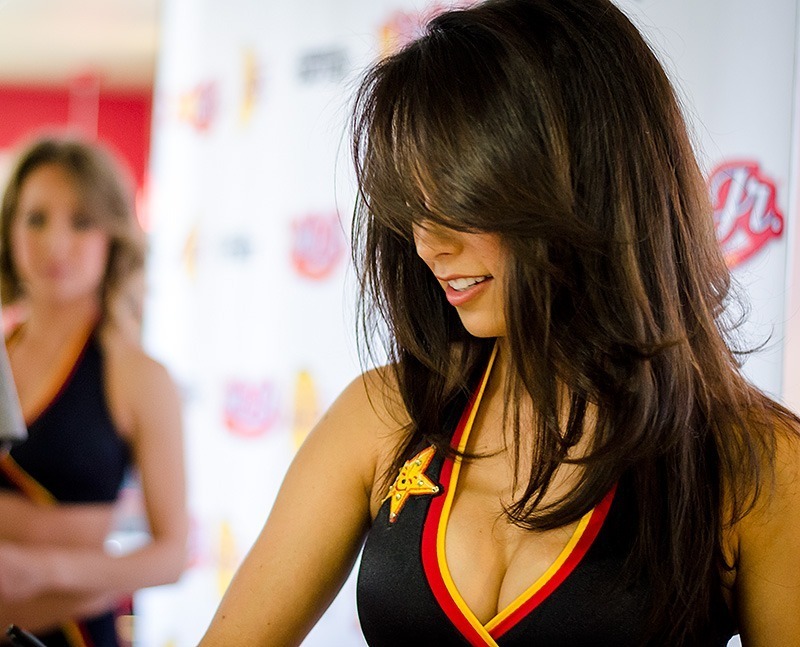 Latest posts by Philip McCormick
(see all)