Hundreds of people from the community witnessed history in the making at the Hutto Patterson Gym last week when 10 highly accomplished athletes, coaches and alumni were inducted to the PCC Hall of Fame.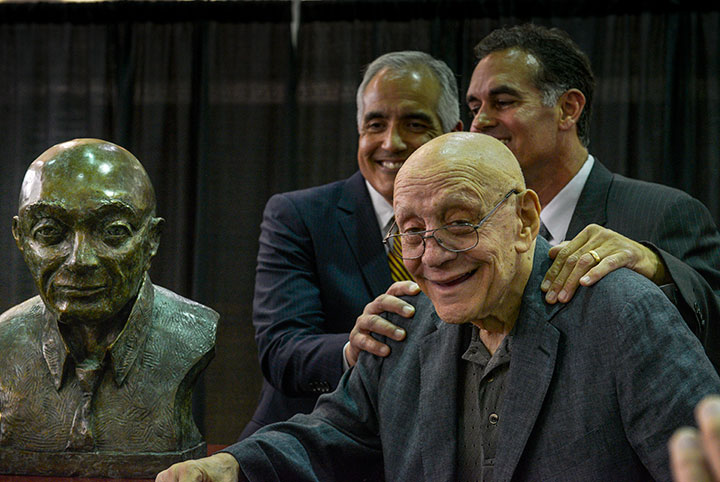 The highest honor was reserved for a quiet, fragile man in his 80s, who has made history beyond PCC.
Jerry "Tark the Shark" Tarkanian, a decorated basketball coach considered one of the greatest basketball coaches in California community college history, was immortalized with a bronze head bust that will be placed in the Dick Ratliff Court of Champions along with the busts of 16 other Hall of Famers.
Tarkanian could not come up to the podium to thank the college for his induction, but he sat with a smile across his face as his son Danny Tarkanian warmly accepted the induction for him.
Everybody got up to give a standing ovation, and rightfully so.
Master of Ceremonies Robert Lewis chronicled Tarkanian's accomplishments to the crowd, and the list was long.
Some highlights of Tarkanian's career include a record four community college state championships in a row, becoming a NCAA Division I championship coach with a .794 winning percentage overall in the NCAA, and in 38 years of coaching in which he never had a losing season.
"We were able to honor one of the greatest basketball coaches in the history of college sports, Jerry Tarkanian," Lewis said. "Reading Jerry Tarkanian's accomplishments and trying to show our appreciation as a college to him and his family—that was special for me."
After the induction ceremony, Tarkanian slowly moved with his walker to stand next to the bronze version of his head and took pictures with dozens of attendees.
Among the other inductees were tennis grand slam champion Anna Marie Bernstein, record-breaking quarterback Nathan Chandler, one of the school's leading rushers Addison Hawthorne, national hurdling record-breaker Grant Neiderhaus, 2004-'05 basketball State Player of the Year Dionne Pounds, 1984 water polo Olympian John Siman, former NBA player George Trapp, and 1982 track and field triple state champion Michael Turner.
Another inductee was gymnastic champion Bill Wolf, whose twin brother Dennis attended the ceremony as well.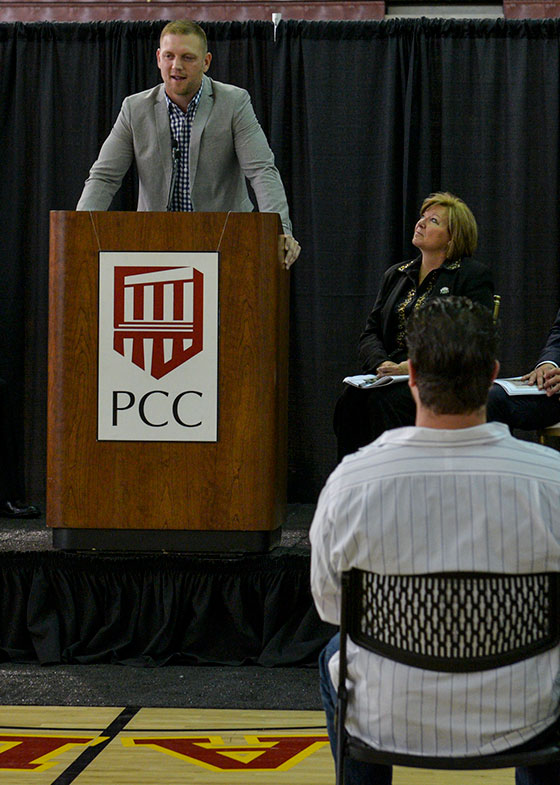 "I couldn't have done it without the PCC Foundation," Wolf said.
Wolf won the U.S. title in gymnastics in 1965.
Larry "The Hoff" Ross, a PCC "Golden Gloves" heavyweight boxing champion, PCC football receptions record-breaker and All-American honorable mention, was also inducted at the ceremony.
The induction was not only met with standing ovations, but also with sentimental tears.
All-American soccer player Jennifer Fish gratefully accepted her plaque with tears in her eyes.
"My dad never got to see me play," she said. Fish said she hoped her father would be proud of her induction into the Hall of Fame as one of the greatest soccer players in PCC history.
Lewis was honored to meet all of the inductees.
"That's important that people don't forget how much they meant to the PCC sports
success of the past," he said.
Latest posts by Christine Michaels
(see all)