The Pasadena City College Men's Basketball team is coming off an abysmal 2021-2022 season, finishing at an historic low record of 1-26. The whole season was filled with confusion at the coaching spots, constant lineup changes, and almost no consistency. 
However, looking at the new and improved coaching staff and lineup fans would never know how things went down last year. The Lancers are currently on an impressive 8 game win streak which is the longest in over 23 years. 
For this recent success we can thank newly instated Head Coach, Ryan Frazer along with Harrison Hayes and Spenser Nunes who are the assistant coaches also in their first year at PCC. The new approach that is being implemented is showing heavily on the offensive end, as this year's team is averaging more points and assists while maintaining a higher field goal percentage which is a noticeable improvement from last year.  
Comparing the last two seasons there is hardly any similarity with the two teams, in addition to the new coaches on the teams 14 man roster, there are only 2 returning players listed on this year's squad. Those two guards are Jordan Flowers, who was selected to the All Southern California Conference team last year and Brandon Torimanu, who was selected as an honorable mention. 
"It has definitely been a crazy turn around, but a much needed one," Torimanu said. "There aren't too many things better than playing for a team that not only wants to win, but one that has the talent and skill to go out and actually execute." 
Flowers has visibly got the short end of the stick with the quick transition of personnel, as his points and minutes are down compared to last season. But he continues to stay involved and is ready to make a difference when his name is called.
"I can easily choose to be frustrated with my minutes but that's a part of the sport. I'm glad we're playing winning basketball," Flowers said when regarding his new role.
Charles Jones is the third and final player who has been a part of both teams. Last year he was a consistent role player clocking in a solid 15 minutes a game, but this year he is taking part in being a redshirt which is a process that allows him to sit out of competition this year and save his eligibility for the 2023-2024 season instead. 
Jones is in a different position this season being able to raise his basketball IQ by watching the game and his team through a new and exclusive lens, building team chemistry, learning how he can make a difference and hit the ground running when it's his time to step on the court next year.
"I wasn't a huge fan of this decision at first but my coaches helped me see how I can really benefit from this route and really be a threat when next season arrives," Jones said.
With the recent success the future is looking bright for the Lancers and in perfect timing as well. Conference play started on January 18, at LA Trade Tech, and after not winning a single game last year the Lancers are ready to make some noise and compete to be Conference Champions.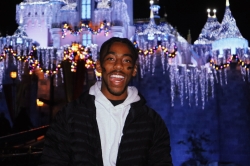 Latest posts by Le'Raun Peron
(see all)