Safe Zones strategized a plan to sell T-shirts in order to help Deferred Action for Childhood Arrivals (DACA) students financially and prevent them from dropping out of school.
September and October have been busy months on the PCC campus, due to the immense amount of stress that DACA students have felt regarding the application renewal. Javier Carbajal-Ramos, Safe Zone Coalition member, stated that while he and other members began to brainstorm ways they could help DACA students on their applications, the subject of financial tension arose.
By rescinding the DACA program in September, the Trump administration brought tension to college students all over the country. They will stop considering new applications for legal status but allowed any DACA recipients with a permit set to expire before March 5th, 2018 the opportunity to apply for a two-year renewal by the October 5th deadline.  
The fee to request consideration of DACA renewal, including employment authorization and biometric services, was $495, and could not be waived.
"We right away saw a necessity, that most likely those students who qualify for DACA, but may not qualify for any of the financial aid were going to need some type of funding," Carbajal-Ramos said.
"And we didn't want them to stop coming to school just because they had to take care of their legal issues. At that point, we said 'what if we sell T-shirts?'"
The purpose of these T-shirts, that read "PCC Supports Undocu Scholars" on one side and "#HERETOSTAY" on the other, is to collect enough funds for DACA students in need of financial assistance regarding any type of housing, food, school supplies or future classes, after paying for the renewal.
The style of the shirts, from color to font, is modeled after those of other movements, such as Black Lives Matter. The T-shirts only cost $10 for students and $15 for staff. It is encouraged for allies to be the main buyers, to show support of their fellow Lancers under DACA. Shirts can be purchased at C-229.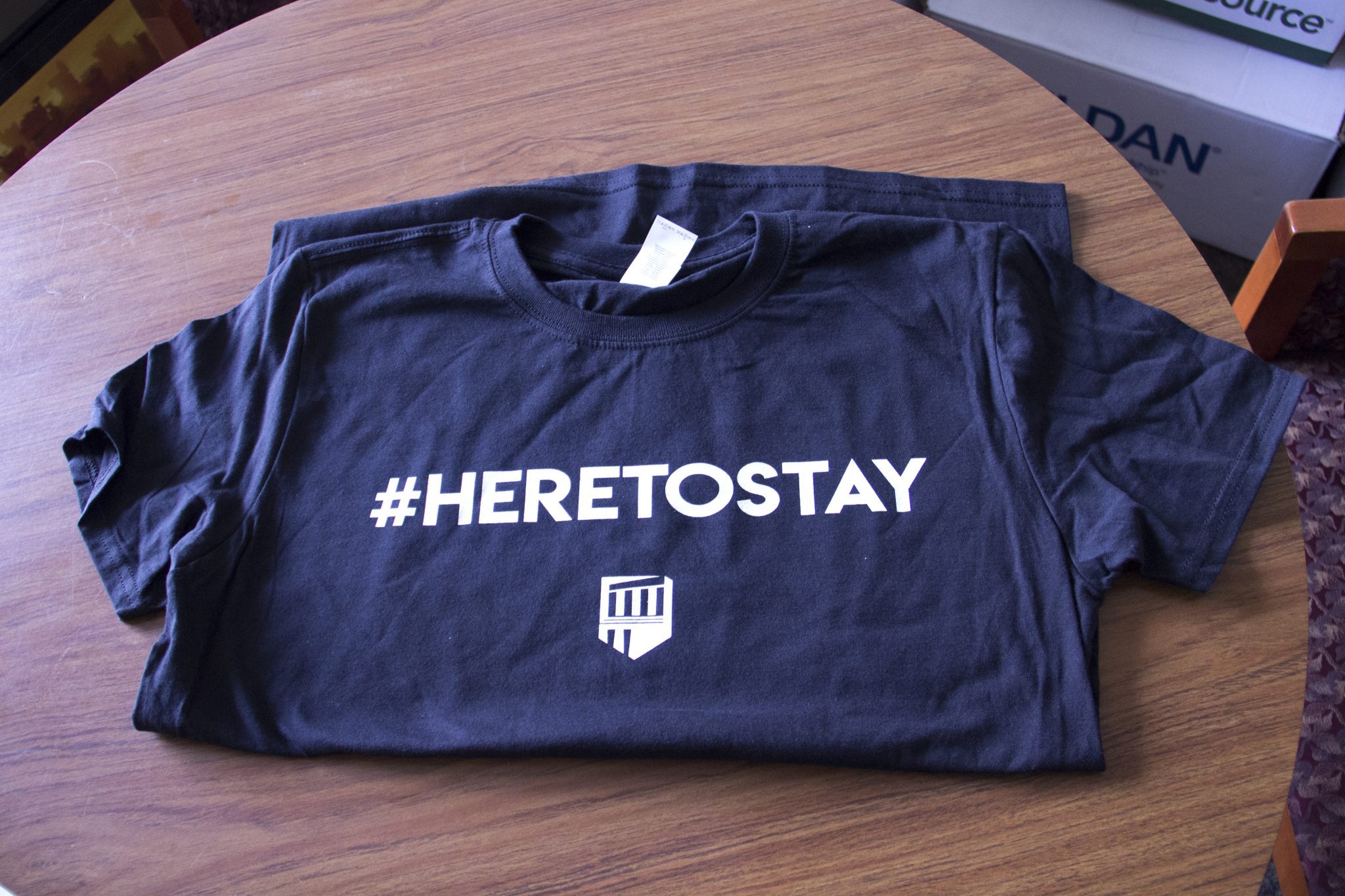 Safe Zones is aware that a lot of times students do not want to publicly disclose that they are undocumented. To suit the student's comfort, DACA students in need of financial assistance can feel free to contact the Safe Zone via email to request information and/or meet up with any of the members to discuss.
From that point on, to continue the progress, students would just need to verify that they applied to DACA and are willing to receive the support of additional resource centers on campus if needed. This is a fundraiser and the money will not always match the goals, thus Safe Zones plans to also direct students to other resource centers in which they can gain reliable in-depth help and have access to more resources.
There is no official deadline for either the T-shirt sales or students applying for financial help. Safe Zones realizes some students will be dealing with the burden now and others will be dealing with it in the future.
"We had a student email us, 'This is my story, this is what I'm doing,'" Carbajal-Ramos said.
Carbajal-Ramos has seen this Safe Zone action make an impact positively on students.
"She sent us evidence that she did certain things and, at that point, we paid her tuition. That particular student spent all of her money on DACA that she wasn't able to pay for fall, so she wasn't able to prove to the state program that she was a current student, so we helped her with that too," Carbajal-Ramos said.
Students at PCC have responded positively to the actions Safe Zones have initiated.
"I honestly believe that it's really important for all of us to remember what it means to be a community during a time like this," said current PCC student, Ashley Garcia. "It's comforting to know that we're all coming together to help members of the community that we're all a part of here at PCC. These are our peers facing a challenging time brought up by sheer circumstance and I think it's great that Safe Zones is doing something to help protect and support individuals trying to succeed,"  Carbajal-Ramos said.
Psychology major Jasmine Tirado is also a supporter of helping those affected by DACA.
"As a psychology major I believe that students who are part of the DACA system are in need of our support now more than ever," Jasmine Tirado said. "Undocumented students make up a large portion of our society and deserve the same right to an education as any other student. Fellow students should see how imperative it is that we show our support for our fellow DACA students in aiding them and supporting them in any way we can so they can further their education and receive the same opportunities as any other person."
Although Safe Zones is known for helping the student body's LGBTQ+ and undocumented student populations, it also works regularly with Ujima. At the moment, due to the political climate, there is a current spotlight on DACA Lancers, but this November, thanks to fundraisers by Safe Zones, a bus of LGBTQ+ students will attend the first community college conference for LGBTQ+ in Riverside.
A new in-the-works addition to the Safe Zone population are formerly incarcerated students, where the center will help them adapt and learn more about what can they do based on their history. Overall, Safe Zones is a resource center that is welcoming to all students on campus.
Latest posts by Genesis Castaneda
(see all)