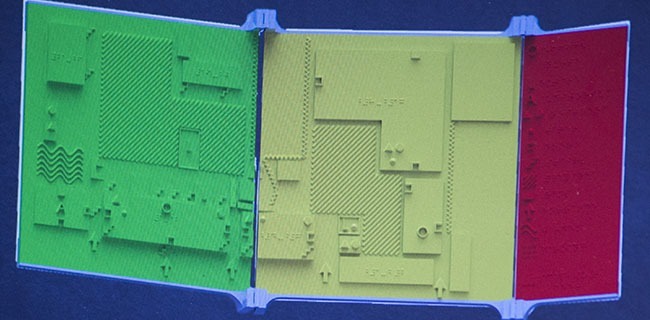 When the Fab Lab students came to the tech table last year, little did they know the difference one summer's work would make.
PCC student workers Sandra Perez, Chi Yeung "Bennie" Chiu, Bryce Van Ross, Carlos Andrade, Joseph de Alba and Peter Ngo were presented a unique opportunity and task through PCC's Design Technology department.
Their mission: to produce a portable 3D tactile map containing a topographical layout, navigating symbols and Braille characters to assist the visually impaired. Commissioned for Frances Blend Elementary school, the map was to be designed to teach navigating skills to visually impaired grade school students.
Through her connections with Lore Schindler of LAUSD disabled services, author of Apress' "Mastering 3D Printing" and volunteer facilitator Joan Horvath contacted PCC and brought the internship project for the summer in behalf of the elementary school.
The challenge was accepted, the PCC students were then left to their own to setup their team, designate tasks and meet deadlines. They spent nearly three months on the portable design layout, size, printing, and extensive research on an appropriate Braille language.
With a deadline for August 2014 for inclusion at the Mind Research Math Fair in Irvine, the team fabricated a folding triptych notebook-style map containing two tactile map panels and one Braille legend panel.
"There's a whole bunch of dialects of Braille and ways of abbreviating things. It's much more complicated, like anything," said Horvath at the at the 3D Printer World Expo Saturday, where she displayed the first prototype of the 3D tactile map in action.
Given a 2D paper map and some rough specifications, they were sent into the field. They tasked themselves the additional mapping necessary, which included indicating all entrances, exits, water fountains, restrooms, stairs, ramps, barricades and level changes of any kind. Input and feedback from visually impaired students and PCC DSPS aided the process as well.
"They said, 'You're going to help the community by designing this map, which is in Braille,'" said Perez, mechanical engineering.
Perez took the initiative in researching online and in the library on the correct Braille to use for the legend panel.
'Height, weight, spacing – everything was crucial for the visually impaired student to feel it," said Perez. "There's three styles of Braille…we went with Braille one."
3D printers are becoming more consumer based, with do-it-yourself kit assemblies being provided for as low as $600. One of the Fab Lab printers, the Bukobot from Deezmaker's, was less than $1,000, according to Lee. But the real costs are in the filament material used in printing.
Student team member Chiu estimated the printing cost using the ABS filament material used in printing the map to be approximately $1,700 alone.
"I happened to be there at the right place and the right time," said Chiu, who worked largely in AutoCAD design and Solid Works for 3D modeling on the project.
"Our team has never done this before, so there was quite a bit of a learning process," Chiu added. "Each panel took about I would say seven to eight hours to print. The whole process took about 22 to 23 hours."
The printer used was the Dimension BST 1200, utilizing a flat platform bed measuring 10 inches by 10 inches, the largest available print tray. Two prototypes were printed and assembled and one final product delivered to the client at a weight of about one to two pounds.
Van Ross, who primarily worked in documentation for the project, is helping to prepare for an important presentation of the team's work that will be at a conference in San Diego in March.
"We submitted our technical research report to the International Disabilities and Technology Conference hosted by CSUN and we got accepted," said Van Ross, of their Education and Technology submission.
The Fab Lab was shown to the community in the spring of 2014, according to Sandy Lee, faculty for the Design Technology Pathway, which brought it much attention.
"The community expressed interest in having access the space, so extension classes were created," said Lee. "People who've come in and just graduated from other colleges have said 'We don't even have access to this type of technology at our University!' This kind of access for students to develop their projects, and this kind of space, it's really exciting for us at PCC to have this for our students."
During tactile map's process, the team consulted with the disabled services center at PCC. The future may provide such a map for use on PCC.
"The faculty at DSPS suggested we make one a while ago," said Van Ross. "I think that would be ideal."
Horvath shared on what she felt was the overall benefit for project's student team.
"The single biggest thing that I think they really got out of the summer was that part of engineering is coming up with something that nobody's done yet," said Horvath.