The Rose Parade is just around the corner and PCC's Sarah Hansen is in the running   to be given the title of Rose Queen.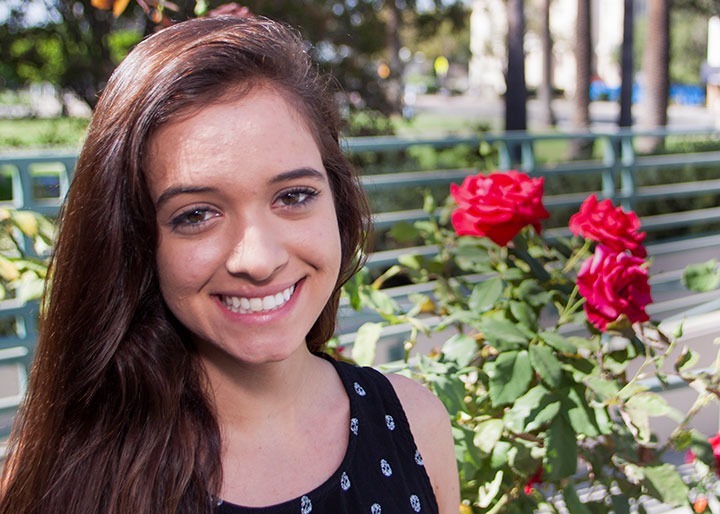 Each year in September and early October, the Pasadena Tournament of Roses   Association administers a selection process to determine which greater Pasadena- area girls will have the honor of being crowned Queen of the Tournament of Roses,   or selected as one of the members of her "Royal Court".
More than 1,000 girls between the ages of 17 to 21, try out every year. Six princesses and one queen are chosen. They are high school and college students   within the Pasadena City College district attendance area.
"It's really an honor," said Hansen. "It's something I tried for hoping that I would get   it but not sure whether it would happen or not. Now I'm at the point where I want   to be. It's exciting to be put on a platform and given this opportunity to be serve my   community."
Hansen will have the chance to preside over "America's New Year Celebration" that   includes a festival of flower-covered floats, marching bands, and the Rose Bowl   college football game on New Year's.
Hansen is thrilled at the chance to give back to the community that she grew up in and has been so good to her.
"I get to serve the community in many ways," said Hansen. "We go to different   events like going to children's hospitals and convalescent homes. On Halloween we   will be spending time with kids who are diagnosed with terminal diseases."
Hansen hasn't been going at it alone, though. She's had her supporters by her side   every step of the way and couldn't be more grateful.
"Originally it was my dad who encouraged me to one day try it," said Hansen. "I took   it lightly but now that I'm here at PCC I was able to officially do it and my whole   family is supporting me along with my friends and my church."
A ceremony was held in front of the Rose Court House Monday morning with all 25   girls attending. At this ceremony, seven were chosen join the court and compete for   the title of Rose Queen.
"After they called the fifth person I kind of accepted that I didn't get it, then they   called my name sixth," said Hansen. "It was a big shock and I was in disbelief at   first, I couldn't believe they said my name. I stepped on the stage, a swarm of media   surrounded me, and its just been a whirlwind ever since. This whole experience has   been like a roller coaster except all highs and no lows."
Latest posts by Bryan Acosta
(see all)