The Board of Trustees agreed to work on fostering more open communication and transparency with the district and its own members at its bi-annual retreat on Saturday.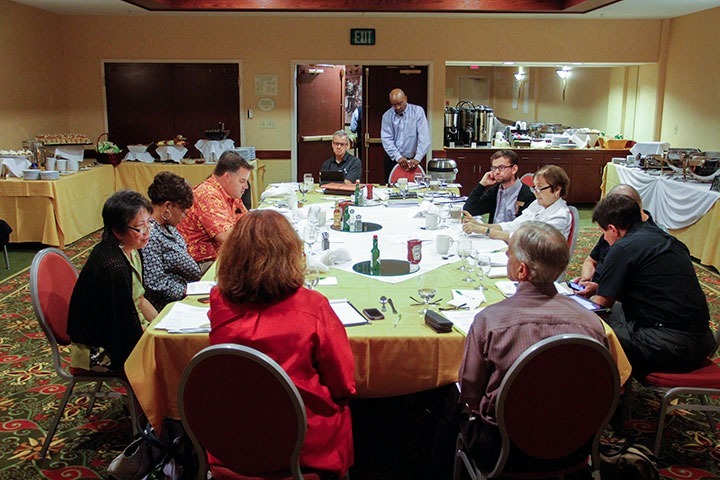 Many trustees brought up concerns about how to communicate to the public to explain decisions they make for the district.
Trustee Geoffrey Baum believes the Board already works as a cohesive unit to make difficult decisions.
"I think we really adhere to the principles. The board articulates supporting the decision. We've taken on some very controversial decisions," Baum said.
After more than a year of tumultuous interactions between students and the Board involving decisions to make major calendar changes and the approval of the $10.5 million administrative information system Banner, many members of the community still wait for a clear explanation from the Board for its decisions.,.
Retreat facilitator Cindra Smith pointed out the Board's ability to vote together as a strength that many boards in the state she worked with have difficulty doing.
"The board is a unit and you all know that's the only way of having authority," Smith said.
Transparency for the Board, however, was also a problem among its members.
Trustee Linda Wah brought up concerns over open communication among the Board members.
"I don't know that we really have honed our own skills that when we have an issue with each other that we speak directly with each other," Wah said. "There's so much miscommunication based on assumptions."
Many trustees referred to the approval of the new Rosemead satellite site as an example of the miscommunication.
According to Trustee Berlinda Brown, Board President and District 6 Trustee John Martin released an email a few months ago asking board members to consider potential satellite campus sites.
A few weeks later at the Aug. 26 meeting, the Board approved the Rosemead site in Martin's district.
"It was kind of offensive to me was that I was asked to find a place that could be potentially in my district," Brown said.
Board President John Martin explained he did want to work on more open communication with the trustees, but he did not mean to offend anyone with having the Rosemead site put up for a vote so quickly.
"I tried to run this thing as straight and honest as can be," Martin said. "I made a tremendous mistake because enrollment management said we need to [add more class sections]. I allowed it to be a consent item, it was a fundamental mistake."
Smith commended the Board on its ability to discuss problems its members had together.
"Your commitment to really work together is commendable because you are willing to discuss the difficult topics and have a real discussion," Smith said.
Wah believed the Board still worked very well together.
"We talk about working together as a team, we work as a village," she said. "We can all actively work together."
Latest posts by Christine Michaels
(see all)