Last Thursday afternoon, Associated Students held a rally in support of solidarity and spoke about the issues students of all backgrounds face everyday.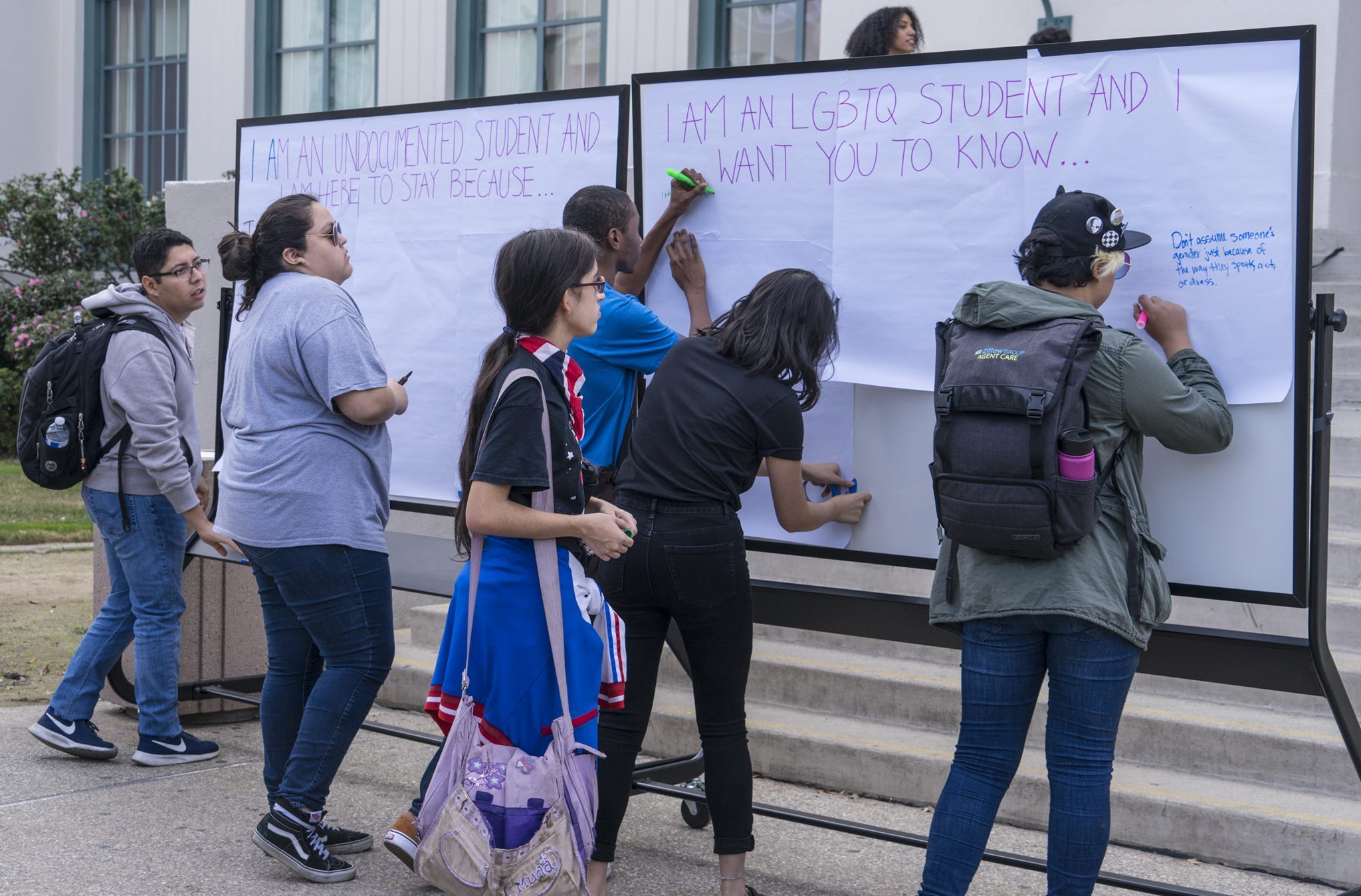 AS began their first ever Advocacy Week in the wake of a political climate that has spurred outrage against the undocumented and the LGBTQ community. Prior to the rally on Thursday, workshops and information booths were available for students to spread awareness of such matters.
A variety of clubs participated in the event, including United Without Boundaries, Queer Alliance, Third Wave, Ujima, Blackademia, and Alpha Gamma Sigma. Guest speakers of the rally saw familiar faces like Assistant Director of Education Partnership & Programs Javier Carbajal-Ramos and Gina Lopez of Ujima Club.
Near the mirror pools, poster boards were placed side by side, each labeled with a different identity statement. The various poster boards read, "I am an undocumented student and I am here to stay because…," "I am an LGBTQ student and I want you to know…," "I am a student of color and I am aspiring to…," and "I am a woman and I want you to know…"
"I'm half Mexican and have a lot family members that are undocumented. The fact that I could feel comfortable being on campus and seeing people come together. Usually what I always hear in the news or in social media, when they think of immigrants they think of Latinos and it's always like negative things," stated President of the Ujima Club, Ebony Martin. "So the fact that I could see something like this being very positive, it just touches me."
Host of the event, AS Executive Vice President Christopher Morales, first presented the idea of a rally and the rest of the AS board immediately agreed. His inspiration was triggered over the recent DACA repeal. Morales observed students around campus and became frustrated when he saw students wearing pins in support of groups like Black Lives Matter. He thought that marginalized groups should be represented in more vocal, public ways.
"I think the way you represent someone is by starting a conversation with them and trying to understand them," said Morales. "So I thought, 'How can I get students from marginalized groups that usually don't get the chance to be voiced to have the opportunity to voice themselves?'"
Morales came up with the idea to bring out posters and have students express their voices.
"We don't have time to speak to all 30,000 students, but what we can do is get you to write down your thoughts," Morales said.
During the event, students passed by to see what the commotion was about and many joined in. A crowd of around 50 to 60 students gathered around to hear the message of awareness. At the end, students were asked to express their thoughts and write down their own "I am" response on the posters available.
One poster read, "I am an undocumented student and I am here to stay because no human should have an expiration date and [their] ability to work just because they are illegal. No human is illegal."
Another said, "I am an LGBTQ and I want you to know I'm proud for being who I am."
One student wrote, "I am a person of color and I am aspiring to transfer and obtain a bachelor's degree. Then continue my education and obtain a law school degree."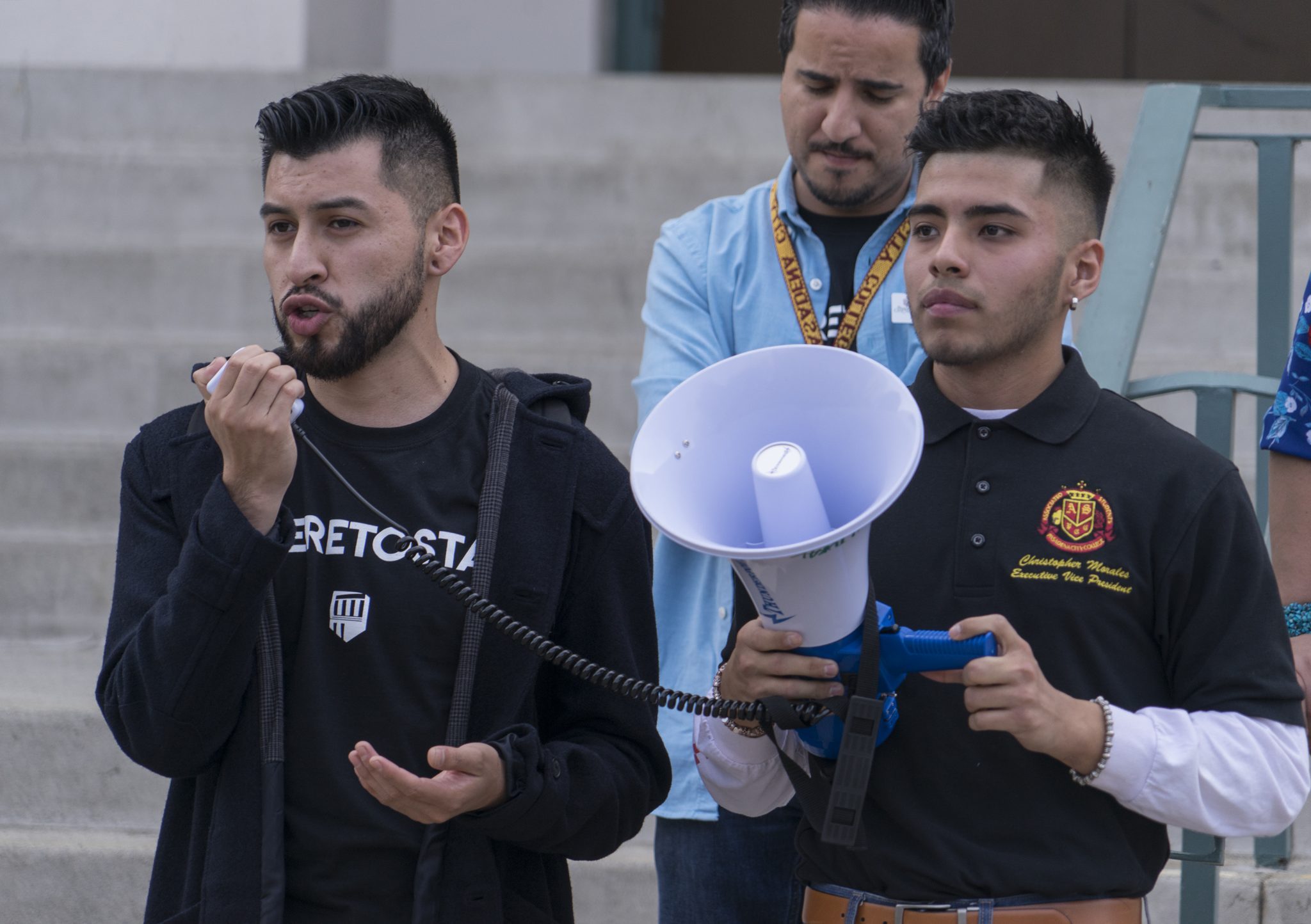 Member of Queer Alliance Cub, Victor Tijerina, hopes those who disagree will rethink the issues about marginalized communities.
"[The rally] will bring out common misconceptions because not only in terms of the LGBTQ community, but also in terms of other communities that have certain stigmas or stereotypes that certain people believe about them, that may not necessarily be true," said Tijerina. "We would love [rallies] more often. I think you can never have too much awareness."

Latest posts by Bryan Hernandez
(see all)