Accentuating the positive efforts of his administration, President Mark Rocha explained his views about the school's problems at a news conference for journalism students on March 26.
In particular, Rocha addressed the recent votes of no confidence into his administration, saying that the results don't accurately reflect everyone's opinion.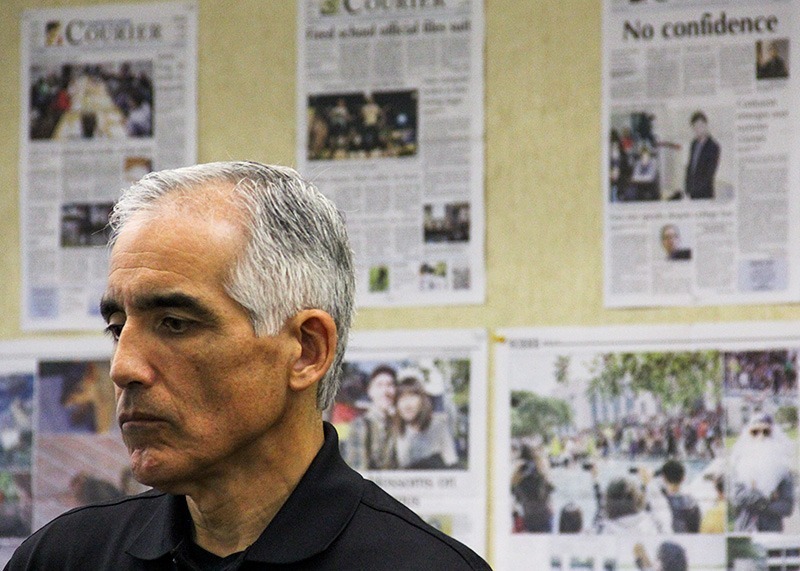 Rocha quickly dismissed the ad-hoc faculty committee's vote as misleading, referring to the fact that there are 390 full time faculty at PCC, of which only 213 participated in the vote, adding that the vote was not sent to any of the adjunct faculty.
"Do the math," Rocha said.
Rocha also reiterated that the Board makes the official school decisions – he merely makes recommendations. He also claimed that the vote of no confidence taken by the Associated Students Board was an incomplete survey of the campus' true opinions.
"Not one single student got up [at the Board meeting] and said 'I can't transfer,'" Rocha said.
Additionally, he said, Assistant Superintendent Dr. Robert Bell handled all cases of transfer problems that were brought in for help, and that students with transfer issues should have come to Bell for help, but only a few students have done so.
Since the Board of Trustees cancelled Winter Intersession last year, students have been citing their difficulties in transferring and have been blaming President Rocha and the Board of Trustees. But Rocha said that the public perception of him is due to lack of understanding of administrative processes.
"There are a lot of good things that are going unreported," Rocha said. "When there's a conflict in the college, you have to be responsible and report the truth."
The school's president repeated the refrain "Moving Forward" and attempted to prove that the college is clearly better off because of his administration.
He said that while community colleges around the state are losing enrollment, PCC has increased its enrollment. Additionally he said that the school did not have a labor agreement in place when he arrived, and that there were problems with accreditation until he came.
"We haven't laid off a single person and have offered salary and benefit increases," Rocha said. "But until we reach an agreement with the Faculty Association, it's going to be difficult to have a collegial environment."
Rocha said that the issues being reported are not doing the administration justice.
"The things that matter most are that teaching and learning are improving, and in some cases, improving dramatically," Rocha said.
The most significant improvement – and the apparent primary benefit of the cancellation of winter – is the increase of persistence, he said. Starting and stopping the school year is a handicap to students, especially those who are on the remedial level of English and math, he said.
"A big stoppage in the calendar doesn't help," Rocha said. "The longer gap you have in the calendar, the more students you lose from fall and spring."
Latest posts by Alumni Staff
(see all)