One day while sitting in the doctor's office, a young Mauritian boy who had yet to visit America picked up a National Geographic magazine to occupy his time. While flipping through the pages, the boy saw a photo of an expansive beach located in Oregon with a couple riding horses and thought to himself, "One day I will go there."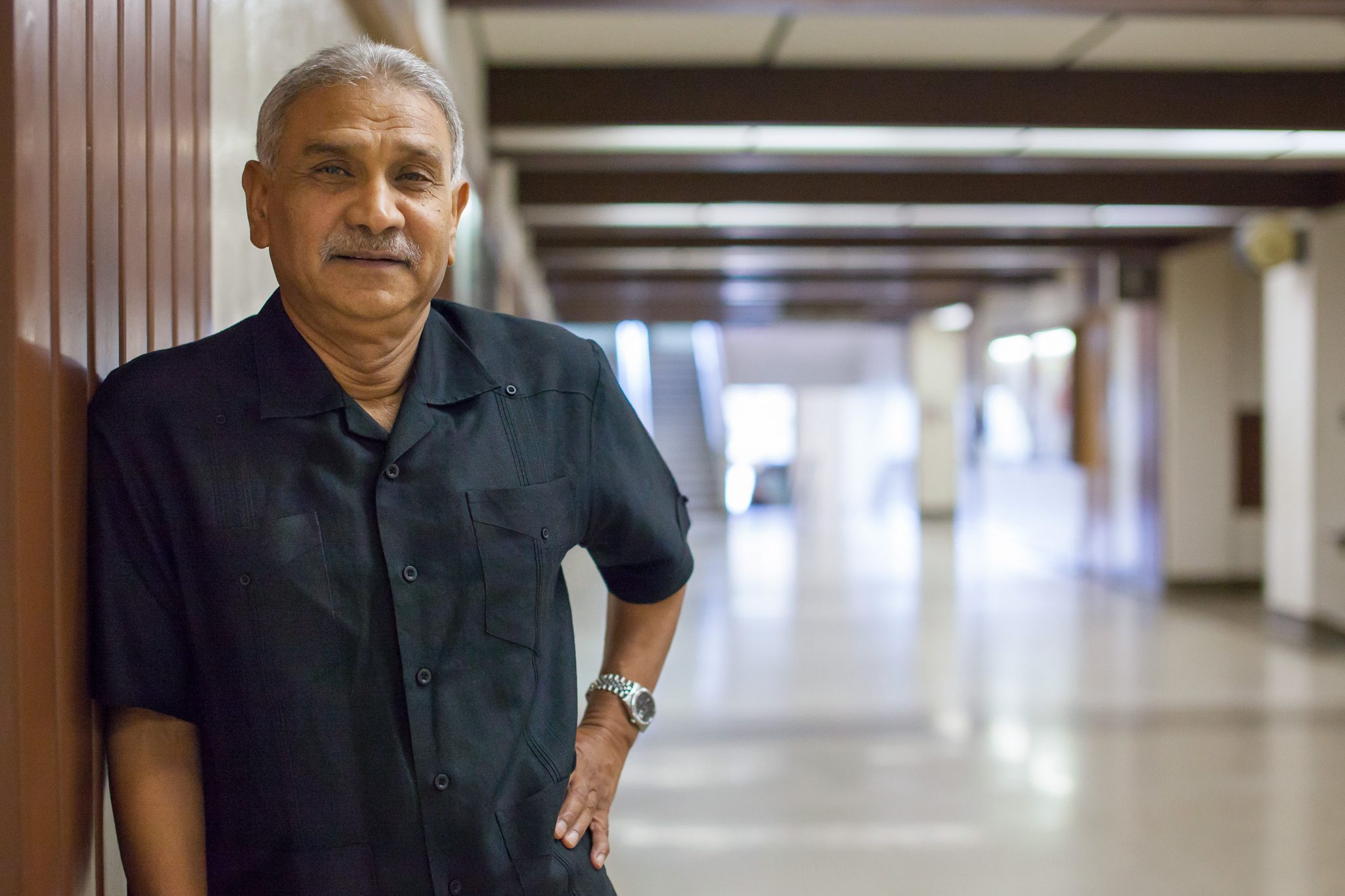 Dr. Rajen Vurdien, 62, is our newly appointed Superintendent-President. Born and raised on the small African island of Mauritius, he dreamed of coming to the United States and through hard work and much success, he made his dream come true.
It all started in 1971, when 18-year-old Vurdien embarked on a journey that very few locals had made prior. One of 12 students awarded a scholarship from the French government, Vurdien made the move from Mauritius to France in hopes of achieving academic success.
"It was a great experience," Vurdien said. "I was kind of lost and in a completely different world."
At that time, with roughly 600,000 citizens, Mauritius was still controlled by Britain and for most locals, education was not easily achievable.
"When I was growing up, education was only free up to the end of sixth grade and after that it's over; you'd go to work," Vurdien said. "And the only reason why I could go to high school was because I got a scholarship. If I didn't get a scholarship, it would've been very difficult."
"If you had a tenth grade education you could become a teacher," Vurdien added. "Very few would make it to the twelfth grade and those that graduated from high school would have very good jobs in government."
While in France, Vurdien completed both a bachelor's and master's degree in art from the University of Upper Brittany in Rennes, France. He returned to Mauritius in 1975 with the goal of bringing all he had learned back to the island.
"I thought I could do a lot of good by working with students," Vurdien said. "I wanted to help prepare the next generation of students because education was not easy on the island."
In 1968, the island had become independent and according to Vurdien, "life had changed completely."
"The island was able to develop itself, promote tourism," Vurdien said. "Now the island is one of the richest islands on that part of Africa, it's the most intellectually advanced island. They have colleges and universities."
Vurdien received his postgraduate certificate in education from the Mauritius Institute of Education and immediately put his skills to use.
In 1982, after seven years of teaching on the island, Vurdien moved to China to volunteer for the United Nations and after two years he was running the United Nations development program.
With all the diverse academic success Vurdien accomplished, he has developed a broader understanding of education as a whole.
"The profession of teaching itself is seen differently in different parts of the world," Vurdien said. "Each college is unique … it has its own culture, it has its own governance system. Having been at all those places I feel that I have been enriched by each individual experience."
"I would love for people to have an opportunity to experience what I have experienced because it broadens your mind and gives you an opportunity to see the world differently, it gives you an opportunity to deal with people differently," Vurdien added.
It was 1985 when Vurdien finally made the move to America. Having a friend in the area, he relocated to Philadelphia and attended Temple University where he received his master's in education and a doctorate in physiological studies. After graduating and also receiving a masters of business administration degree from Long Island University, Vurdien went back to teaching.
Vurdien had a very successful teaching career before arriving at Pasadena City College. He has taught at a number of four-year colleges throughout the country, most recently at Fullerton College, where he was president for five years.
Greg Schultz, interim president of Fullerton College, worked alongside Vurdien from 2012 to 2015 and recalls that time fondly.
"I have the utmost respect for Dr. Vurdien," Schultz said. "His leadership style is visionary, student-centered, inclusive and transparent. He was highly effective and consistently demonstrated a commitment to participatory governance and community involvement throughout his tenure."
When the Board of Trustees voted unanimously to elect Vurdien last April, many on campus were disappointed and believed Interim Superintendent President Robert Miller should have been selected. Former Student Trustee Marshall Lewis, along with former Associated Students president Jordyn Orozco, expressed their frustration with the board for not taking community input into account during the hiring process. Many in the Academic Senate felt the same, driving all but two senators to a vote of no confidence against the board.
Academic Senate President Valerie Foster, who was elected after the no confidence vote, said she has been impressed with Vurdien so far.
"Dr. Vurdien has a great deal of experience working in the community college system and his expertise is obvious from the initial meetings we have had with him," Foster said. "We are optimistic about a productive relationship as we face the challenge of addressing the nine-accreditation recommendations handed down by ACCJC."
With PCC placed on probation recently, Vurdien is familiar with the work that needs to be taking place among the campus in order to be fully accredited. In June of 2011, the Accrediting Commission for Community Junior Colleges placed Fullerton College on a warning, which was removed in July of 2012.
"Dr. Vurdien provided wonderful leadership during this time, but he would be the first to say he did not do it alone," Schultz said. "The college turned things around because of countless hours of the hard work by faculty, staff and administrators working together to make improvements."
Board of Trustees President Berlinda Brown felt that Vurdien was the right fit for PCC and credited his "humble spirit, diverse background, excellent leadership style, outstanding background references and great interpersonal skills" in the board's final decision.
With many years of teaching, Vurdien understands that in order to be successful in academia, one must be willing to adapt to the changes of each generation.
"I think it is important for administrators to understand the new generation and the best way to understand the new generation is to talk to students. See what they are doing, what interests them," Vurdien said. "It provides a great opportunity for that interaction between teacher and student. The student can come to class having read information, having researched it online, and coming to class the teacher and student can work together to get an in-depth understanding, with the teacher guiding the student. It's no longer the teacher knowing and giving to the student, now it's more that the teacher is a guide. And that's something we need to make sure we all understand."
Robert Bell, PCC's senior vice-president/assistant superintendent has been working alongside Vurdien the past few months and is confident that his character is just what the school needs to move forward.
"I have enjoyed working with Dr. Vurdien," Bell said. "He is an intelligent and passionate leader who will bring positive change to the college … He is engaged and makes a point of visiting college offices, faculty and staff to meet them and better understand them and their roles. It seems the campus has also adapted well to Dr. Vurdien. He is off to a good start."
Now that Vurdien is a few months into his new role on campus, he has a clear vision of what he hopes to achieve his first year.
"The most important one right now is for us to be able to address the recommendations of the accrediting commission because nobody wants to be in a school that is featured on the front page of the local paper saying the school is placed on probation," Vurdien said. "No matter how we look at it, this community is a very proud community. Pasadena City College is at the heart of this community, it is so important for us to address this and I'm going to put the teams together to do what we have to do, working as a united community, as a united college community to address this and to have this sanction of probation lifted. I want to make sure we continue being the number one school in the nation."
"I hope to stay here a long, long time because this is the world I love the most," Vurdien added. "The world of academia, the world of teaching, the world of learning."