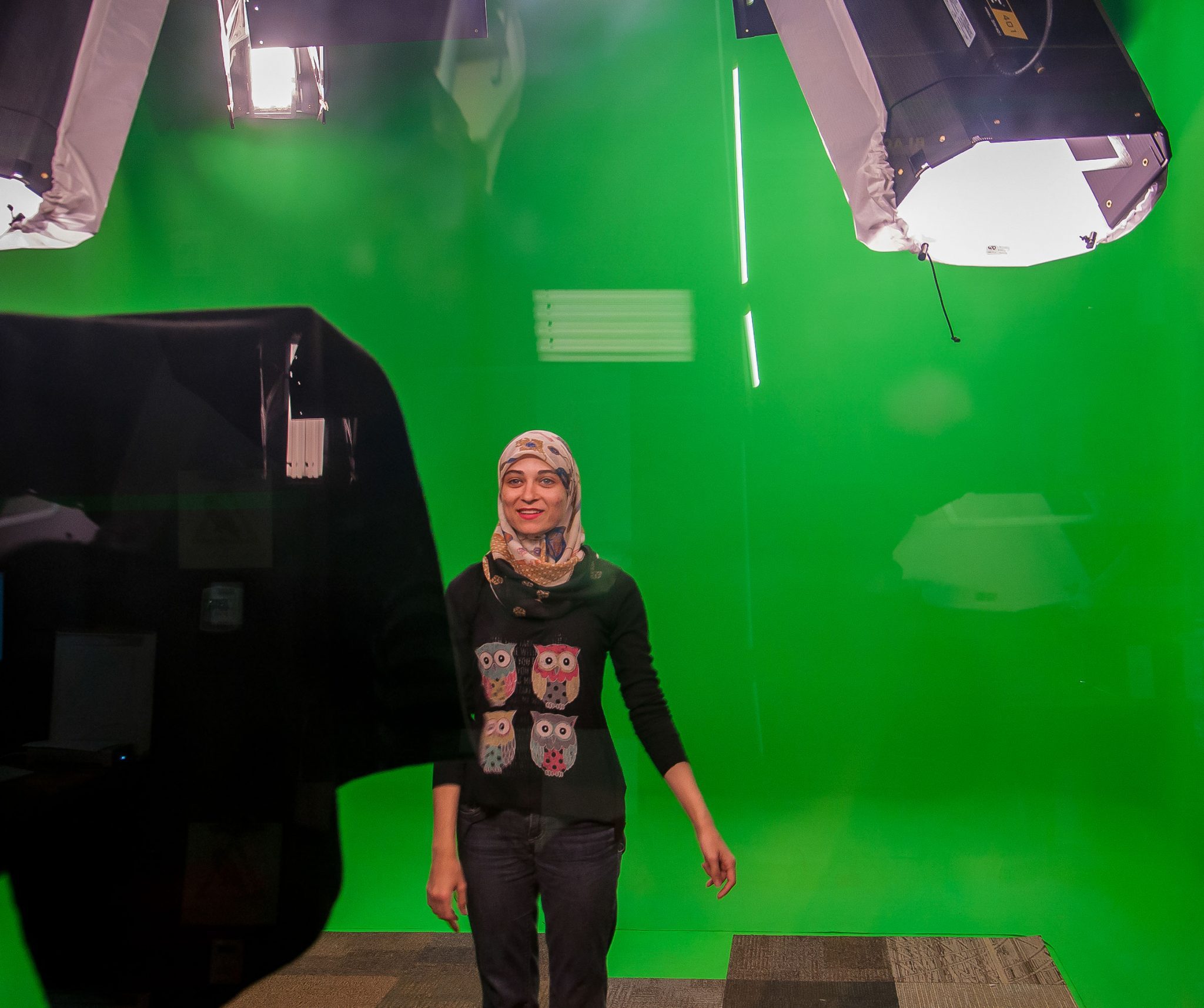 Three weeks ago, 27 courageous Lancer students stepped in front of a camera and teleprompter on campus to audition for the chance to be the next PCC One host. And weeks of stressful campaigning and voting, the race came to an end Wednesday with the TV news show gaining three new animated hosts.
Josh Zielinski, Kayli Dimacali and Samantha Maurice-Africa were the top three contestants and are the new hosts of PCC One. Zielinski was the definitive winner with a 69 percent lead but that did not stop David Steiman, a media production specialist with Lancer Lens and producer for PCC One, and his team from taking on the runner-ups.
PCC One, the campus TV news show, started last spring with the purpose of serving the students. With a small audience, the production held auditions for 12 contestants who wanted to be the first host. David Steiman, a media production specialist with Lancer Lens and producer for PCC One, shared his broadcast vision and the goals he hopes to attain through them.
"The goal really is for the students to get information because right now, it's a little scattered," Steiman says. "We're really here to service the students…we put a lot of time and energy into it for the students and we want to make sure that we have an audience that is able to benefit from it."
PCC One produces a daily broadcast of the current happenings on campus. Their three-minute segment includes information, like which college representatives will be visiting that day, scholarship opportunities, and Sports Beat, an update on our Lancer sports.
It is no surprise that the online news segment has gained popularity since last semester. Steiman and his crew held another hosting audition during the first week of fall. They had more than double the auditions and Steiman says that there are still students trying to come in and be a part of the new contest.
"I'm excited that there is enthusiasm for it," said Steiman.
He said the ideal host should be magnetic and personable.
"Personality, outgoing, sense of humor and to be literate," Steiman says. "And also be flexible because it seems easy, but it takes a while to actually make. There's a lot of takes for you to go through."
A week and a half ago, in the final stage of voting, Steiman noticed a peculiar spike in the voting polls. It seemed there was a rapid competition between two contestants.
"They were starting to explode with their numbers and it was funny because one would surge ahead, then the other would kind of go 500 (votes) ahead, then 1,000 ahead and someone took it to the nuclear option and went 2,000 ahead," Steiman said.
Supposedly, half of the student population participated in this poll. Unfortunately, that was not the case. The votes were hacked, thereby delaying the contest another week and forcing a change in the way students are allowed to vote.
With students having to log in to their LancerPoint to vote, it created a clean slate for the six remaining contestants.
From the beginning, Zielinski was confident in his performance. And even with the hacking, Zielinski believed the change would not jeopardize his chances.
"I felt like I did pretty well but it was hard because people did it at different times in the day so based on the lighting hitting the teleprompter," Zielinski said. "I heard good feedback but it was hard because you have to do it almost as a cold read."
Now, the new hosts will have the opportunity to gain hands-on experience, a great addition to any resume. Steiman said that this is the best benefit in participating in school programs. Sarah Hanson, alum of the program, cultivated her experience with PCC One and is now studying broadcast journalism at USC.
"It's a great experience, it is something gratifying. You can build a portfolio or reel really quick," Steiman says. "This could be a nice springboard for anybody that wants to get exposure and feel that they're involved."