Written by Samantha Villa and Eric Haynes
On June 30th, over 2,000 people flocked to the steps of Pasadena City College (PCC) to partake in a national protest against Trump's "zero tolerance" policy that separates immigrant families seeking asylum.
Vox reported that an average of 65 children a day are being separated from their parents. 2,343 children have been separated from 2,206 parents between the time frame of May 5th and June 9th. Due to backlash, Trump signed an executive order that reverses the administration's policy of separating children from their parents at the border. However, the zero tolerance policy is still in effect. According to the policy, any immigrant who crosses the border, even those seeking asylum, is subject to criminal prosecution.
According to Politifact, approximately 1,500 immigrant children have been lost by the administration. The recent events regarding the way the Trump administration has been handling immigration policies is what sparked national protests across the country.
A protest held at Pasadena City College was coordinated solely by Hilda Melissa Coleman, a current PCC student.
Before Coleman began planning the protest, Planned Parenthood of San Gabriel and Pasadena reached out to her and Norma Rodriguez, a coordinator of events. Afterwards, Coleman talked to Marina Gonzales, a staff member from PCC to help her get guest speakers for the protest.
"I started [organizing] recently," said Coleman. "I'm just doing what I can because I'm doing this by myself."
Guest speakers at the protest included CEO of Planned Parenthood San Gabriel Valley, Sheri Bonner, former DACA student Fatima Cristerna-Adame, and also Coleman herself.
"It's not for us to find a way to end immigration … I would only think that this would bring awareness to people, bring awareness to the truth of what's going on, to be more self aware and to understand racism and immigration and that not everyone is going to agree with it," said Coleman. "But if we can have a voice and we can talk about it then we should because it's important."
The guest speakers spoke on the steps of the C-building in front of the mirror pools, and protestors shouted support and encouragement to Coleman as she spoke of personal experiences she had with immigration policies and the fear of being seperated from her grandmother.
Protesters included all ages and ethnicities that came together in solidarity to stand against the Trump administration and to show support for families that have been separated at the border.
Some of the signs that protestors were holding included, "There is no illegal immigrant on stolen land", "Deport Jeff Sessions back to Hell", "#EndFamilyDetention", "Together We Fight for All", and "Families Belong Together."
Brooke Teal Robbins, a PCC Alumni associated with Indivisible Suffragists, a movement to resist Trump Agenda, had some words to say at the protest.
"I care very much about this community. Of course there are many different events going on nationwide however it's important to, as Indivisible suggests, focus on your district. Focus on keeping the people advocating on the issues you care about if you're resisting the Trump agenda, to vote them in and keep them in this November midterm elections. It's important I think to attend local events."
Before the march, Robbins made sure to urge protesters to chant, "We will remember Midterm November."
"It's really important, I hope it goes viral because it applies not only to the issue of immigration and families being separated, but the long list of lies and the Trump agenda that everyone is resisting," said Robbins.  
As protestors marched down Colorado St, cars passed by honking in support and many drivers pulled over their cars to park and join the protest. Along with the honks of support, there were two men driving up and down the street chanting, "No more mexicans, Trump is our president, it's okay to be white, and build the wall."
Nevertheless, protesters marched on and made their way to Pasadena City Hall. Once the marchers reached their destination, City hall workers were there to inform protesters that they were not allowed to stop on the City Hall steps. Since no permit was given to the march being held in front of City Hall, the marchers made their way a couple steps further down in front of the Pasadena City Library.
California State Senator, Anthony Portantino who represents the 25th district of California, spoke to the marchers on the steps of the Pasadena City Library. He spoke in support of activists who go against Trump Policy, and spoke in favor of women's rights and the fight to end family separation. After he spoke, Portantino stuck around to speak to activists and have one on one interactions with the protesters.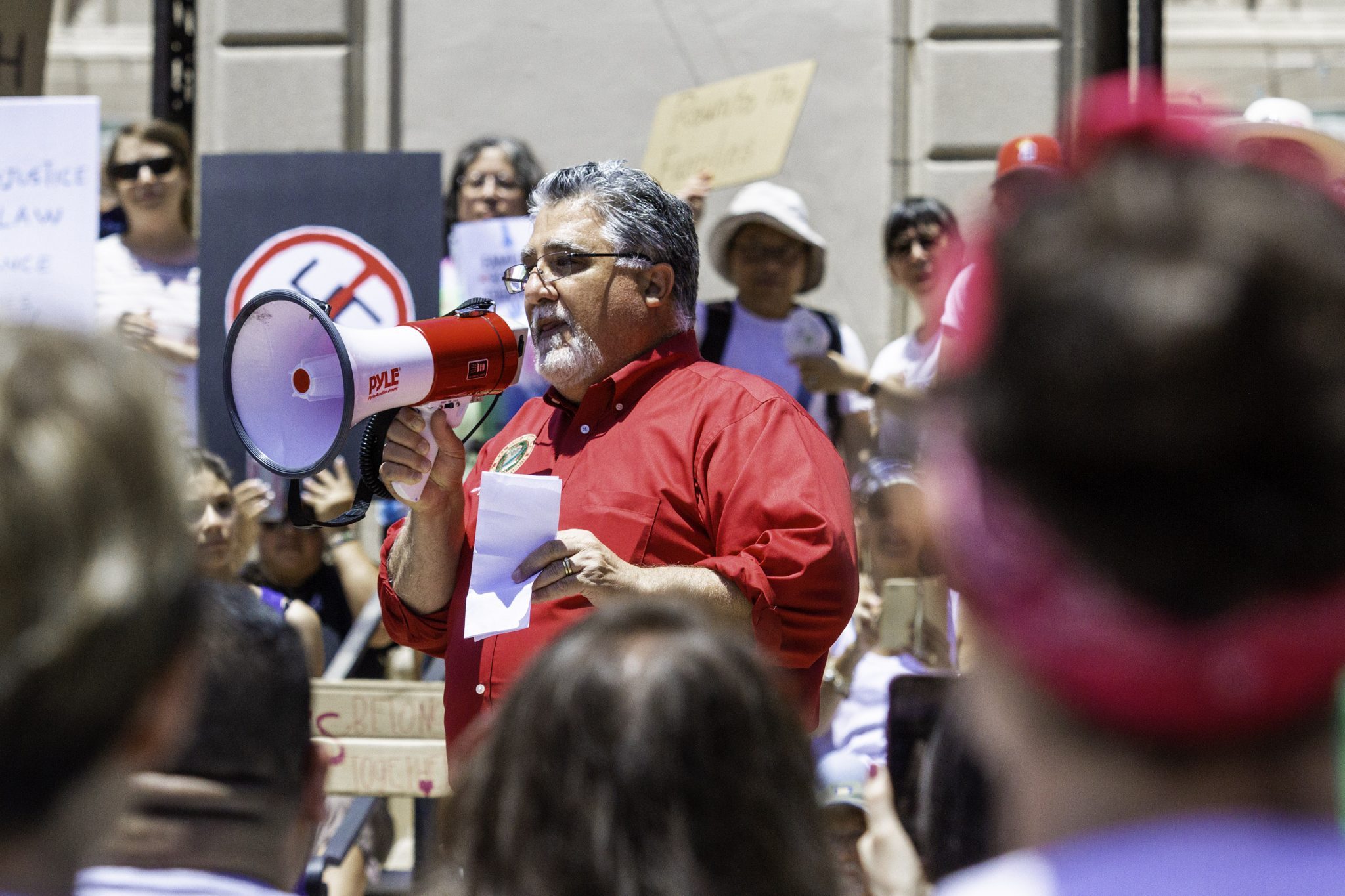 "I think that what we are seeing is young people demanding that we older people do better. And I think that's what students need to continue to do. I definitely think there is a role for students to play to have a loud voice because it's your future and you have to let the opinion makers, the policy makers know what you want for your future." said Portantino regarding student activism. "This rally today [proves that], because PCC was the central rally for that."
After Senator Portantino spoke, Coleman gave her thanks to the marchers and protestors cheered and shouted more support and more chants against the Trump administration.  
On that same day, there was a large demonstration that gathered in downtown Los Angeles to protest the Trump Administration's "zero tolerance". The protest was in response to Attorney General Jeff Sessions giving a speech at the Criminal Justice Foundation during their annual luncheon at the Biltmore Hotel in the area with protesters being outside of the vicinity four days prior. According to ABC7 News, 25 protesters were arrested that day.
Speakers like John Legend and his wife Chrissy Teigen, Rep. Maxine Waters, Senator Kamala Harris, and more spoke at the podium against how border patrol and Immigration & Customs Enforcement (ICE) agents are handling the captured migrants.
"Guys, this is not about Republicans and Democrats, … this is a calling of humanity, plain and simple," Mexican actor, Eugenio Derbez said. "If you have children like they do, you cannot look at them in their eyes and tell them you did everything to protect them if you do not protect these children at the border."
Edna Chavez, who recently turned 18, is planning on voting this November. She had her father taken away from her by ICE agents.
"Hearing the judge say I won't be able to have my father with me shattered me," Chavez said. "That was also a moment for me to get empowered … and make my story of action."
Earlier that morning, according to LA Times, there were about 20 protesters that demonstrated in front of Mayor Eric Garcetti's house. They went to protest the attack on homelessness and demanded the disbandment of ICE. It was unclear at the time whether or not he was home, but it was later revealed that he went to the gathering in Downtown LA.
As of now, Coleman hasn't organized any further events. However, if students would like to get involved they can join United Without Boundaries, a new club on campus that deals with helping DACA students and dreamers be successful in their educational journey.
Latest posts by Courier Staff
(see all)