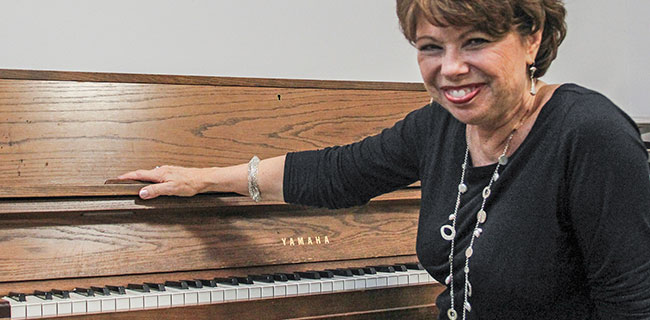 Not many offices in Pasadena City College are filled with art like Pablo Picasso's "Three Musicians" and a big piano. However, Anne Marie De La Vega's room perfectly emphasizes her soft, artistic persona.
De La Vega, a vocal professor, director of the opera program, and a singer herself, has been teaching at PCC since 1981, but she was certain her life would be musically enriched far before that.
"I never knew [I wanted to work with music], it just was… It was never a question…. A lot of artists who are truly, deeply into their [craft] never make a decision along the way," said De La Vega. "It just is."
Her most cherished childhood memories consist of gathering around the piano with her family to sing and enjoy music together. None of her other family members went into music professionally, but they always made sure that their home supported and thrived with art.
De La Vega, who studied music at California State University, Northridge, has never had a doubt that music was something she wanted to further pursue, whether it be by co-writing and performing in her recital "This, and My Heart: A Portrait of Emily Dickinson" or by teaching students the methods and essence of music and art.
"When you [teach], you do it because there's something that feeds your soul… And it's very important for us, who are in the middle of all that, to make sure that that beauty continues," explained De La Vega. "Also, when you teach, you learn, especially with the arts…You learn about your art by seeing the humanity around you and how people see and react to things…Watching people communicating with art teaches me."
Her students, David Dalati, a music and biology student, and Natasha Landes, a music major and a student of De La Vega's for the past three semesters, both recognize her passion for teaching and connecting with her students.
"If I were to describe her in one word: elegant," said Dalati. "She puts on beautiful productions and she goes all the way… Her true love of music and her dedication to opera is what makes her stand out… She is definitely a perfectionist."
"The one word that pops out for me is 'artist'," added Landes. "One of the ways she stands out is that she meets you where you are. Every student comes to her at different levels, but she's able to see where you are and match you, so that she can work with you personally to help you grow."
Her recital, which she has performed for audiences in sold-out theaters such as the University of Southern California's Fischer Museum of Art, was also a new learning experience for her. The recital traces "the themes Emily Dickinson returned to again and again in her poetry: nature, love, God, and death", according to USC's events page. However, for De La Vega, nothing compares to the lessons she can give and take while teaching students.
"It's amazing. It's like 'Look at this incredible thing!'," said De La Vega. "And that's beautiful, to be able to send art and meaning into somebody else's realm of existence."