A proposed bus rapid transit (BRT) line linking North Hollywood to PCC, and cutting some service, brought L.A. Metro representatives to PCC for the first of a multi-city series of public input workshops on Wednesday, Nov. 6, where a quarter of the attendees voted to not use the new line.
"They [Metro] use the word 'choice rider,' somebody who drives but chooses to take transit," said PCC student Juan Ashton of Eagle Rock. "It's not so much about people who already take the service or rely on it, like me, but more about extending the ridership to people who don't usually take transit."
However, live reporting from Metro-owned devices used during the workshops showed approximately 25 percent of the participants voted to not use the BRT. No specific comment on the results of the vote was made by Metro staff.
In June, Pasadena rejected part of Metro's plans for dedicated bus lanes.
"I want to reiterate that buses will share the road with other vehicles, in a mixed-flow manner in traffic lanes with other cars, just like the [Metro rapid bus] 780 currently does along Colorado Boulevard," said Metro's Community Relations Manager Lilian De Loza-Gutierrez. "In fact, the new BRT will replace the 780 and operate in similar frequencies with enhanced stations."
Also at stake in Pasadena is the placement of a station near PCC's main campus.
"I know that PCC has really expressed strong support to having it come all the way out to Hill [Avenue] and serve the students," said Pasadena Department of Transportation Director Laura Cornejo.
According to an interactive map managed by PCC's Office of Institutional Effectiveness, current geographic information system (GIS) enrollment data shows the portion of PCC's student population in Eagle Rock. Metro's route 780 rapid and slower local lines connect them to PCC.
"With redder colors indicating greater concentrations of students, you can see that our student body overlays rather consistently with the project map distributed by Metro," said Alex Boekelheide, PCC's special assistant to the superintendent-president. "This is a very exciting prospect for us to consider as we think about how our college should serve our community into the next 100 years."
Students living in Eagle Rock, however, may lose direct access from Colorado Boulevard. Metro is considering placing the route higher up on the SR-134 freeway because of area pushback against the project.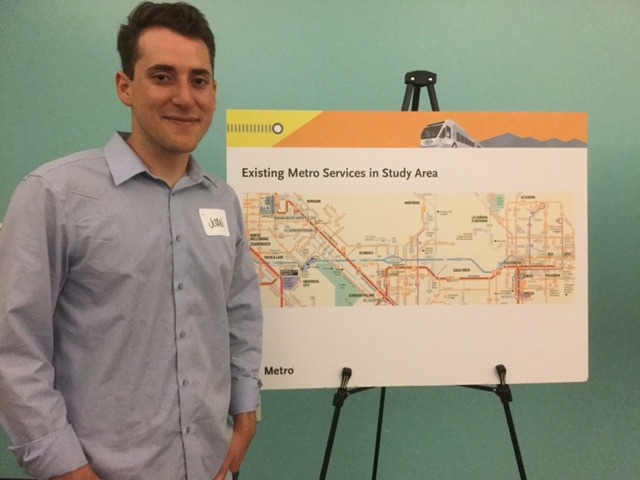 "I've been trying to come to every meeting I can, because I know I'm one of the few people that take transit," said Ashton, who lives near one of the 780 route's stops. "There's a lot of people opposed. Groups seem to be so cohesively opposed to the project. What is the information that these people are getting?"
Of the approximately 60 people who participated in the workshops, Metro did not disclose how many were Pasadena residents. Although no official tally was provided, several raised their hands to indicate they had attended prior BRT meetings in summer, during the project's scoping phase.
Final route determinations have not yet been named, in either Old Town Pasadena or near PCC.
A couplet design option would use eastbound Green Street for travel to PCC and westbound Union Street for departures.
"On the couplet, I think it was part of Metro's plan," Cornejo said. "We want to see the ridership. We'll ask questions if Metro considers restructuring its service, along either Colorado or wherever, do they think it might get more ridership, or be more efficient."
The alternative to the couplet would keep all service on Colorado Boulevard.
As part of Metro's ongoing decisions for the 18 mile long corridor, four future meetings are scheduled; three daytime meetings in Eagle Rock on Saturday, Nov. 16, and one evening meeting in North Hollywood on Tuesday, Nov. 19.
No further workshops, led by a reading of Metro's code of conduct, are scheduled for Pasadena, Glendale, and Burbank.
The BRT project's next stop is the delivery of the environmental impact report (EIR). All route decisions are expected to be finalized for the report's deadline in spring 2020.
Latest posts by Ben Latham
(see all)