Members of the Robinson family, PCC alumni, students and staff and many Pasadena residents gathered at the Arclight theater to celebrate the life of Jackie Robinson and to watch a premiere of the film 42.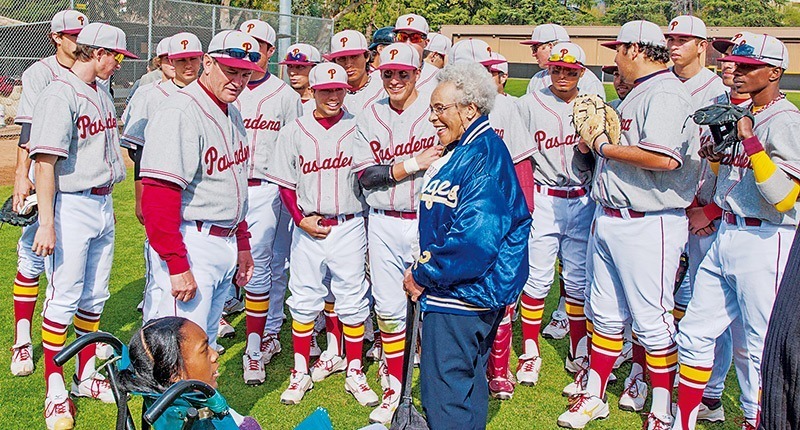 Delano Robinson, the wife of the late Mack Robinson, was the special guest and she arrived sporting the warm-up jacket worn by Jackie in his playing days with the Dodgers. It was a light-hearted event filled with fond memories of possibly the most famous PCC Alum.
With a small brass band of PCC musicians playing tunes like "Take me out to the Ball game," it was a fitting welcome to the premiere of the movie about Robinson's struggles to break the color barrier in major professional sports.
Memorabilia filled the lobby of the theater, and Robinson's presence could be felt immediately upon arrival, that is similar to the way assistant baseball coach David Walters feels every time his team takes the field named after Robinson.  "Absolutely [we feel his] presence, we play at his field; it's hard to have that lost on the guys."  Robinson attended PCC from 1937 to 1939, and during that time he played and lettered in four different sports.
The film made by Warner Bros. and Legendary Pictures, focused on Robinson's years with the Brooklyn Dodgers.  While with the Dodgers, Robinson became a revered player and managed to break down barriers across more than just Ebbet's Field.
The Dodgers official team historian Mark Langill was in attendance.  He spoke to the crowd about what Robinson meant to the Dodger organization.  "This is a movie about a great man who just happened to play baseball," said Langrill.
Langill went on to say that Robinson's life was more than just baseball.  He put his life on the line and what happened behind the scenes was the most important part of his journey.  In Langrill's eyes there was no better season than the Brooklyn Dodgers of 1947 when Jackie Robinson changed the world.
It was a morning of celebration, old friends gathered to watch a film about a man that meant so much not only to this college, the community but to this entire country.
Latest posts by Adam Mitchell
(see all)