An individual overdosed in the PCC library Monday evening, prompting an hours-long hazmat response from police and a building closure, according to campus officials.
The incident occurred in the Shatford Library bathroom on Monday, Feb. 24, 2020 and has since been resolved. 
Campus police and the Pasadena fire department were on scene from approximately 4:00 p.m. to at least 8:30 p.m.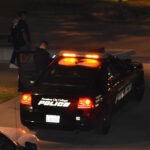 It is unclear if the person was a transient or not, given PCC's weekly transient incident reports.
"The non-student subject was transported to the hospital by Pasadena Fire," said Alex Boekelheide, assistant to the superintendent/president in an email to the Courier.
The individual's current health status is unknown at this time.
Hazardous material vans sighted near the Center for the Arts building were seen on campus around 7:45 p.m., prompting many nearby students to vocalize concerns of a possible coronavirus case at PCC.
"The incident was not related to the global Coronavirus outbreak in any form," Boekelheide continued. "Personnel responded to a drug overdose in the bathroom and there was concern that hazardous material could be present."
The library was closed to the public following the medical emergency but was reopened the following school day.
This story will be updated as more information becomes available.
Latest posts by Victoria Ivie
(see all)