Students for a Democratic Society (SDS), the LA Answers Coalition, Centro CSO, and Black Lives Matter protested against President Trump's aggression towards Syria on Tuesday at the quad.
Armed with a megaphone, bright yellow signs, and a hope for a better tomorrow, the demonstrators called upon PCC students to rise to the cause and stop the involvement in Syria by President Trump.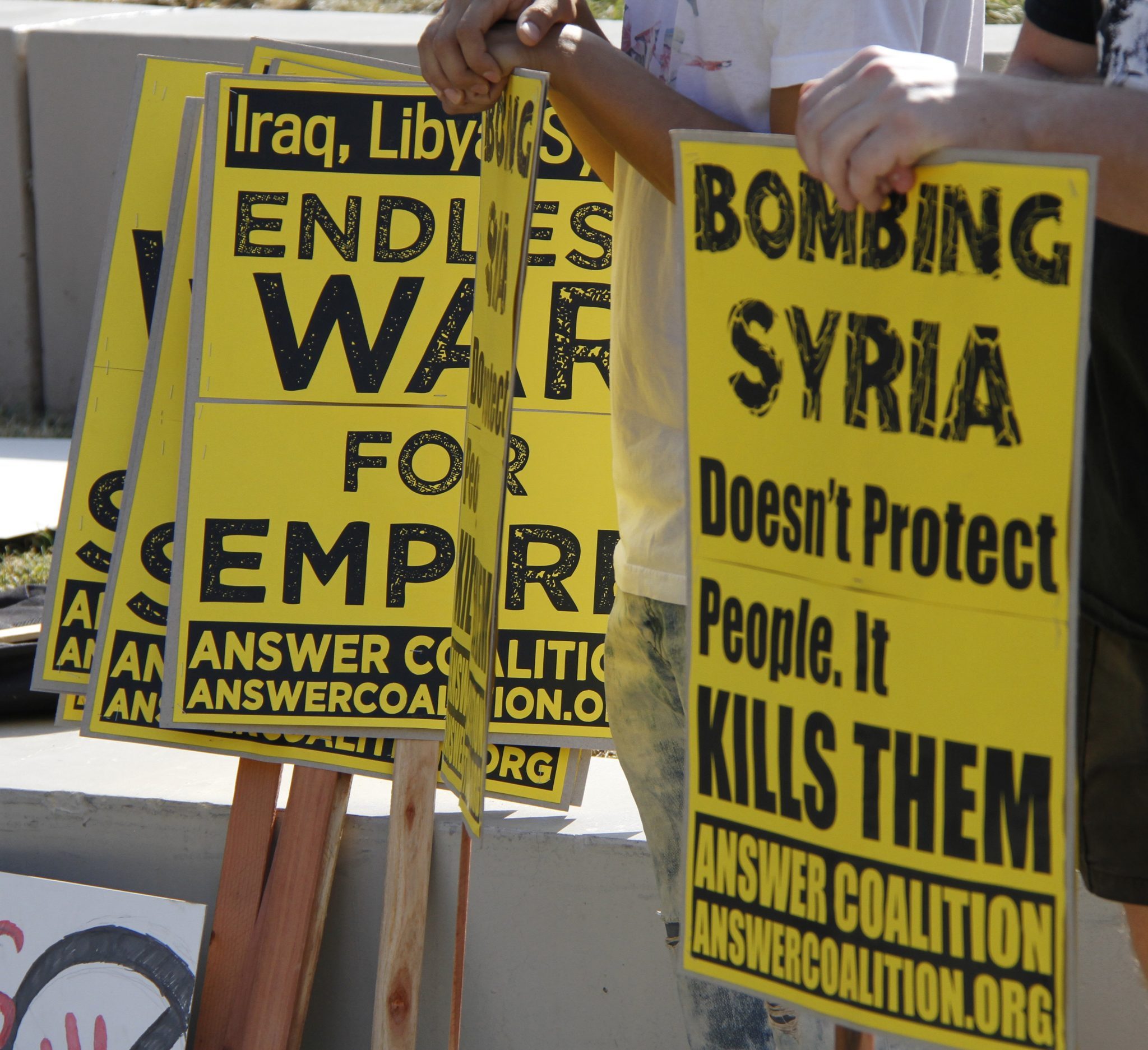 Between chants of "What to do we want?" "Hands off Syria" "When do we want it?" "Now!" the demonstrators took turns giving passionate speeches.
SDS President Lorenzo Osterheim called out Republicans and their lack of support for Syrian refugees.
"What you don't hear the Republicans talking about when they say they support the Syrian people is to bring in refugees and undocumented students as well. These refugees need to be admitted if we are going to stand on any foot to say we support the Syrian people." Osterheim said.
Black Lives Matter member Michael Williams spoke about government corruption, and asked those in attendance why we allow the things we allow.
"We continue to allow our leaders, the people who are supposed to be representing us, who continue to make decisions on our behalf. That we know from past and history do not work. That have been failures, that have been steeped in corruption and misleading and lies. So why do we continue to allow this to happen to us? Why do we continue to allow our elected officials to choose things that we don't believe in? Why do continue to let them kill people — children, mothers, fathers, sisters, brothers. Why do we let them kill them in our name?" Williams said.
Williams concluded his speech by telling rally attendees about what can no longer be allowed.
"We can't keep allowing these things to happen. We can't keep letting them make decisions for us. We can't keep letting them violate our rights." Williams said.
Although the turnout to this rally was small, and mainly reporters, there are plans for more events in the near future.
An upcoming walkout is planned during a sanctuary event held by SDS on May 1 here on campus.
"We encourage all students to walk out of their classrooms to demand a sanctuary campus. We are going to issue demands directly to the Board of Trustees." Osterheim said.