In a crowded classroom of PCC's centrally located C building, recording equipment was set up as broadcasting students gathered their inquiries and waited for their next guest speaker series to commence.
The students are members of the Students in Media and Broadcasting Association (SIMBA). They work alongside The Society of Motion Picture & Television Engineers (SMPTE) to conduct events in which students can gain insight from industry professionals. Every other week, the club holds meetings that allow members to learn more about the business through prominent guest speakers.
The most recent guest on Tuesday, March 3, was Rusty Cundieff, whose career has included writing and directing the 1995 film "Tales From the Hood," as well as directing for Dave Chappelle's 2000's comedy program, "Chapelle's Show."
Cundieff began his career as an actor while studying at USC and branched out by writing and creating his own material. During the event, he advised students to take a more personal approach by making their own content that speaks to them.
"Things don't sell on concept alone," Cundieff explained to students. "You will do a better job telling a story that resonates with you."
Additionally, Cundieff stressed the importance of connections in the entertainment business.
"Bring something to the table, have a good exchange of ideas," Cundieff advised. "It's an industry of relationships."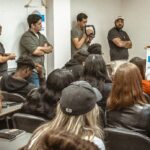 It is SIMBA president Noah Caraballo's second semester being involved in the club, and he hopes that meaningful events with eminent guests will help establish SIMBA and prepare students for their future careers after PCC.
"Students gain knowledge on the industry through SMPTE meetings where speakers talk about their journey and how they got started and what to expect throughout their careers," Caraballo said. "I want [the events] to set a standard for the club that makes it something everybody wants to be a part of if they are in the TVR department."
The club allows ambitious students like board mentor Xavier DuBose to build on their career aspirations. DuBose's goals include making original projects with stories that haven't yet been told.
"I hope to become a director and director of photography, working on projects that give a voice to people without one," said DuBose. "I want to change the current landscape of film altogether."
A big takeaway for DuBose, as well as other students involved in SIMBA, is the firsthand work experience, life lessons, and personal connections the club provides.
"Students can gain a multitude of things from these events-from networking practice to to actual hands-on experience in production," DuBose said.
The next SIMBA meeting will be held on March 10 at 12 p.m. in room C323 with guest speaker Kevin Somers, who is the head of Studio PCA.
For more information on SIMBA, follow them on their Instagram here: @pcc.simba
Latest posts by Devin Herenda
(see all)