The Alkebulan Cultural Center, a small and beige building with miniature palm trees and trimmed grass located in Pasadena, seems unassuming from the outside. But the inside tells a different story with its displays of portraits, paintings and enamel pieces created from the hearts and hands of black artists.
The walls are covered with African masks and black-made art from the hands of this month's displayed artists. African pop music plays in the corner of the small room, forming a playful feeling as visitors gaze at the various art pieces.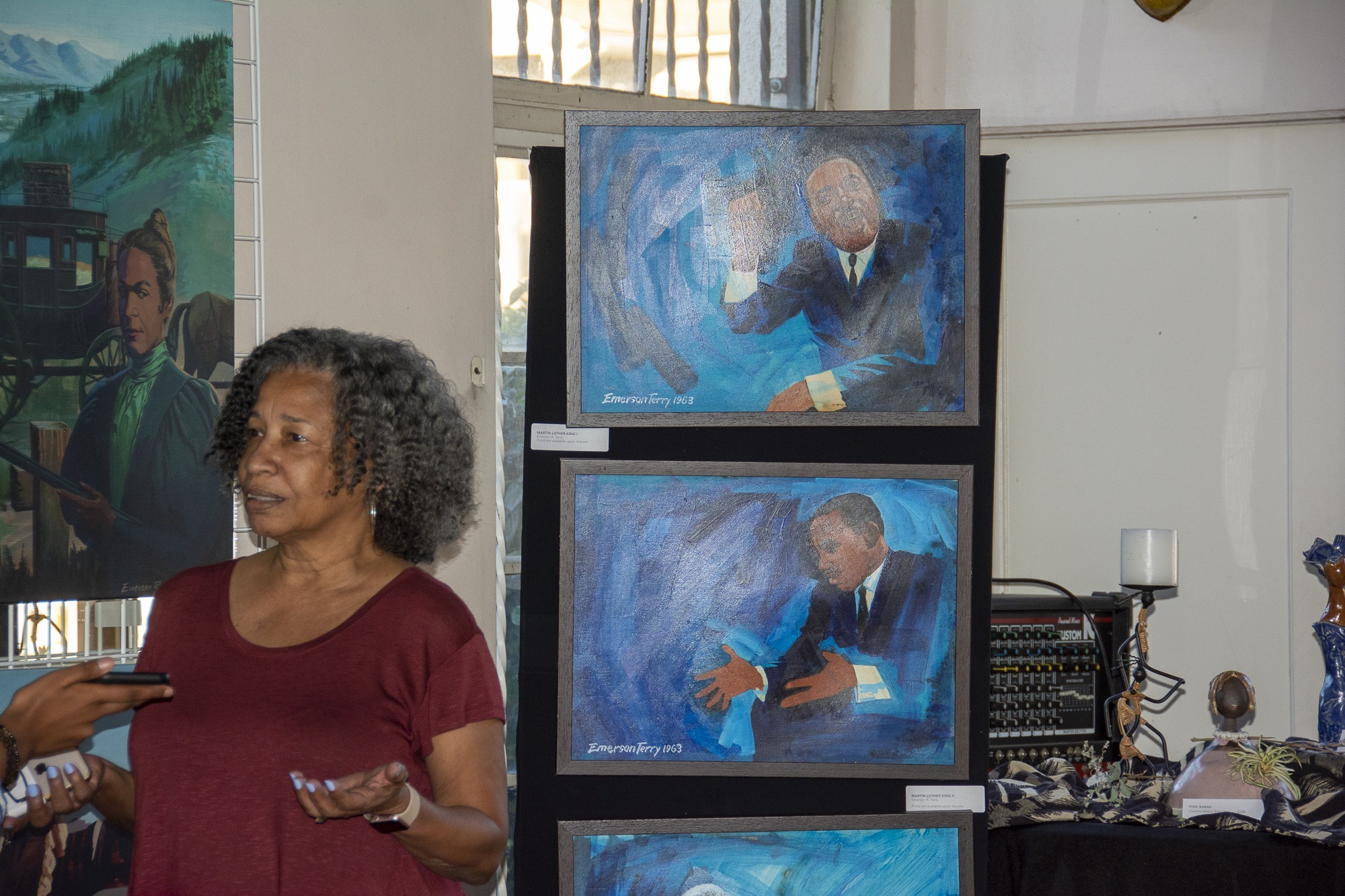 The one-room gallery is small and inviting, with African conga drums framed with handpicked lavender and baby's breath, standing in the middle of the room. Those would later be played by Amaka Uche, Jelani Lateef and Sa.
Riea Owens, a Pasadena-born artist, curated the pieces for this exhibit. Owens explains that the focus of this exhibit were black and African artists and pieces.
"I've become part of a network of artists," said Owens. "The more artists you meet, the more you tend to network with other artists. We hear about shows, and we tell the other ones, [we] encourage them all to submit."
LP Ækili Ross, a former PCC student, specializes in digital stencil collages. He wants to challenge the stigma against digital art and fashions his art to replicate hand painted pieces.
Ross started to work as a freelance artist six years ago after leaving his job in a design firm. He describes this new professional as a different approach to his previous career, going freelance after working in a firm for almost 20 years.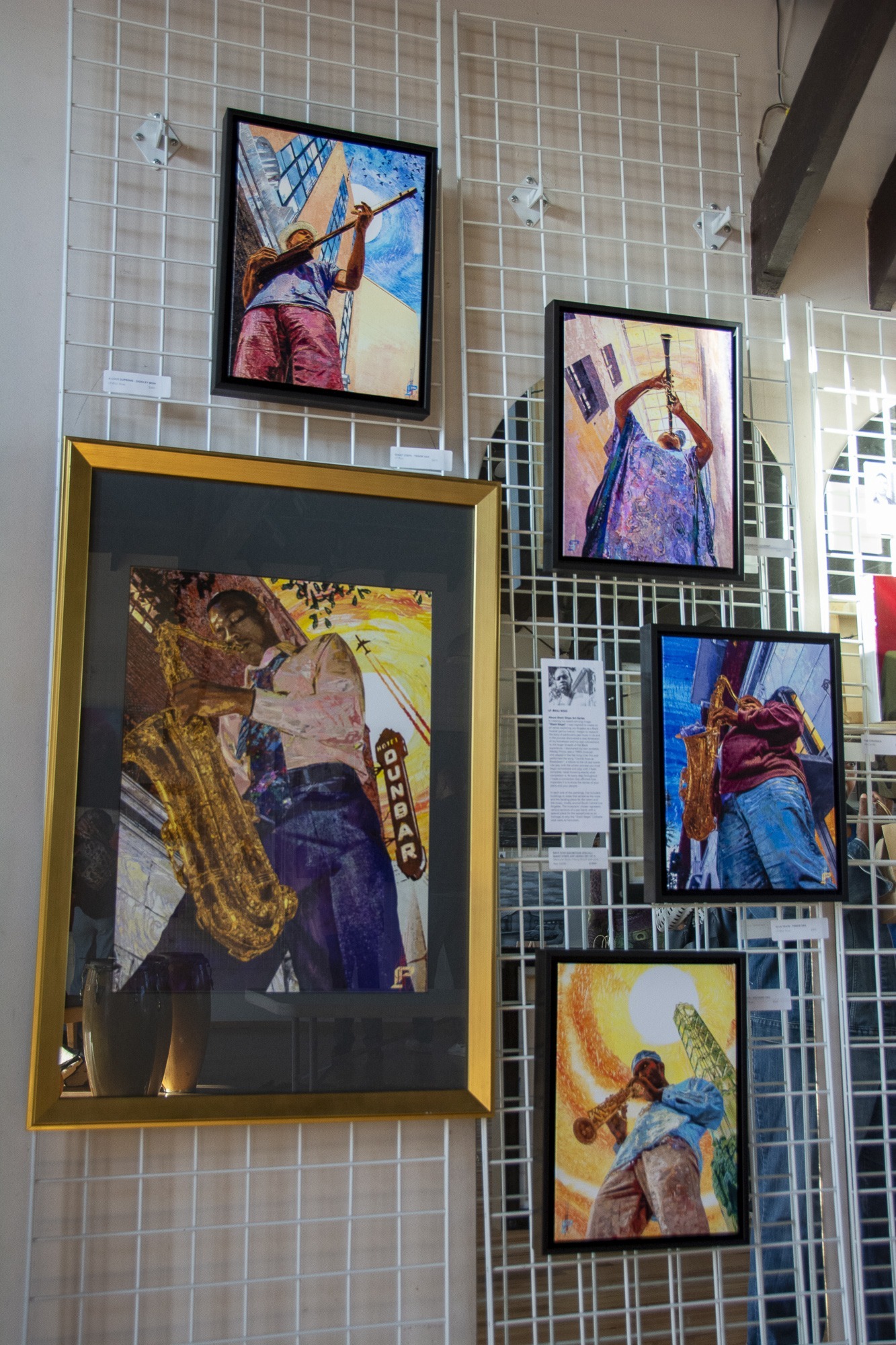 "Digital art is usually shunned upon in association with the traditional style," Ross said. "So I wanted to show that I could create traditional style and that people wouldn't know it was made on a computer."
Ross' pieces that are displayed in Alkebulan are pieces from his collection titled "Giant Step," which display LA-based black musicians in his unique art style. This series was commissioned by Councilman Curren D. Price of District 9 of Los Angeles. Subjects featured in his art include muscians Benjamin Lamar Gay and Isaiah Collier, playing their instruments with bright colors.
"The Giant Step Series is to commemorate LA's rich black historical history, during the 1920s through 1950s," Ross said. "The figures are shown through perspective shots so everyone looks large."
Another artist that uses their distinctive art style to put a light on African history is Linda Ternoir, who uses line art and acrylic to tell stories of African subjects.
"All of my art comes from things that are happening in my life, that gives it more punch," said Ternoir. "I don't like doing art where I have to copy anything, I work out of my head. That gives me more power, having to dig deeper to get that oomph."
Ternoir's art style is unique, composed of cross hatch style and building up texture through minimal materials. Ternoir focuses on stories that she connects with and art styles she can experiment with.
One of her pieces, "Baobab Story Tree," was created all by hand in a simple, yet time consuming crosshatch line art design. It exhibits an unnerving and enticing Baobab tree with a heap of skulls and human outlines in a brooding design.
"Me and my daughter were in Senegal, in a wildlife preserve, where they had these wild Baobab trees," Ternoir said. "On the base of one had these two human skulls. It's said that they would lower the bodies of storytellers into the trunk of the Baobab tree. They didn't want to bury them into the ground for fear of losing the stories. So I said, 'That's my story there!'"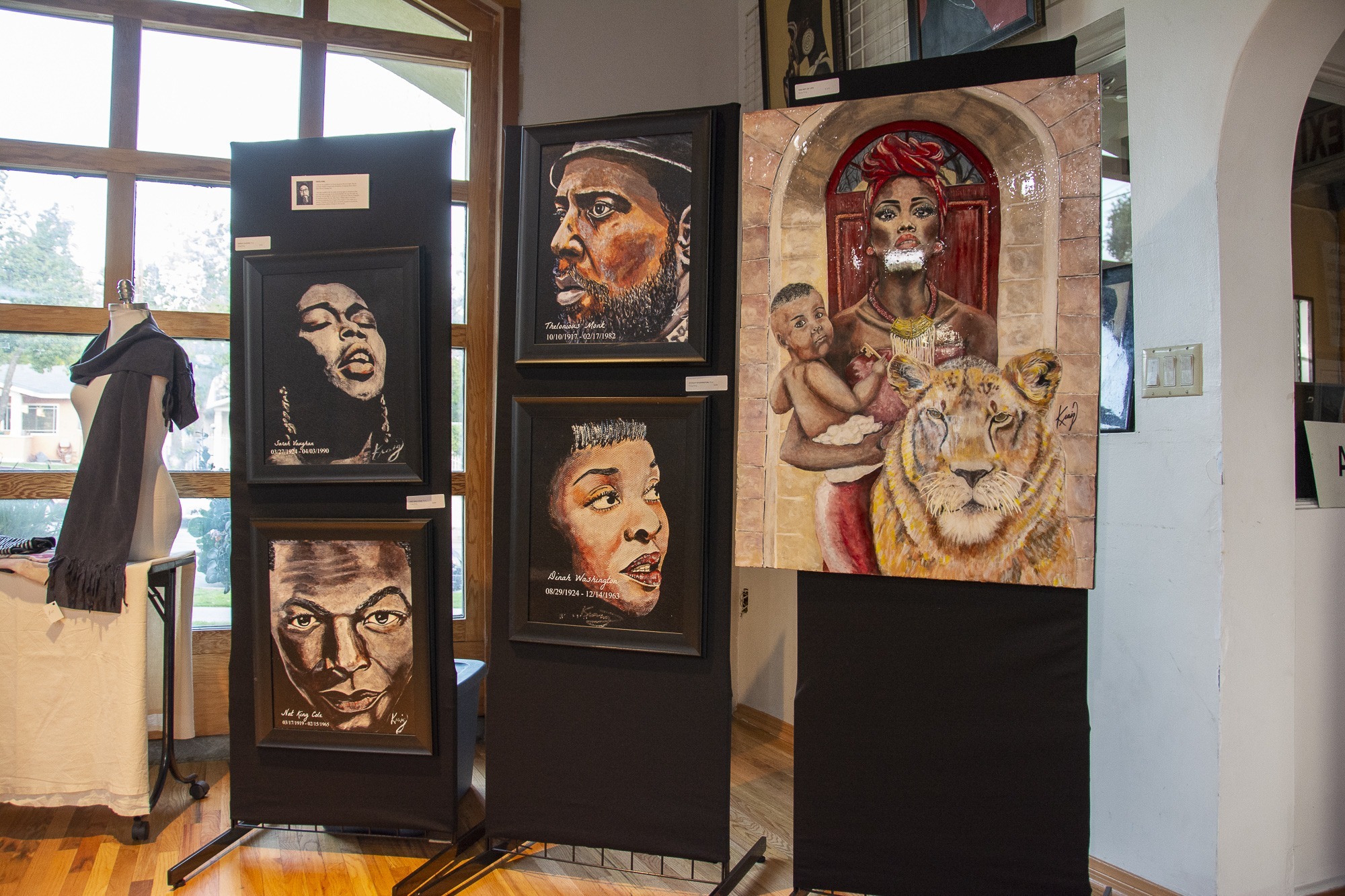 Kraig King describes his work as fantasy art. He combines realism, surrealism and abstract themes to create art that inspires people of color. He started his art career after his second surgery — he describes this time of his life as a cycle of laziness and depression because he wasn't working.
"I woke up. And I was like 'What am I doing? I need to do something. What am I going to do with myself?' So I went back to my art," said King.
A collection of his art displayed is commissioned by the California Jazz & Blues Museum, and was originally used as postcards. He will be working in collaboration in an ongoing series to inform and display musicians in jazz and ragtime, through handcrafted portraits of Billie Holiday and Dinah Washington.
King also has a mixed media fantasy art piece titled "The Key of Life." It is his homage to the strength of a black woman, as she carries a baby boy in one hand and a docile tiger in the other, dressed in a bold red piece.
"Unfortunately, some people don't have that much of a voice as other people," King said. "They don't have that platform. It is our responsibility as black artists to tell our story. To make sure our stories are out there. Our stories have traditionally fallen through the cracks and we can't let that happen anymore."
While the Black History Art Exhibit has ended, the Alkebulan Cultural Center always has art on display. Starting Mar 1, they will be hosting a series of events for Women's Month.
Latest posts by Haneen Eltaib
(see all)