On Sept. 30, a virtual ceremony was held to celebrate Pasadena City College receiving the Dr. John W. Rice Student Success Award. Mrs. Clara Rice, Dr. Rice's widow and Condoleezza Rice, former Secretary of State and Dr. Rice's only child, spoke at the ceremony which honored Dr. Rice's legacy and detailed the origin of the award. During the ceremony, Mackenzie Rivera, president of Associated Students, accepted the award on behalf of PCC.
"I am proud to say that PCC has always put students first," said Mackenzie Rivera. "Coming from a family where my twin sister and I are among the first to seek a college education, I have experienced firsthand, the challenges of entering higher education."
The California Community Colleges Board of Governors grants the Rice Award every year to two community colleges in California for their outstanding work toward student equity, diversity and student success. This year's award recipients included PCC for student success for overall enhancement of student completion rates, transfers to UC or CSU and for the decrease in the total number of units earned by associate degree grantees.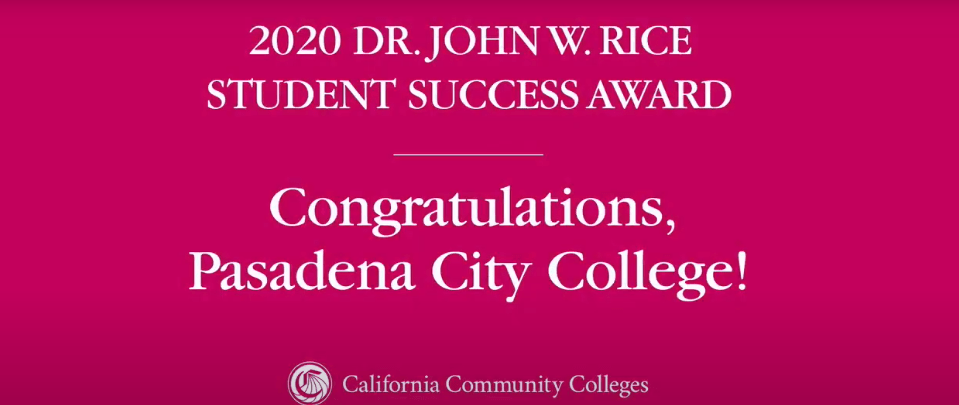 "Congratulations to the community colleges receiving recognition this year for their outstanding efforts to improve student equity, diversity and student success on campus. This work is more critical than ever and has a profound impact on our students," said Keetha Mills, President and CEO of the Foundation for California Community Colleges.
The award was established in 2001 and named after Dr. John W. Rice, for his commitment and efforts to enhance diversity as well as equity in higher education during his service on the CCC board of governors. The Rice Award highlights PCC's advancement toward student success while the ceremony also honors Dr. Rice who was a tireless advocate for student success in the educational system, according to California Community Colleges.
"Pasadena City College demonstrates strong retention and degree completion rates," according to the CCC website. "All first-time college students get coaching, academic advising and priority registration to get them started on the right path. The college also offers multiple programs for special populations to ensure all students can achieve their higher education goals, no matter where they begin."
Speaking on behalf of California Community Colleges were Board of Governors President Tom Epstein, Vice President Pamela Hayes, and Chancellor Eloy Ortiz Oakley.
"Education is transformative. It gives people new horizons, new possibilities," said Condoleezza Rice. " It allows them to use their God-given talents to become the very best that they can be."
The award honors PCC for having the highest number of transfers in 2019-2020, based on data from CSU and UC. In addition, the Rice award highlights numerous programs that provide student support at PCC in order to put each student on the path to success. Programs such as early registration and the staff at the transfer center, help to provide each student with the tools needed to triumph in their professional lives.
Latest posts by Grecia Andrade
(see all)