The Great California Shakeout, an annual public preparedness campaign cosponsored by the Earthquake Country Alliance (ECA) and state agencies, and backed by the USC-based Southern California Earthquake Center (SCEC), gave PCC a peek on Thursday, Oct. 17, at what a full-scale evacuation may have to withstand in a real emergency.
The Courier chronicled the evacuation and reaction from the R building. Compared to other buildings, its classrooms reach up four stories. On the map, it is also not as close to its nearest designated evacuation zones as other buildings are to theirs.
By 10:17 a.m., the drill's initial announcement was broadcast and alarm bells rang loudly. Students filed out of the health science labs and large classrooms on the top floor, mostly in groups, to walk down the stairs.
Staff and faculty emergency responders wearing safety vests were deployed across campus to ensure their assigned buildings and public spaces were cleared.
Health Sciences Professor of Dental Assisting Stephanie Schmidt oversaw evacuations through the quad. Schmidt has expertise from her neighborhood's Community Emergency Response Team (CERT), with training from the Los Angeles Fire Department.
At 10:21 a.m., a Rave Alert message went out as a reminder to "Drop! Cover! Hold on!"
At 10:27 a.m., Schmidt walked over to move a few students still on the quad. They had not joined everyone else in the nearest evacuation zones at the mirror pools or parking lot 1.
Mathematics instructor Renee Johansson was the responder stationed at the north doors.
"I help out with the R building. I just check all the rooms on the third floor, and make sure everyone's exiting like they're supposed to," Johansson said.
She redirected students as they approached, while telling others not to enter through the south doors. She carried campus maps showing the evacuation zones for anyone who did not know where to go.
By 10:33 a.m., the bells had been quiet for a few minutes. At this late stage in the drill, students were still trickling down in the elevators. While Johansson directed them out, responder John Mathewson, also a math teacher, saw others while on foot patrol.
"I just kicked some people out of a room over there [R building first floor], a philosophy class. They're doing math," Mathewson said. "My job is to walk around building C. So I'm going to go around and I'm going to try and shepherd people."
It was unclear whether those students stayed in the room throughout the entire drill, or entered from outside after the bell stopped ringing.
"Everything's working out as I think we can expect at the moment," Mathewson said. "There's some confusion because when you hear the bells and you hear them turn off, you think the drill is over."
By 10:38 a.m., the drill's completion announcement came. Mathewson signaled a confirmation, and Johansson opened and held the door for students to re-enter.
"I think we definitely could've done more work on communicating that when the bell stops, that doesn't mean you head back in. Noted for next year," Johansson said.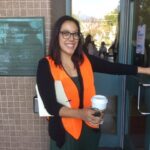 The drill ended approximately 20 minutes after it began.
"I felt it was a very successful drill. I was very grateful for all the students and employees who evacuated willingly and cooperatively, and to all those to whom I had to ask to evacuate, and then did so cooperatively," Schmidt wrote in an email to the Courier. "That makes our job as responders much easier when everyone participates and does as we have asked."
Schmidt suggested students subscribe to Rave Alerts online at the Campus Safety webpage.
PCC's Emergency Information webpage shows the evacuation maps for each campus; Main and Child Development Center, Rosemead, and the Community Education Center (CEC).
"Actually, this year we were smoother than last year. We were able to evacuate the building orderly, quickly," said CEC Assistant Superintendent / Senior Vice President Robert Bell. "Last year we hadn't rehearsed, so the alarms went off but nobody knew how to turn them off. So we were outside for, like, 20–25 minutes before we figured out how to disable the alarm."
The CEC was not listed among the registered college participants for the 2019 Shakeout, which surprised Bell. He said the CEC's registration status would be investigated.
Since 2009, the third Thursday of October has been the standard date for the Shakeout, to better fit school calendars and to allow students and teachers to prepare together for emergencies.
Coincidentally, Oct. 17 is a seismically symbolic date in California. Thirty years ago to the day, in 1989 the San Francisco Bay Area suffered extensive damage in the costly Loma Prieta quake. This milestone anniversary was not specifically chosen for 2019's drill, the twelfth since the Shakeout began in 2008.
"Practice and preparation are the only ways we can respond well and in the safest way to real situations, and taking that practice and prep seriously is really important, at school and at home, because we live in an environment where there will be earthquakes, and emergencies will happen," Schmidt said. "That is the only way we can be assured that all our preparations are in order, functioning, and we are, in the best way possible, prepared to respond."
Latest posts by Ben Latham
(see all)