Students participated in a nation-wide walkout at Pasadena City College (PCC) on Wednesday morning demanding that Congress take action against gun violence with underlying themes of bringing the PCC community more connected.
This PCC event was prompted as part of a larger national event event to pressure legislators to find a solution to school shootings. It was organized by the same group that organized the Women's March in January. The event was in response to the mass shooting at Marjory Stoneman Douglas High School in Parkland, Florida that killed 17 students and staff one month ago. There have been 12 school shootings since Parkland on Feb. 14, according to Everytown for Gun Safety.
Students started gathering in a central student area at the foot of the C-building with their backs to Colorado Boulevard five minutes before the 10:00 a.m. start time. Professors let students out early to participate. Associated Students informed students of the protest in advance via their social media, along with arranging an organized program for the activists.
Speakers invited by Associated Students talked about the Parkland victims then focused the discussion on what PCC students could do, including reaching out to build community. Students wrote their beliefs on posters. These posters started out as colored construction paper with only the words "WE DEMAND that Congress enact an immediate resolution declaring gun violence a public health crisis" and "WE DEMAND Congress recognize all forms of gun violence, including violence committed by police."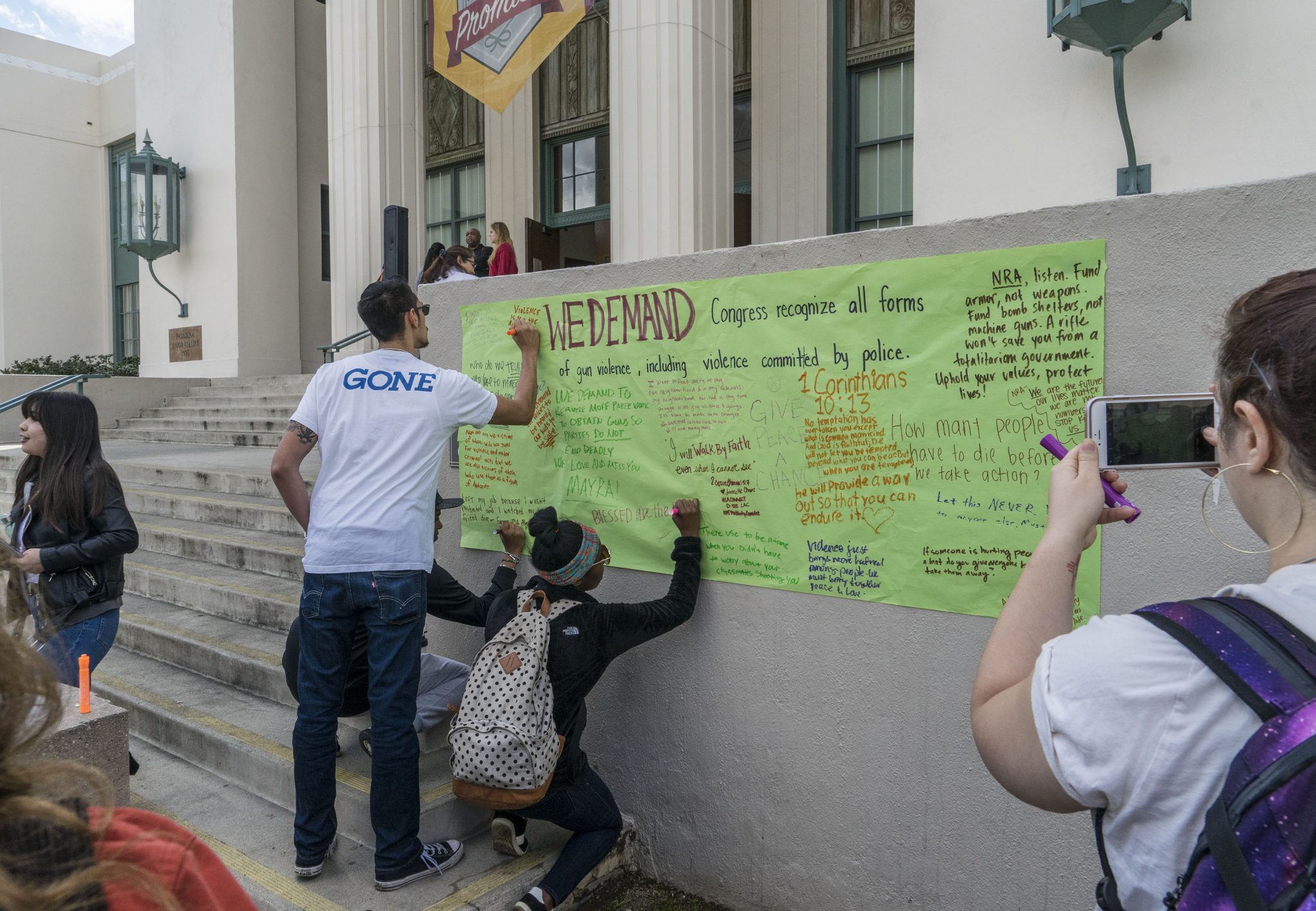 These posters will be presented to the PCC Board of Trustees and during a "debrief" in the president's board report, according to Emily Ekshian, Student Trustee.
"We're going to bring in personal stories and explain the event," Ekshian said.
Many students, like Enrique Reyes and Jose Rodriguez, had not engaged in activism before this protest.
Rodriguez felt this was different because his could see a tragedy like Parkland or Sandy Hook happening within his life.
"I have a lot of little brothers and sisters. [Some] go to school right now but three of them don't yet, so it's scary not knowing if they're safe going to school or not," Rodriguez said.
Other students made the trek to PCC just for this, including Evelyn Askew.
"I don't actually have class during this time but I still wanted to be part of this movement," Askew said. "When I first heard there was going to be walkout, I was hoping PCC was going to have one. If not, then I was just going to stand out here… and look ridiculous, but that's fine. When I saw that they were having one, it was really exciting."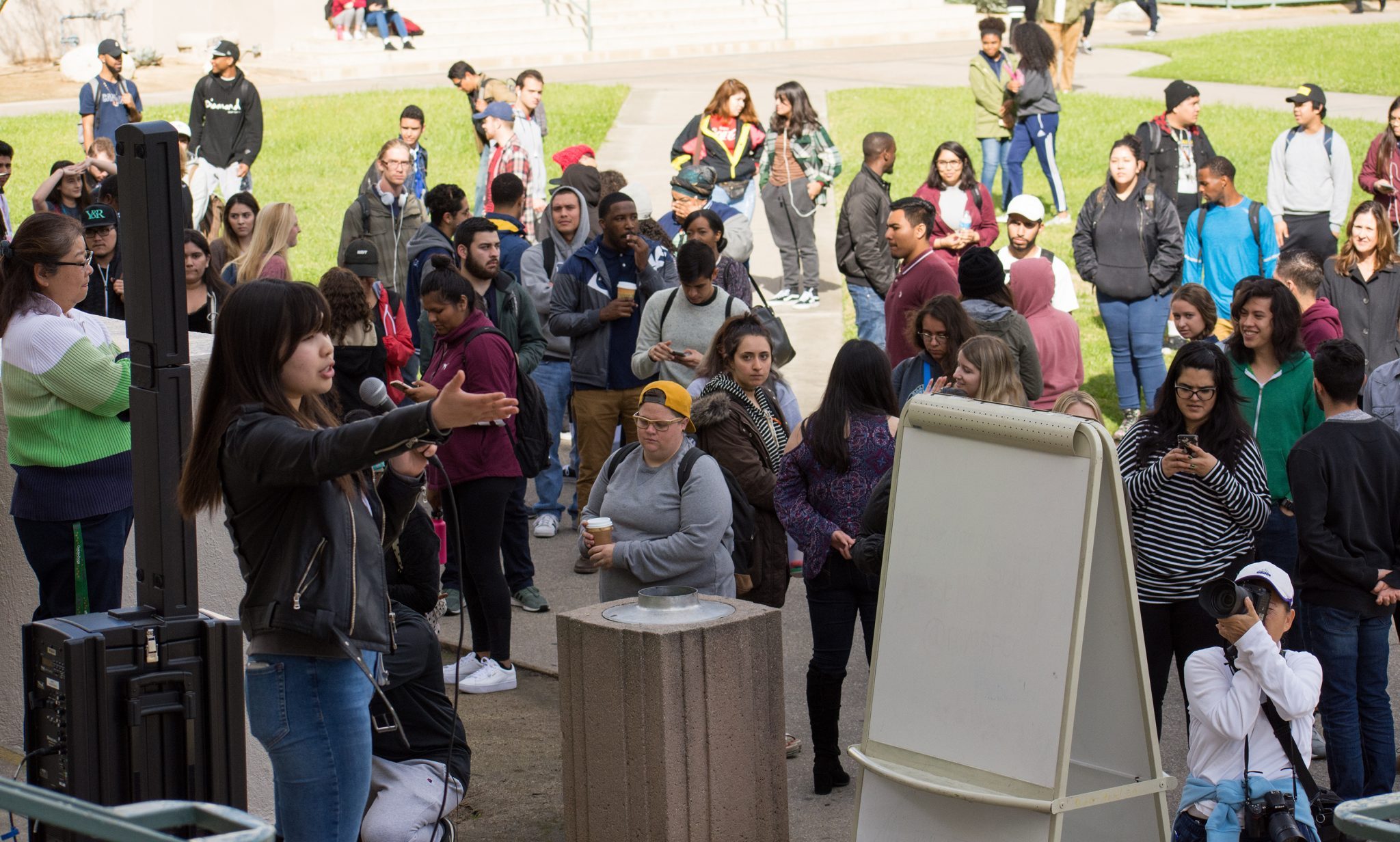 Many students took the opportunity to engage in political activism through professors who ended class early so they could participate without missing class content.
People held their smartphones high to film the activism, especially at the beginning of the walkout. Most everyone put away their cameras when a solemn feeling gripped the audience as Associated Students began the program.
There was a minimal police presence.
"The walkout was very peaceful," Steven Matchan, Chief of Police and Safety Services, said in an email. "No incidents to report."
Associated Students president, Kiely Lam, noted there currently has been little to no pushback.
"All individuals have their own opinions, but no movements [in opposition]," Lam said. "Not everyone agrees, but just the fact that our board is willing to have those conversations and talk it out really helps.
On the national level, the National Rifle Association (NRA) skated around directly mentioning the walkout on Twitter, but implied they were still against increased gun control, tweeting: "I'll control my own guns, thank you. #2A #NRA"
I'll control my own guns, thank you. #2A #NRA pic.twitter.com/jqbZzwcWf6

— NRA (@NRA) March 14, 2018
Participating students felt their activism was part of a national movement that was about to make quantifiable change.
"The Parkland shooting was the last straw that really told people to wake up, and that is a really big issue," Esther Huerta said. "People have been talking about it for years … but nobody has done anything, but now it's a big walkout happening at our school and different schools. I think this is an awakening that we should have stricter gun laws."
Students felt they could awaken change by participating in the walkout and put extra effort to support and represent themselves at the PCC walkout.
"I feel like being here will somehow make a difference," Marina Villarreal said. "I wasn't expecting to see a lot of people, then we got here and there were a lot of people sitting on the steps and [my friend and I] thought, 'Oh, wow!' My last class ended an hour and a half ago but I just stayed here."
On Wednesday, concurrent with the walkout, the House of Representatives passed a bill called the STOP School Violence Act to provide $50 million per year of federal grants to fund training, anonymous reporting systems, threat assessments, intervention teams and school and police coordination. This bill does not include funding to arm teachers. The bill received bipartisan support of 407-10 and is supported by the NRA.
After a minute of silence at 10:17 a.m., the presentation included "a minute of community," where students reached out to the stranger sitting next to them to talk and made a connection. Students turned to a neighbor and, in stark contrast to the solemn silence of remembrance, bubbling conversation flowed around the mirror pools.
"If a situation like [Parkland] ever happens on our campus, remember to run, hide, and if necessary, fight," the final speaker said.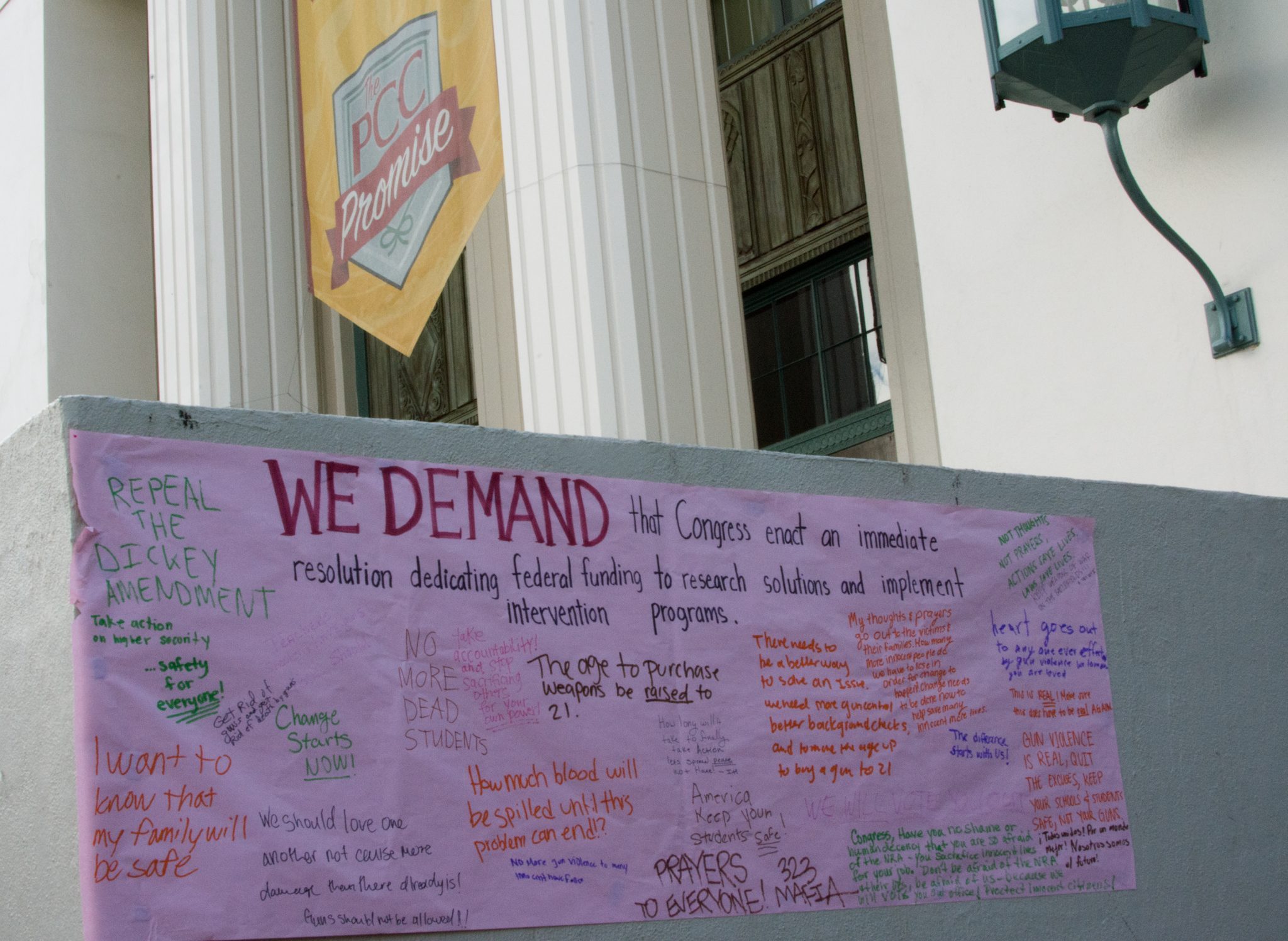 Latest posts by Sarah Gillespie
(see all)