Urban wall photographer and long-time resident Bill Wishner welcomed the people of Pasadena to experience his newest art gallery "The Art of the City Wall," featuring photographs of unique wall art from all over the world, on Thursday night at the Curatorial Assistance Exhibit.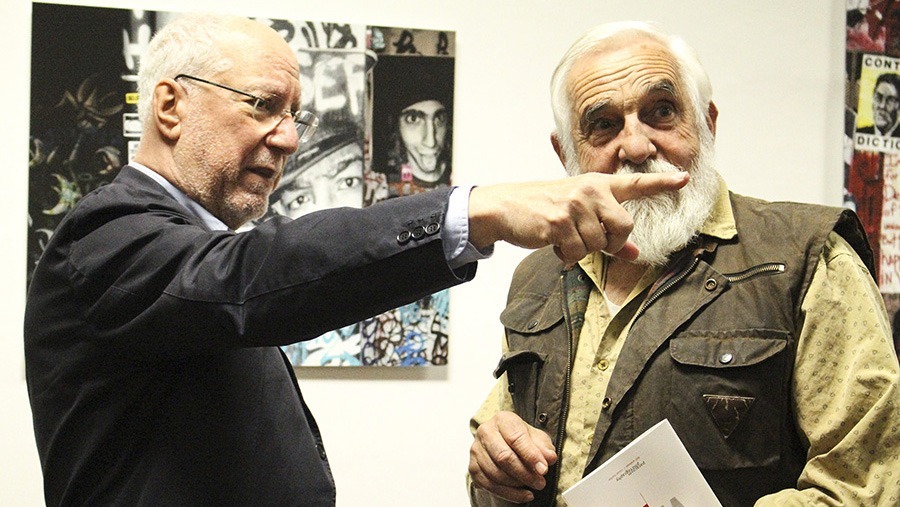 What once began as a photography career focused on jazz has now morphed into one that works to inspire others with the brazen and unseen artwork of urban neighborhoods from around the globe.
Wishner has been working on his urban wall project for the past three years, traveling all over the world with his wife in search of art that people have yet to admire.
"Pictures in this exhibit are silent witness to social engagement and cultural messaging at multiple levels in our urban societies," Wishner said in his artist statement.
The gallery features photos of walls from the urban societies of New York, London, Prague, Los Angeles, Berlin, and New Orleans.
His photos are intended to represent "freedom of expression within society," to serve "as 'proof of life' within the community," to enhance "an otherwise sterile and barren environment," and communicate "overlapping meanings and discourses within urban cultures."
Wishner gushed that he could go on for hours when it comes to his artistic process of taking such eye-catching photos.
"My artistic process starts here [motions to head] with an idea that I want to show the world that they haven't seen," Wishner said. "And then my job is to go out and be a visual hunter, to hunt out those things and bring them back as prey. And then I work on them, like a taxidermist would, and then they become for everybody to see."
Due to the impeccable detail and color of his photos, Wishner was asked if he had done anything to his photographs on the computer during the gallery opening.
"Nothing is done on the computer." Wishner said. "These are pictures I took, and what you see is what I saw. Nothing is done, nothing is taken out, nothing is put in."
Though the signature piece of the gallery is one named "Rodeo," Wishner confessed that his favorite is "Hell Awaits," a photo of a large cartoonish figure painted on the doors of a warehouse in London.
"It really represents a culmination of everything I see on walls," Wishner said about the photo. "It is done on a door, there's people behind that door, there's people living there, even though it's a warehouse. It is done by multiple artists. It is functional art, in that they open the door and they go through it. To me, it represents the reason I'm here doing this."
His wife Kathy Wishner, though not a photographer, shares the same love for his work.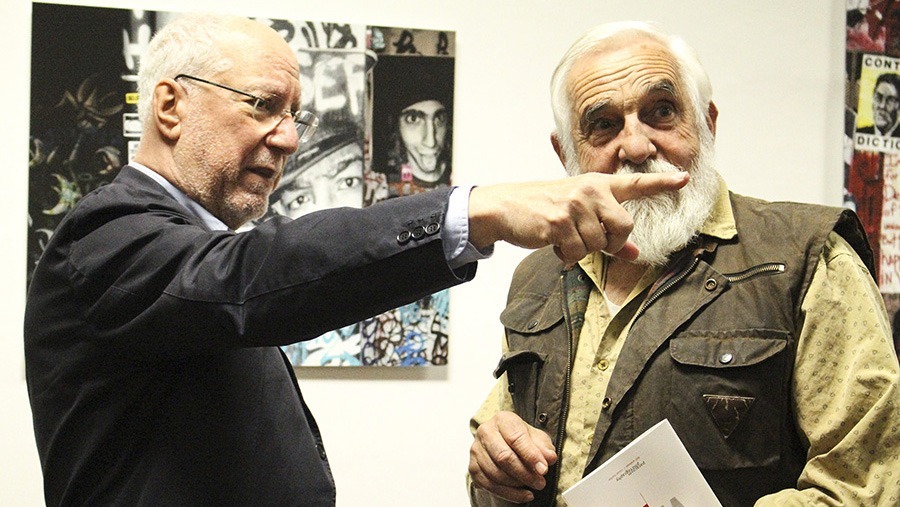 "It's hard to describe, because it is unique," Kathy Wishner said. "You have to stand in front of a picture for a while and you see different things, and then you come back again and see something totally different. There is so much in each picture that you have to think about it."
Kathy Wishner favors the signature piece "Rodeo," but she admires her husband's favorite "Hell Awaits" as well.
Many of Wishner's colleagues and friends attended the gallery opening, including fellow photographer James Staub, a member of the photography group that Wishner started nine years ago called "F8".
"I guess I might call it a visual maelstrom," Staub said. "It's things that have on purpose and unpurposely come together, and Bill has found a way to isolate that and make something out of it that makes visual sense. He sort of clarifies it into a finalized image. The way I look at it is, all this stuff was kind of compressed in time, and what we have here is the finale of that with his camera, of all that compression of time and art, or not art. In a way it could be considered documentary, or it could be considered an extension of the art that the other artists were making."
A portion of the proceeds from the gallery will be donated to "Five Acres", an organization that currently supports more than 8,500 children and families across five counties in southern California and offers residential care, community-based programs, foster care and adoptions and a therapeutic school for children and youth with special needs.
"It's complicated," Wishner said about the donation. "And the reason is, usually things don't sell in here. Usually there's a donation. The minimum is $1,000, if nothing sells. If something sells, then we'll see. But, usually, you can't expect a lot of things will sell. If you're an artist you don't."
The possibility of his work not selling does not faze Wishner. He only hopes "that the viewer will engage each on its own terms and emerge with an artistic notion of a photograph standing on its own as a work of art."