Mark of the Beast. Tat. Body Art. These are just some of the slang terms people may use to refer to tattoos.
According to Fox News, a study done by the Journal of the American Academy of Dermatology showed that 24 percent of Americans between the age of 18 and 50 have at least one tattoo.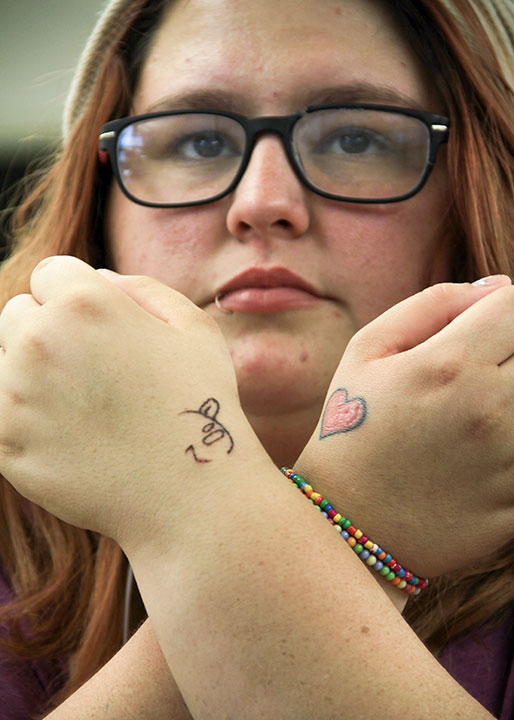 Considering that 24 percent is one in four Americans, there should be plenty of students and instructors on campus with a tattoo or two.
Speech Instructor Joshua Fleming has five. He has a moon on one shoulder and a sun on the other. Then there is one of a man holding a sign with the words "speak up."
While the tattoo has a work-related meaning, there is more to it then just representing his job.
"The 'speak up' tat is my work-related ink [because] I'm a speech teacher," Fleming wrote in an email. "But [it] also means a lot because it advocates what I encourage in my classes: for students to exercise their voice."
Myrna Koehling, nursing, has tattoos that are for her family members. She has her younger sister's initials, "D.C.," on her left wrist. She also has two unfinished tattoos, one for her brother who passed away and one for her daughter.
Alumna Cicely Chisholm has a tattoo on her foot with the words "Keep Running" as an inspiration. "It's my reminder to keep moving forward. No matter what happens. Good or bad, it will always end up becoming the past, so I should keep looking ahead," she said. "The past doesn't have to dictate my future, and sometimes I need that reminder on bad days."
There wasn't much concern over the idea that tattoos can jeopardize getting hired.
Fleming wasn't worried about it because he had ways around it. "I've never had a problem with covering them up if needed," he said.
But Koehling has a different view of the idea. "I was not worried because if my appearance is more [important] than my skill, then I don't want to work for you."
Latest posts by Tiffany Herrera
(see all)