Most cope with anxiety with a yoga class, a private masseuse, a cup of coffee with a friend or playing a pick-up basketball game, but that's all been taken away since the stay-at-home order was issued. Mindfulness Meditation has a great reputation for dealing with stress, anxiety and promotes self-regulation and empathy.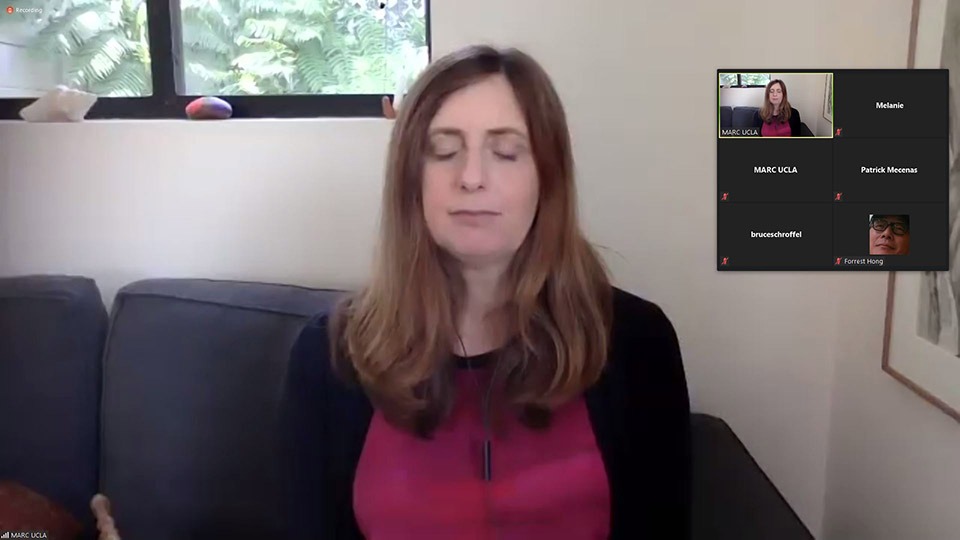 Diana Winston, director of Mindfulness Education at UCLA Mindful Awareness Research Center is offering a free 30-minute meditation session to the public. Winston, a former Buddhist nun, has been practicing mindfulness since 1989. The sessions are from 12:30 p.m. to 1:00 p.m. every Thursday and can be accessed at any time.
This week's theme was developing equanimity in challenging times. Winston chose the word equanimity because "humans sit with difficult emotions and difficult thoughts." Equanimity is about being engaged and connected.
Winston recommends closing the laptop screen because viewing other parties in a Zoom meeting is distracting. She begins by telling her audience to feel their feet touching the floor and their backs against their chair. Sometimes humans can forget to connect to themselves and Winston reminds the listeners to focus on their own bodies.
Eventually, Winston stays silent and allows her listeners' minds to wander into their own thoughts. The experience is quite calming. The combination of her voice, the silence and concentrating on one thing made it easy to forget about all the pandemic and all other struggles. Be careful though, it is very easy to fall asleep.
Winston comes back from the silence and asks the audience to remember when they had equanimity in their lives. Her ending notes are just as strong as the beginning. Winston reminds her audience to be kind to themselves and ignore the negative voices.
Try to grab a quiet space or perhaps a short walk to the park alone. Mindfulness meditation is a great option for students who are adjusting to online classes or parents who are working from home and are with their kids all day.
Previously, the sessions were hosted at the Billy Wilder Theatre at the Hammer Museum. It is now viewed via Zoom, online or by the UCLA Mindful mobile application due to the coronavirus. The recorded sessions go as far back as Jan. 10, 2013.
UCLA Mindful Research Center from the Hammer Museum also hosts weekly podcasts on a variety of themes and practices to cultivate self-awareness, emotion regulation and increased well-being.
Latest posts by Kevin Seavers
(see all)