A line rapidly grew along La Brea Avenue on a fairly quiet Thursday afternoon in West Hollywood. The City of Hollywood has allowed a once taboo subject to become a reality by granting Original Cannabis Cafe a cannabis consumption license first out of 300 or more applicants. Los Angeles locals and visitors alike have been happily welcoming the nation's first organic cannabis cafe for the last two weeks. 
Original Cannabis Cafe is tucked away in a lowkey corner off of La Brea and Lexington Avenue and it has quickly become the quintessential restaurant-lounge for weed smokers. The cannabis cafe serves food and nonalcoholic drink options created by chef Andrea Drummer. The food options include a range of salads, sandwiches, snacks and sweets. The drink options vary from milkshakes, to coffee, tea or juice. As for the cannabis options, the menu includes: vapes, pre-rolls, edibles (chewable and drinkable), concentrates, accessories to rent and of course, different flower to choose from — all of which are high-quality.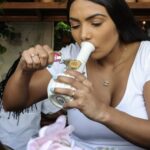 Upon entering, Kaytranada played on their sound system and conversations from a diverse crowd of patrons lightly filled the remaining space. A faint kush aroma lingered, while its remains were being filtered through a special air-purifying system as specifically stated by the cafe's license. 
After settling in, a budtender or "flower host" immediately served us water and offered to help with any questions or suggestions based off of the cannabis menu. A 5-pack of Maven "XXX OG" hybrid cannabis pre-rolls was the simplest way to go, while our neighbors on the opposite side of the counter space rented a bong paired with an eighth of Lowell Farms' "Chemdog" sativa and a Space Coyote hash pre-roll. The bong alone drew attention when it arrived as a dainty vase filled delicately with flowers, from a signature "My Bud Vase" collection. 
"I'm so high right now," Julia Holloway said, while laughing.
Their flower host came to check in and see how everyone was feeling (hopefully high) and to clear their table of anything else. The shareable cannabis experience continued over an enjoyable order of eats and refreshing drinks that another server took prior. Meanwhile, their notable playlist upheld itself with tracks from Anderson .Paak and Brockhampton. 
"The best part is being able to do this somewhere and not having to be secretive about it," Alexis Rivera said.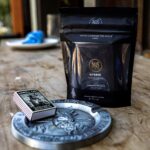 Guests can enjoy this experience during the cafe's operating hours of 10 a.m. to 10 p.m. daily. But before attending, a few things should be noted — outside cannabis is allowed with a tokeage fee of $30, but outside glass isn't. The cannabis menu includes a variety of other brands aligned with Lowell's ethos and reservations are highly encouraged but walk-ins are allowed. The cafe has heightened the weed smoking experience so to prevent anything otherwise, it's best to remain aware of your tolerance.
"Overall, it was a dope environment," Desiree Chacon said. "Like there's no other place where you can just smoke and eat and chill with like, other people."
To see a gallery of Original Cannabis Cafe, click below.
Latest posts by Isabella Lujan
(see all)