"It's all comfort food, but retro comfort food. When comfort food didn't have a title because that's all there was," chef Marc Elliott said when explaining the food of his new diner, Old School Eatery.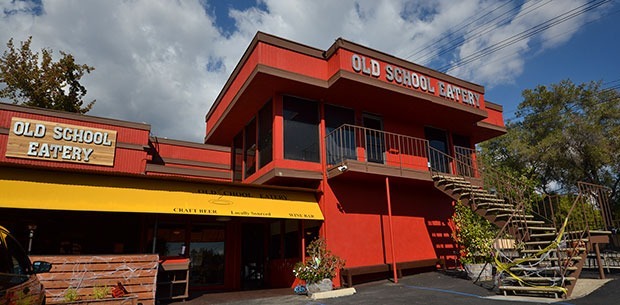 An LA native, but Brooklyn raised, chef Elliott opened Old School Eatery, his sixth restaurant, about four months ago in East Pasadena. The "old school" diner offers nostalgia and classic meals like Salisbury steak, fried chicken and beef stroganoff.
"I wanted to come and do something fun, something special. Our menu consists of stuff that you ate out of a movie dinner tray," Elliott said.
Old School Eatery offers a vintage diner-like feel that looks like an old school house, just with a bar.
The restaurant, which also has an outdoor patio, is where Elliott explained he wanted people to feel comfortable and enjoy what they eat without breaking their bank. Elliott makes dishes that are delicious and affordable without compromising the quality of his dishes.
"Retro, first. Seasonal, second. Then, cost effective, third," Elliott explained his thought process on food items. "I will never put price first, I will never say this garbage sliced in plastic is way better and way cheaper so this is what I'm going to use. That's never my motivation, it can't be."
Elliott is proud of his cost-managed meals and explained how he doesn't want the reputation of the typical expensive "LA restaurant." He said that it is absurd when bars, most in Los Angeles, sell pints of beer for $9. Which is why Chef Elliott decided to start his beer list at a very agreeable $3 and also offers beers from local breweries.
The chef also takes pride in the freshness of his produce. Customers can dine in and enjoy local vegetables hand-picked from the farmers market. Very knowledgeable, he explained that vegetables are pivotal in the success of a dish.
"The early part of the season (of vegetables) is not the same as the late part of the season nor is it the same as the early part of the next season. So there are really eight vegetable changes throughout the year," Elliott said. Hence, the eight menu changes in between seasons.
With no culinary school background, Elliott still proves to be creative in his food art. His most asked-for appetizer is the devilled eggs. Visually appealing, the egg is infused with color and an abundance of flavor after sitting overnight in beet juice and then topped with Dijon mustard, aioli, truffle and bacon.
"By soaking egg whites in iron makes it almost the perfect food," Elliott said. "Beets have the one thing eggs don't have and that's iron. It also makes them really pretty and it also happened completely on accident."
The idea came to Chef Elliott while cutting eggs and one rolling off the cutting board into a bucket of beets. He took advantage to the idea of the dyed egg.
"When I pulled it out the next day, it was bright purple and beautiful. 'Wow, I'm gonna do this to all of them,'" Elliott said.
Another intriguing item on the menu was The Seattle Burger, seven ounces of succulent beef smothered between a glazed bacon cronut. Cronuts, made famous in the past year, is far from retro but adds a lot of fun to the menu.
"I thought about putting a hamburger on a donut, but I thought, 'why stop there?' Let's go to the next level," Elliott said. "Cronuts are super buttery and vicious."
Old School Eatery has a lunch and dinner menu during the week and brunch on the weekends. One of the brunch items, Ace in a Hole, was inspired from Elliott's father who cut out a hole in a bread slice and cracked an egg in it. Johnny Cakes, cornmeal infused pancakes, are another popular choice.
The restaurant also offers a selection of homemade hot sauces created by Elliott that are placed and passed out to customers in a caution-taped box. The box contains 18 different sauces, all made experimentally so the chef has no reference of what or how much of each ingredient is in there. The limited sauces are named after songs by the band the Grateful Dead like "Black Muddy River" and "Hard to Handle."
Elliott leaves his creations up to his imagination. His curiosity and eagerness to produce good-tasting, fun food started at the young age of nine when he and his family went to San Francisco for a food tour.
He explained that eating authentic Chinese food in China Town and freshly-baked bread made him resent the "garbage" he grew up eating in Los Angeles. Visiting the Ghirardelli chocolate factory was also inspiration for him to pursue his culinary aspirations.
Returning to LA, he worked for quarters folding pizza boxes at a pizzeria before bugging his boss to teach him the ways of the kitchen. His humble ways led him to work with famous names like Gordon Ramsay and renowned French chef Michel Michaud. He also shared ideas while working in the same office as Masaharu Morimoto, the Japanese Iron Chef.
It is no wonder that hard-work was instilled in Elliott throughout his culinary history. He works 12-14 hours a day, seven days a week, with one spent at home writing menus, ideas and putting in orders.
The full-time chef also blogs about his thoughts and creations in the kitchen at assholechef.blogspot.com. In his hectic schedule, he also wrote a book called "The Customer is Never Right." His viewpoints may be outlandish and inappropriate to some, but it never obscures his kitchen talents. Elliott is confident about his passion and owns up to his behavior.
"I have a very unique approach and one that I embrace, I make no apologies about it," he said. "I don't care if I have customers, doesn't affect me. What affects me is doing great food and if I do great food and you don't understand it, it's not on me."
The Chef of Old School Eatery refuses to let customers be rude to his workers or to himself. He explained that the foundation of a successful restaurant is the staff that runs it. He takes time to carefully educate his cooks and servers the fine details of every meal, wine and beer. His Yelp reviews may vary, but only because of his strong-willed attitude about making wonderful food.
"My craft is my life," Elliott said.
The chef continues to brainstorm ideas of future openings to expand his goals. He hopes to open a wine and cheese shop and a health foods store that would include a wide vegan section.
.