The savory aromas of fresh coffee and baked goods, reminiscent of the smells wafting out of the family kitchen, greet visitors as they walk into Bittersweet Treats, a bakery across the street from PCC owned by Linda Chen and Danielle Keene, a runner-up on Top Chef: Just Desserts.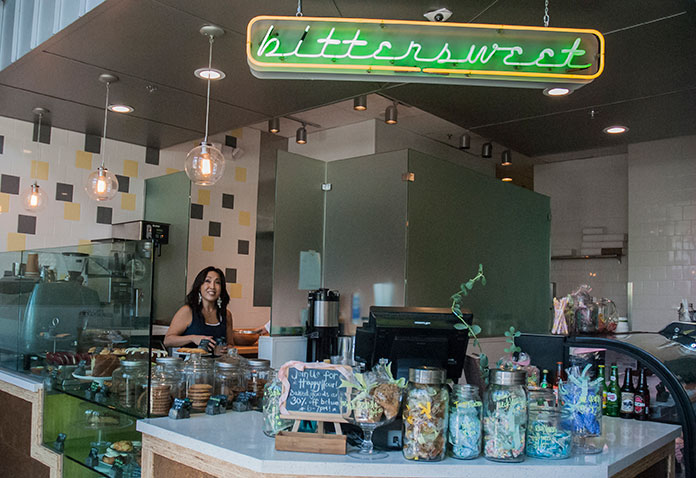 So what makes Bittersweet different from your typical coffee shop that serves all sorts of pastries and drinks? Despite everything being made in-house, from the mousse filling and buttercream frosting that they use in their artfully made cakes to the syrups they put in their espresso drinks, the real draw of Bittersweet is the intimacy between the owners and their customers.

"I love the regulars that come in," Chen said after warmly greeting a customer. "I love Pasadena for the fact that Pasadena people are so loyal to their local businesses, so you're going to see the same faces and you're going to get to know their stories, and everybody has wonderful and beautiful stories."
The bakery manages to tone down the sweetness of their desserts while still capturing the rich flavors and tastes of treats like red velvet whoopie pies and peach cobblers.
Their niche is creating old-fashioned classics with a modern twist, Chen said.
A must-have on Bittersweet's menu is Keene's award-winning, orgasmic Chocolate Crunch Cake, which is a four-layer chocolate cake filled with chocolate mousse that has chocolate pearls mixed in to add a little crunch, covered in a toasted merengue frosting.
"They have really good treats and coffee here," Curtis Choi, automotive technology, said. "The [chocolate crunch] cake is great and well deserving of the awards it has won."
As if it couldn't get any better, the taste of Bittersweet's house blend coffee, created especially for them by Lamill Coffee in Alhambra, mingles perfectly with their desserts.
According to Chen, staff from Lamill stop by on a regular basis to make sure the taste of their blend is to their satisfaction. If not, they make suggestions to Chen and Keene to help them improve the taste of the coffee.
"They made all these different blends for us to try and we brought our own desserts and had a dessert and coffee pairing to see how they would taste. So, the ultimate way to have our house blend is with our dessert. If you have it together it's like a slice of heaven," Chen said.
Chen and Keene wanted to have a very home-like atmosphere in their store and they feel like they achieved that.

"We make it how your mother would have made it," said Chen.
Latest posts by Aubrey Quezada
(see all)