Fall is at its most inviting when walkways are lined with the orange glow from that popular seasonal staple, the pumpkin. But add a brightly smiling Sponge Bob, a stoic Spock, a Mermaid languishing on a small sea island, or a 50-foot Chinese dragon and you've entered Rise of the Jack O' Lanterns.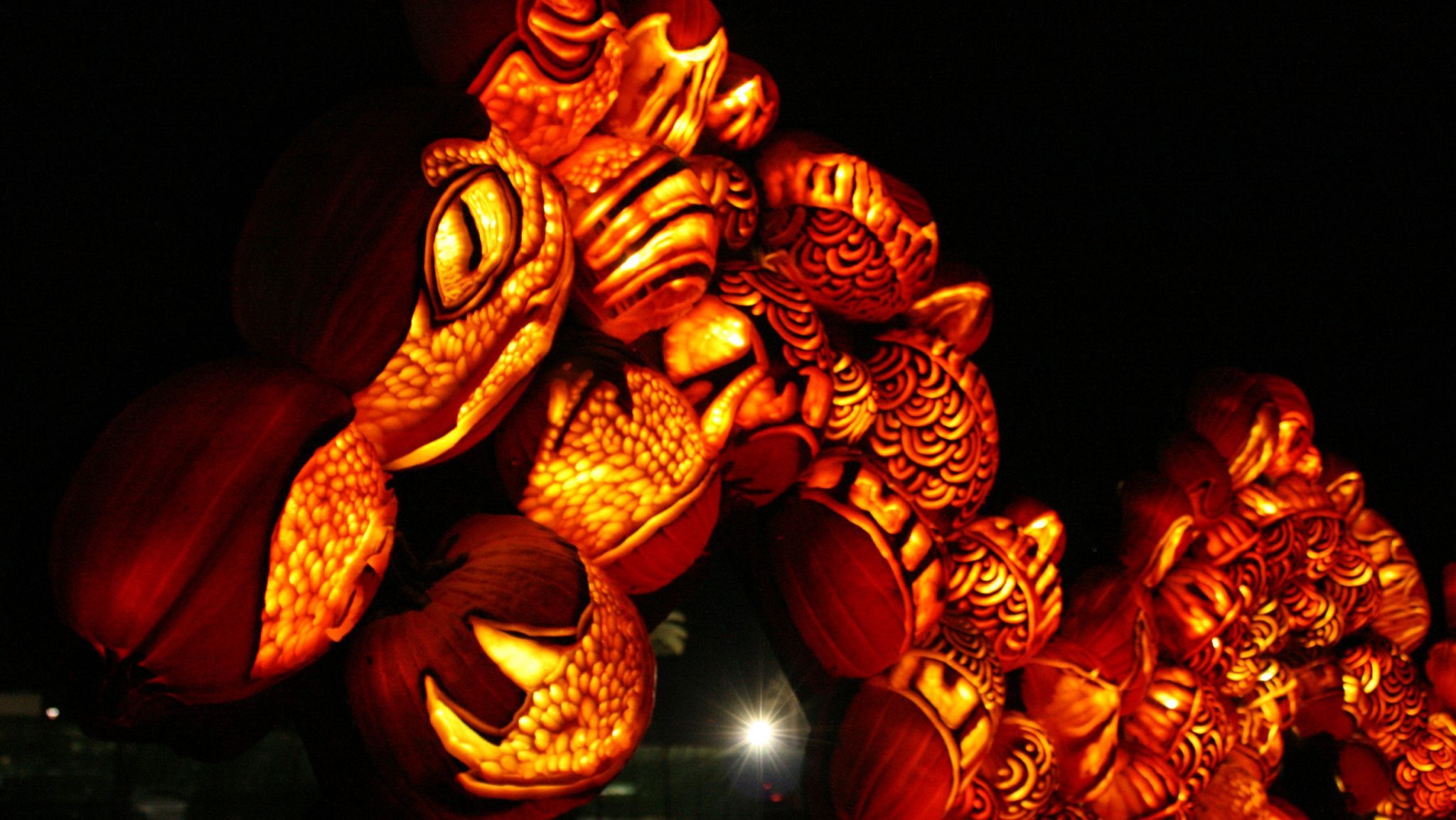 As with other Halloween traditions, the carving and displaying of the Jack O' Lantern has made its way into contemporary culture as less a way of warding off spirits and more of a way to attract attention, entertain, and light the way of visiting children and families to your door for a cauldron of treats.
In that tradition, a collective of talented artists from various related vocations have pooled together their skills, expertise, and love of art to present the Jack O'Lantern in its most glorious and updated form.
Originating in 2012 in Old Westbury Gardens, New York, the Rise of the Jack O' Lanterns simultaneously opens in four locations, with three here on the west coast at Santa Anita Park, Descanso Gardens and the San Diego Safari Park.
The 30 to 45 minute trail walk is not a haunted house or scare maze, but "a very family-friendly event," said Allie Rightmeyer, an assistant producer for the event.
Producing Director Debbi Katz said coming into the project years ago, and the project itself, was "a lot of luck" and with the huge success of it in New York, the Rise Team brought it to the west coast.
"We love California and love California weather and we wanted to bring the experience out here to as many people as possible," Rightmeyer said.
The project is a year-long endeavor. Along with the teams of sculptors and artists, producing staff and sound and lighting technicians work together like a theatrical troupe. The lighting electricians lay miles of cabling to connect the pumpkin displays with special LED "candles" that help protect the pumpkins.
Out of the 5,000 pieces, Rightmeyer said her favorite piece, if she had to choose, had to be the "50-foot long Chinese Dragon."
"It really is a show stopper. You just look at it and you can believe that each one of those Jack O'Lanterns was hand-carved. It's really spectacular," she said. "Each pumpkin is individually painted, hand-carved, so it's a painstaking love process to put all of these pumpkins together."
Some individual pieces may take just a few hours, but pieces in collections, such as the dinosaurs, classic car show, and safari animals can take several artists several days.
Guest artists such as Disney illustrator, concept designer, and fine artist Joseph Yakovetic are part of a group of nearly 100 artists who work individually and collectively on large pieces to bring the show together.
A pumpkin sculptor for Disney for nine years, and now on the Spellbinder Team on this season's Halloween Wars on Food Network, Yakovetic has several carvings on display in the trail walk. Characters such as Leonard Nimoy as Spock, Cinderella, and a Brad and Angelina piece are just a few of the sculpted and hand-painted pieces that can come together in just a matter of hours.
On hand for live demonstrations of his skills within the preshow area of the Santa Anita Park lot location, Yakovetic describes his work and entertains the families awaiting their showtime.
"We do two different kinds of pumpkins here— we sculpt and then we also do the painted pieces that are lit from inside," said Yakovetic while carving a skull effect into the wings of a moth.
Guest artists like Yakovetic help carve some of the giant "150 pounder" pumpkins, according to Rightmeyer. The artists work carving and painting in warehouses located in Cerritos and in upstate New York for each of their respective shows.
The pumpkins are grown in California where farmers supply all three venues in Southern California with thousands of pumpkins. Rightmeyer reveres these raw pumpkins awaiting in the bins like A-list cast members.
"Along our walking trail we have 5,000 hand-carved Jack O' Lanterns," she said of the pumpkins that are hand re-carved each week to keep fresh for each location. "You can actually see a couple of next week's stars hanging out in the parking lot, ready for their big moment."
Rise of the Jack O' Lanterns is ongoing now through November 1, 2015 at the Descanso Gardens and Santa Anita Park locations, with show times beginning at 6:30 p.m. and early times are already selling out.
Tickets are advanced purchase only, and it should be noted that they are not sold at the gate. For ticket information go to www.therise.org.
View our full photo gallery here.