The welding shop in the IT building is undeniably a safety-glasses zone, filled with metallic sounds and a friendly atmosphere.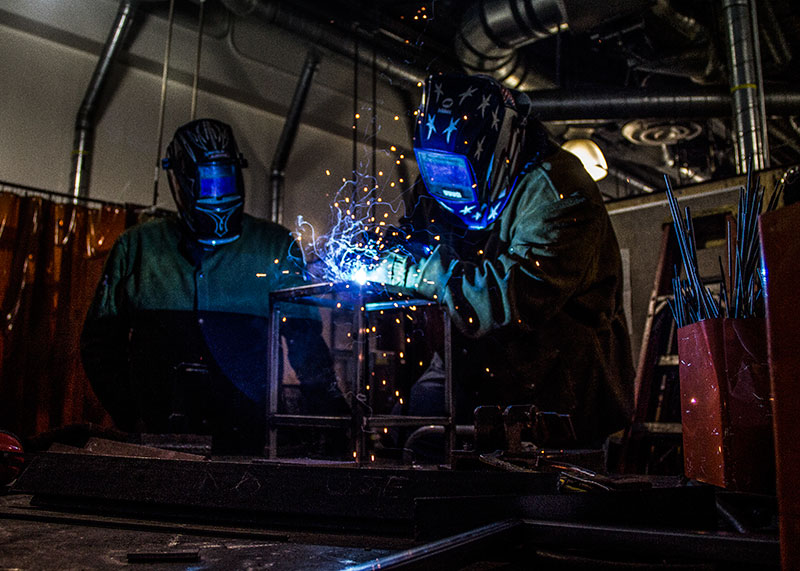 Metal hammering, fans humming, and torches echoing in the shop doesn't cause headaches because they have a rhythm and aren't constant. Students wear leather jackets that were once bright yellow, but sweat and metal dust have stained them black.
In the 10-unit class students practice for the L.A. city certification test, which is the toughest in the world according to Alan Armstrong, professor of Engineering and Technology.
Using a metal plate that has slag, leftover metal from the welding rod, Armstrong points out that the slag could cause the weld to fail. In the American Welding Society certification, this type of drip could be ground off, but in the L.A. city test the use of power tools is not allowed, so it would have to be hammered or chiseled out.
"Welding is the key in repairing stuff yourself. You are able to build anything you want," said Joe Gonzales, the teacher assistant.
Having passed his certification test in stick welding, Gonzales is now learning a new process called FCAW (flux core arc welding) as part of his goal to join the Ironworkers Union Local 433 whose members build skylines and bridges. "I want to be that. I want to do that for a living."
The shop is divided into sections with individual workstations for the different types of welding. Students learn TIG, ARC, MIG and steel cutting torch processes under the expert guidance of Armstrong.
"Like anything in welding, how do you get good? Well, you practice and you practice and you practice," said Armstrong.
When people ask Gonzales what the welding class is like, he tells them that they would have to be OK with getting burned, dealing with heat, heavy objects "as well as being sore and in pain and [willing to] do it again."
For Meilliona Truong, welding major, specializing in TIG process (tungsten inert gas), the training is an opportunity to work in a small shop in a near future.
"Originally I was taking [the class] for an art major to work with metal sculptures. I ended up liking it a lot and [welding] seems to be more stable than the art field," she said.
The class averages three women out of 22 students. Some of the female students take the class to supplement their curriculum as architecture majors, whereas others go on to apply the skills they've learned in the field.
"One of my students got accepted into the main ironworkers union. She is a high structural steel welder," said Armstrong. "She even tattooed the number of her union on her forearm Local 433."
In the back, inside individual bays with orange curtains that filter some of the hazardous gases, students work on stick welding, which is used in heavy construction. Armstrong says the spaces remind him of the old time language labs because everyone has his/her own little cubicle.
"Don't stop, keep on welding, we have some observers here!" Armstrong shouts over the noise at one of the students working on vertical weld. As he walks through each process, he repeatedly takes breaks from the interview and instructs his students while they work.
Behind protective goggles, Doug Guerra who is inside a less noisy and cleaner cubicle, demonstrates TIG process used for welding aluminum and titanium. TIG welding utilizes an electric torch that melts the metal and the rod is added by hand a process that doesn't create smoke.
"TIG involves great precision work and is used for aerospace and bicycle frames," said Armstrong. "It takes much greater operator skill."
Guerra practices welding some tubing, creating a small structure that resembles an art piece.
"I saw frame builders using TIG to weld bikes together and ever since then I've been hooked," said Guerra. He is practicing to better his skills and gain experience working in a bike building shop. "My ultimate goal is opening my own shop making custom bicycle frames."
Armstrong explains that welders are used heavily in construction, and belonging to a union is a commonly desired goal. Despite the fact the industry is slow at the moment, a lot of small subcontractors for Aerospace still need welders.
One of Armstrong's students got into the pipe fitters union, while a couple students went on to work on the subway tunnel for Metro Rail. Another student went into the pile drivers' union building docks and piers. Others got work in small shops doing fabrication and manufacturing.
"It is a tight job market. I think that's the case for every area, but it's a skill that you can take with you," said Armstrong.