Outside the Boone Family Art Gallery last Friday, a crowd gathers around and watches flamenco guitarist Stephen Dick perform. Suddenly a man emerges from that crowd, turns around and says, "I didn't know PCC did stuff like this," he said passionately. "This is awesome."
As surprised as that man was, this year is actually the 30th anniversary of PCC's Artist-In-Residence Program. Every year an artist is chosen to have an exhibit of their own work on display in the Boone Family Art Gallery. In addition to having their work displayed, the artists also hold open studios, workshops and even offer to give constructive criticism on work by students. All this takes place for one whole week on PCC's campus. This year's artist is Tim Hawkinson and his exhibit is called "Tim Hawkinson: Spirit of Invention."
In a curatorial statement by Mahara T.Sinclaire, the gallery director, she says that she chose the work of Tim Hawkinson this year because she hopes "the viewer may witness the ongoing thread of creative genius, this unexpected, serendipitous pairing of high and low that marks Hawkinson's innovative process of discovery."
The standout piece from his exhibit is called the "Thumbsucker," in which he used enlarged and reduced casts of his mouth to form a moon sculpture, and using the same casts from his thumb to create an astronaut that hangs by the moon sculpture. Hawkinson is very fond of using common materials and handcrafted objects to create his works of art. He loves transforming everyday items into thought provoking works of art. In the past his work has been known to use things like fingernail clippings and eggshells.
While the exhibit is already available for viewing, March 20 through March 24 will be officially Artist-In-Residence week at PCC. Beginning with a lecture in Westerbeck Recital Hall at 7 p.m. with a reception to follow in the Boone Family Art Gallery until 9 p.m.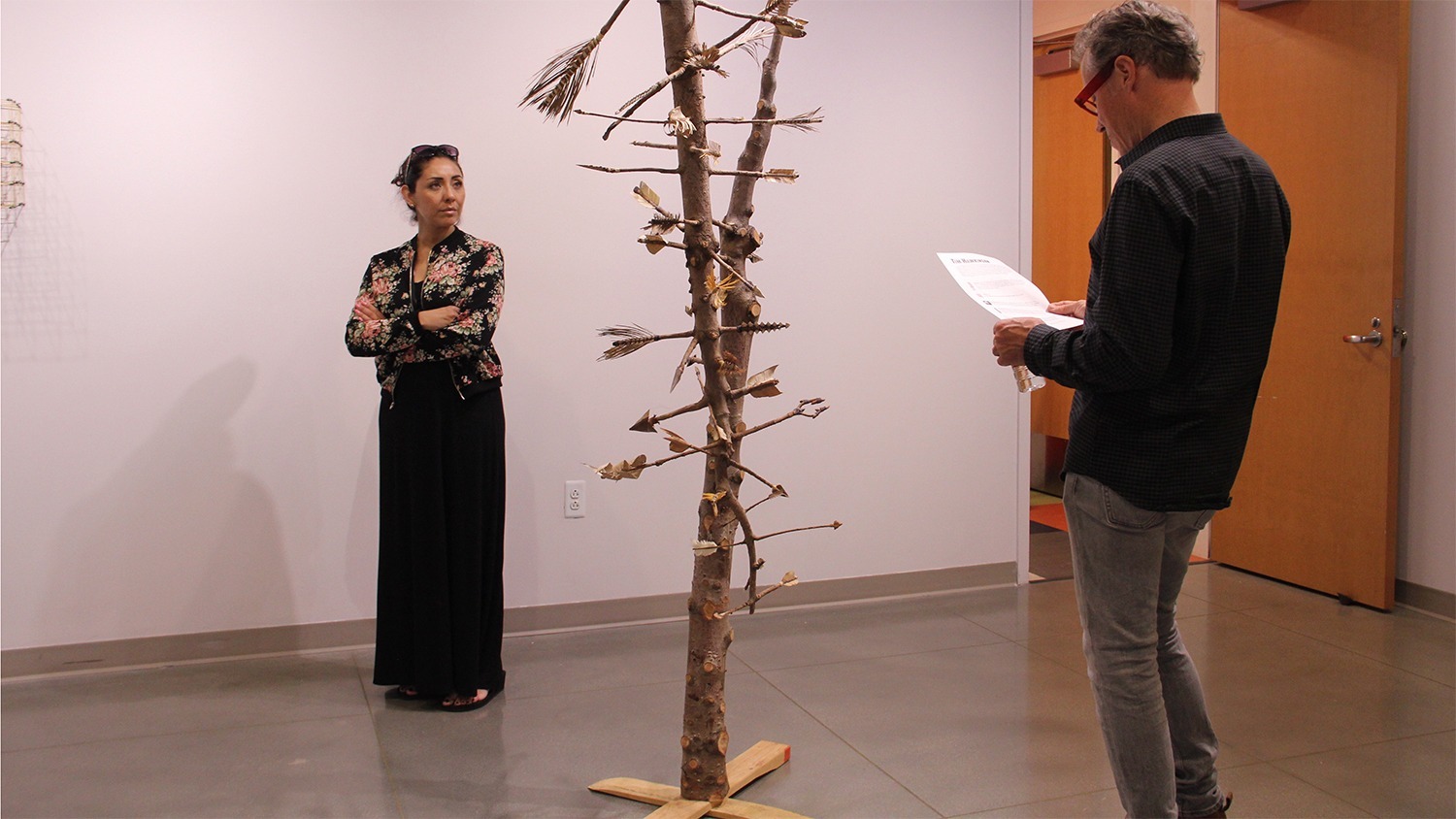 On March 24, there will be a closing reception in the Boone Family Art Gallery where Hawkinson will present his gift to PCC, which will be chosen from one of his works from the exhibit. This is a tradition that all the past Artist-In-Residences have done. These donated works of art are displayed and can be seen at PCC's Shatford Library and at the Boone Sculpture Garden.
"PCC has a really great art program," PCC student Zane Ferris said. "It's cool going to a school that really puts a focus on art."
Next to the Boone Family Art Gallery in V-108, is yet another exhibit on display. This one is a collaborative gallery featuring the works of artists Lynn Aldrich, Miyoshi Barosh and Doug Harvey called "Tactile: Function Re-envisioned."
These artists were chosen by Mahara T. Sinclaire because she felt that "at times bridging sculpture and painting, these repurposed media objects enjoy a new life, giving us pause to consider that art fodder is all around us if we can embrace a new perspective."
All three artists are from Los Angeles and have received great acclaim for their previous work. Barosh recently was awarded the City of Los Angeles Individual Grant award while Aldrich received a Guggenheim Fellowship in 2014 for, according to the John Simon Guggenheim Memorial Foundation website, "demonstrating exceptional capacity for productive scholarship or exceptional creative ability in the arts."
The one piece from this exhibit that created the most buzz and had everyone pulling out their phones for a photo was called "Soft Intervention" by Miyoshi Barosh. This piece had large cylinder shaped afghans, or blankets, stuffed with polyfill hanging from the wall that can be described as big colorful worms trying to burst out of the wall.
Both exhibits were also a stop for fans of art during "ArtNight" in Pasadena. Many residents gathered to look at art and sculptures around Pasadena along with local food trucks selling food to hungry onlookers. Free shuttles were provided as well that ran throughout the night stopping at each of the 17 venues. These venues included the Norton Simon Museum, the ArtCenter College of Design and the Pasadena Museum of California History.
"Tim Hawkinson: Spirit of Invention" and "Tactile: Function Re-envisioned" will be on display for students to view from February 21 through April 14 while Artist-In-Residence week will begin March 20 through March 24.