If you look through the "Eyes on Exoplanets" software invented and provided for free by the Jet Propulsion Laboratory, you'll discover that not only is our planet just a speck—a "pale blue dot" in a sea of galaxies, each with thousands of stars of their own, each star with usually at least one planet orbiting around it—but that the already unimaginable expanse of the universe is actually still growing, and growing faster and faster apart.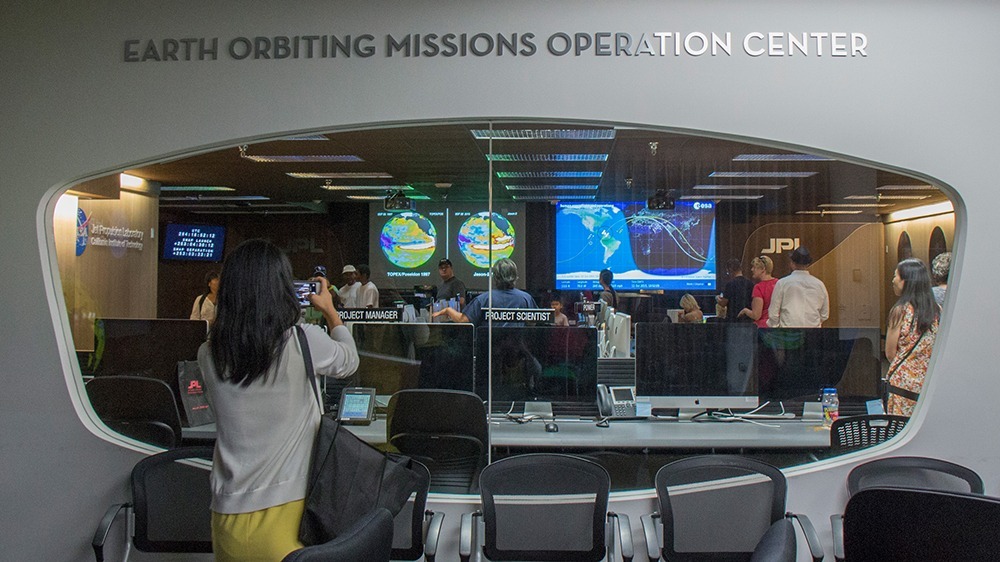 Most of the time, that discovery would bring with it a sense of smallness and isolation. But looking through the "Eyes on Exoplanets" exhibit at JPL, you'd be anything but alone.
An estimated 50,000 people descended upon NASA's Jet Propulsion Laboratory this weekend for the annual JPL open house, where visitors who braved the heat and got in line early were able to experience first-hand some of the science and wonder created in the Pasadena research facility.
In the 21 exhibit sites throughout the campus, science and space lovers learned about the latest robotic technology being developed to explore distant planets, toured giant "cleanrooms" where state-of-the-art spacecraft are assembled and tested, and even posed for photos with some of NASA's earliest rovers, all for free.
The event, which ran from 9 a.m. to 4 p.m. Saturday and Sunday, was so popular that by 10 a.m. on the first day all parking lots were full and by noon they had to start turning people away.
JPL is usually an in-demand attraction, with tours being booked months in advance, but this year interest has skyrocketed.
"Certainly, the movie 'The Martian' has helped," explained Dr. Nick Siegler, chief technologist for NASA's Exoplanet Exploration Project.
The recent discovery of water on Mars and the ongoing discoveries of more and more exoplanets, planets outside of our solar system and orbiting stars, have also boosted the public fascination with space science.
As part of the Exoplanet Exploration Project, Siegler designs technology that searches for exoplanets.
"A lot of time, when we want to try a mission, the technologies don't even exist yet," Siegler explained. "We don't know how we're going to do it, but we're committed to trying."
The aim of the project is to first take a census of all the planetary systems in our galaxy and then characterize to the best technological capabilities the diversity and make-up of other worlds in the hope of finding planets that have similar make-up to that of Earth.
"We're ultimately interested in finding life," Siegler said.
In order to do this, scientists first try to find Earth-like planets with possibly habitable conditions and elements, such as oxygen, methane, and water vapor.
Siegler and his team have developed two new advancements to more thoroughly search the sky for these planets. The first is called starshade, a giant expandable shield deployed with a telescope that will block out star light in order to allow telescopes a more precise picture of planets orbiting a star by giving them a direct image of a planet that otherwise would go undetected in the blinding light of its host star.
The other instrument, the coronagraph, is a tiny, specialized lens inside the telescope that serves the same function as the starshade, albeit on a much smaller scale, by blocking out direct star light and creating an artificial eclipse to allow for images of planets.
Dr. Wesley Traub, the program's chief scientist, is also excited about the anticipated discoveries of one of NASA's most powerful instruments, the James Webb Space Telescope, set to launch in October 2018.
According to Traub, it is the "biggest, most powerful, and most complicated" telescope of its kind. The JWST will be able to look farther back in time than any other telescope and may be able to detect structures present close to the time of the big bang.
The infrared telescope is over six meters long (the Hubble telescope is just under 2.5 meters), requires foldable mirrors just to be launched, features a tennis-court sized sun shade, and must be kept colder than liquid nitrogen at 40 degrees Kelvin in order to detect faint signals dating back to the earliest times of the universe.
With these new technologies underway, and existing craft and programs like the Hubble telescope and Kepler mission continuing to discover new planets and features of our galaxy, it's an exciting time for space enthusiasts.
"People are really excited," Siegler said. "Everyone is pumped up."
Just a few years ago, astronomers could not say whether planets were even common throughout the galaxy, let alone possibly hospitable ones. To date, almost 2000 exoplanets have been found, some Earth-like and some even within the "Goldilocks zone" of being just the right distance from its star to hold liquid water.
This month marks 20 years since NASA discovered its first exoplanet and program scientist Charley Noecker is cautiously optimistic about finding life in the next 20 years.
"It seems unlikely that [other life forms] don't exist."
To learn more about the work NASA does at JPL, visit jpl.nasa.gov, where you can also find free apps and interactive desktop software including Eyes on Exoplanets, Eyes on Earth, Eyes on the Solar System.
View our full photo gallery here.