"Two households, both alike in dignity,
In fair Verona, where we lay our scene,
From ancient grudge break to new mutiny,
Where civil blood makes civil hands unclean.
From forth the fatal loins of these two foes
A pair of star-cross'd lovers take their life."
– William Shakespeare, Romeo and Juliet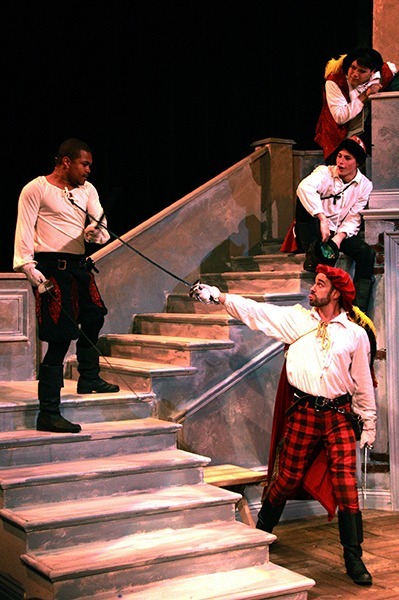 Sword fighting, dancing, tears, drama and lots of kisses. This Deborah Taylor-directed production of the Shakespeare classic Romeo and Juliet delivers it all at PCC.
The impressive stage design by Eric Larson set the scene perfectly. The famous balcony was center-stage, with two big stair cases leading to it from both sides. It was a stage one would be satisfied with in a large playhouse, and it was thrilling to see a design so beautiful and effectively done.
The opening prologue prepares the audience for the tragic peak in the play's end. However, knowing this fact enhances the fateful journey Romeo and Juliet embark on.
In a play like Romeo and Juliet, the performance's success is mostly hinged on the chemistry of the two young lovers. Tahj Mason and Kelvin Morales' enchantment is obvious and their teenage infatuation for each other is utterly convincing.
The beautiful and graceful Tahj convincingly plays a barely 14-year-old Juliet, who seems hopelessly smitten by young Romeo. They declare their love for each other in an innocent yet very intimate way and at times the audience is almost embarrassed to watch the two fall into each other's arms for another long kiss. The passion and closeness between these star-crossed lovers is that believable.
Most actors gave a noteworthy performance, but among the standouts was Mark Samet as Mercutio. A crowd favorite, he charmed the audience with his humor, wit and passion. Samet made us fall in love with his character, a cynical anti-romantic who is so different from his friend Romeo. The liking we develop for Mercutio makes his end even more tragic.
Julian Traylor convincingly plays an equally fiery, passionate Tybalt, the main antagonist in the play. Both Samet and Traylor also stood out in the sword fighting scenes, and a nod has to go to fight director William Hickman who did a superb job in preparing the actors for some of the most energetic scenes.
Another stellar performance was given by Gabrielle Coulson as the wonderful nurse to Juliet. She is comical, cynical, charming and hilariously inappropriate all at once.
Director Deborah Taylor had the actors for the most part stick to the original text, apart from some cuts which were clearly necessary to shorten the performance. The play is two hours without intermission, and the cast made it go by in no time with their attention-holding performances.
At times it was difficult for the audience to follow the Shakespeare English, which is an Early Modern English with a fairly complex structure. It would have been helpful in understanding if certain passages were slowed down. Key monologues by Romeo and Juliet toward the end would have benefited from a slower pace.
Despite some passages feeling rushed, the actors should be commended for getting through the entire play with only a few verbal stumbles, which not once derailed them.
It took some effort and imagination to understand some cast members due to their accents. Robert Castano as father Capulet easily overcame this hurdle with his energetic delivery, which made his intentions clear when his words were not.
Costume designer Dorothy MacLean, light designer Timothy Berreth and Steven Detrick in sound, deserve a mention for their wonderful work that enhanced the play. During the intimate scenes between Romeo and Juliet and the funeral scene, both sound and light elevated the performances. It was only toward the end where the music was at times too loud, which made it difficult to clearly understand what was said.
An emotion laden closing scene had the audience captivated, and by then the cast had won everyone over.
Come out to see and support PCC's young, hopeful actors performing one of Shakespeare's most dramatic plays.
Romeo and Juliet opened last week and will play Thursday, Mar. 3 and Friday, Mar. 4 at 8 p.m. and on Saturday, Mar. 5 at 2 p.m. and 8 p.m. in CA-135 in the Center of the Arts.
More photos in Gallery here.
Latest posts by Katja Liebing
(see all)