The classic story of Romeo and Juliet was given a very modern twist in the PCC theater departments virtual play, Romeo and Juliet in Quarantine. The play, streamed live on twitch, showed what love is like when two people are separated by dire circumstances except this time those circumstances depicted the reality of living through a global pandemic. 
Director William Hickman talked about what the pandemic means in this story. 
"The only time Romeo and Juliet actually see each other in person, the way we've done it, is when one of them thinks the other is dead," Hickman said. "They fall in love digitally, they meet digitally, they spend one night together online, they even get married digitally and I think that's heart wrenching. I think we're all dealing with some of that right now." 
The pandemic not only inspired the spin on the Shakespeare classic, but it impacted the show's production as well. Every rehearsal was done online via Zoom as well as casting and production meetings. All of the actors had to do their own lighting and costuming, adding an entirely new set of challenges for the theater department in this production. 
Adi Fawk, the actress portraying Romeo and recent transfer to UCSD, had experience with virtual theater prior to taking on the role, but not to the extent that the PCC theater department was pursuing.
 "UCSD is pre-recording most of their shows instead of trying to have a live aspect or element of it. I think it is really interesting and evolving of PCC to try this because it's difficult but I think that we're going to pull it off!"
Acting in a live theater production from home presented many new challenges for all the actors. Fawk explained what it was like having to take on this role in a virtual space. 
"All of us have our own lighting kits and sound kits so we're pretty much doing everything," Fawk said. "I live with three other theater majors and all four of us are in different shows, it's just like, rehearsals are overlapping and technical elements but we were finally able to get most of it running and it was fairly smooth." 
Akela Munsey, this production's Juliet, was involved with many aspects of the production outside of her lead role, including costuming. 
"When we did our costume design we made it about the characters aesthetic versus the characters actual outfits because we're ordering things online, we can't pool things, I can't dress an actor," Munsey said. "If things don't fit them I can't make it fit them, it's just going to have to be whatever they come up with and that's kind of been the whole process."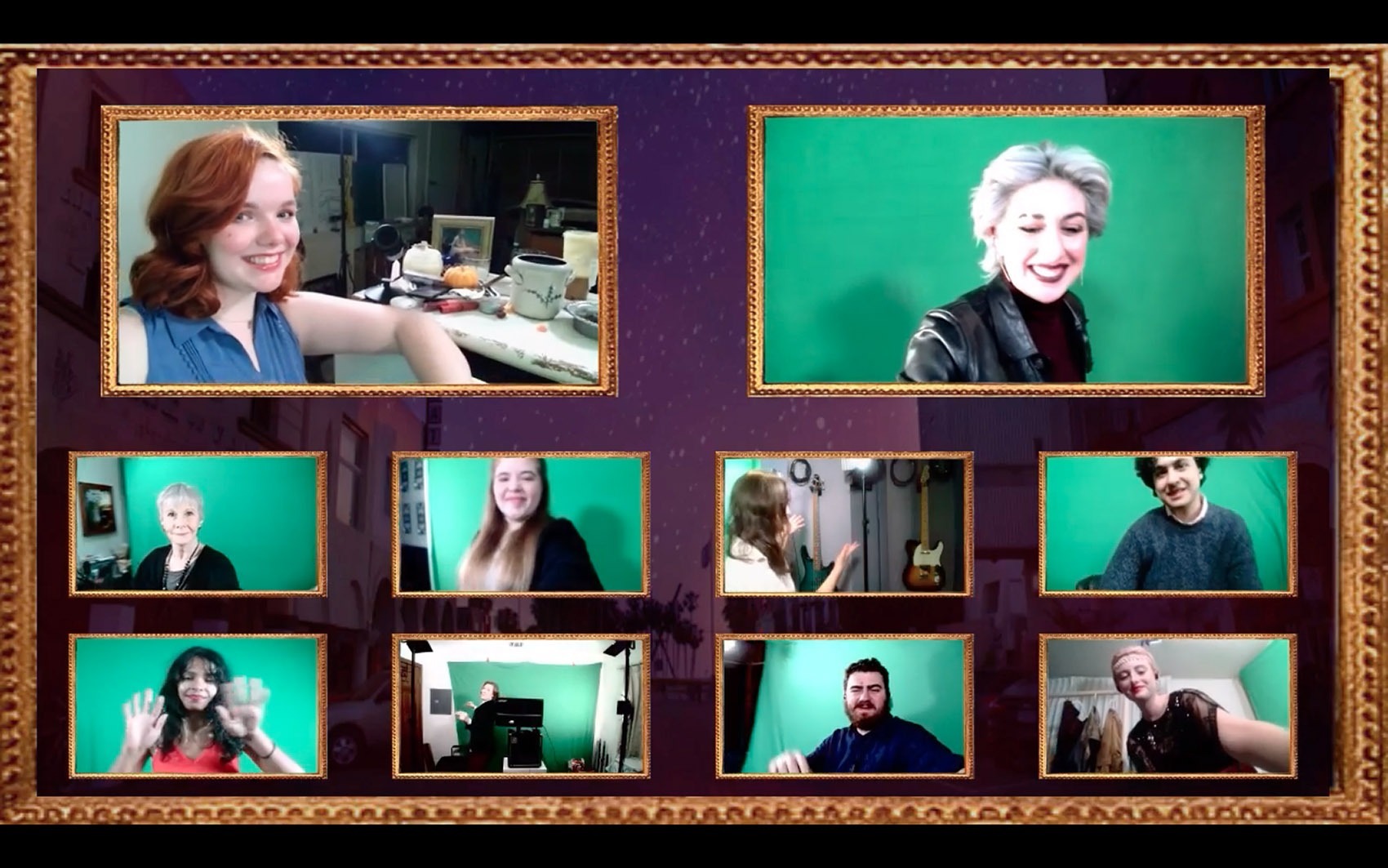 Munsey also served as the assistant director to Hickman for the show. Both directors found their position to be very different when working virtually.
"I'm one of the few people in the show who's worked online theater so far, so I know a little more about the tech stuff and I've been pretty vocal about the process as an assistant director," Munsey said. "Assistant directing you normally do a lot of the backstage stuff and now we have no backstage, so every moment of rehearsal you have to be so conservative about how you spend the time."
Hickman found new challenges in virtual theater as well, such as reduced communication with actors. He recalled an exercise in which he'd give actors directions in private to allow for more genuine reactions from other cast members during a performance.
 "That way all the actors don't know what to expect and so it becomes something where they have to react more naturally. Sure I could do that in Zoom with breakout rooms but it takes so much extra time that it became inefficient. It definitely makes it harder in a lot of strange ways but we can bring other technology to it that we couldn't do before." 
Another change made to modernize the story is the LGBTQ representation that the two lead roles introduce. Hickman made the choice to have Romeo played by a women and introduce a same sex relationship to this classic Shakespeare story. 
"We wanted to look at how we can tell a more modern version of the story and part of that was casting a female Romeo," Hickman said. "We have people in the production team that are members of the LGBT community who helped decide what this play would be like, whether they would feel like this play was appropriation or a celebration. We were trying to be very careful on that throughout, working closely with our team to make sure that we told the right story, and told the story we wanted to tell which is more of a celebration of love not a judgement of it." 
Fawk feels the choice to portray a lesbian relationship was important for the play's story. 
"Making Romeo a girl really adds another element to it of like, why there's so much secrecy," Fawk said. "I think that it explains a little bit more of the show. Being able to play Romeo has been really fun because it's still that young lover type without having to fit that stereotypical female role." 
Pursuing theater in an online world brought a lot of new challenges to the PCC theater department, but the need to create art and provide the community with a much needed distraction trumped the obstacles presented by the pandemic. Munsey shared her thoughts on what theater means during challenging times like these.
"I hope we can create a space for people when we have been so absolutely banned from being in space with people," Munsey said. "That's what theater is, it's about space and community and hopefully we can still do that. Romeo and Juliet is not fantastic escapism but so much of the show is about strong connection and them being so distant and trying to close that distance so I think it should serve some purpose for the audience." 
Romeo and Juliet in Quarantine is available to watch on Twitch at PCC Theater.
Latest posts by Morgan Trivitt
(see all)