As PCC student Jorge Perez stood up with ten of his classmates in his Anthropology class to walk out to the mirror pools Wednesday morning, one thought was playing on repeat in his mind: "It's time to send a message."
The same thought ran through hundreds of PCC student's heads at 10 o'clock when everyone gathered in front of the C building in the chilly 60 degree weather, to honor the 17 victims lost in the Parkland school shooting last month.
Hosted by Associated Students on campus, this walkout was just one of the many taking place across the nation, hoping for change. Instead of dividing students over the controversial debate of gun control, this walkout had a more universal point. Advocate for the safety of students.
At the walkout, Associated Students had a representative from personal counseling speak about the things they offered to all students, which range from appointments, walk in sessions, and crisis hotlines.
After the personal counseling announcement concluded, the Dean of Student Life, Rebecca Cobb walked up the C building steps, grabbed the microphone, and shared her experience with gun violence.
"I'm here from a different perspective," Cobb explained. "I'm here as a mother whose son was a victim of gun violence his freshman year of college. My son was shot his second semester while leaving a party. All over an argument about a young lady."
Although Cobb's son was able to survive, the whole situation left an emotional toll on her, which was present as she began to tear up while speaking.
A minute of silence was held at exactly 10:17 out of respect to the victims who lost their lives to gun violence. First year student, Evelyn Askew, who came early to campus just to partake in the walkout, gave her thoughts about the silence that overcame the campus.
"The crowd's solitude and respect for the victims was tangible. You can really feel the silence through the crow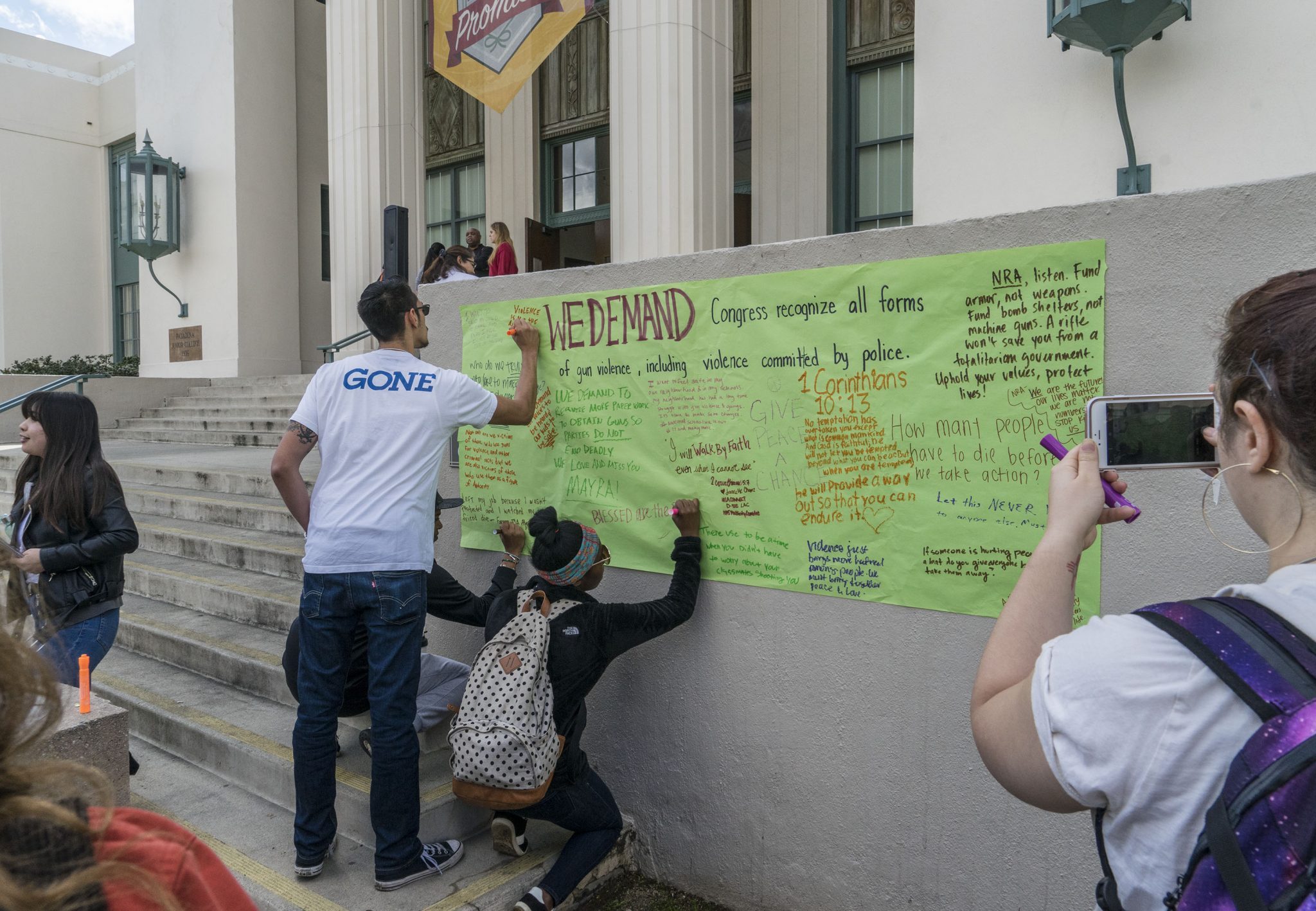 d, and how much this issue affects some of our students here," said Askew.
Many of the attendees of the walkout came while in the middle of their class, even if it meant interrupting their lecture. Perez talked about what it meant to walk out with his fellow classmates.
"Walking out of class was an amazing experience," Perez said. "It was great to see classmates I didn't even talk to stand by my side. All of this is a prime example proving that actions speak louder than words."
Some teachers on campus took their entire class to the walkout, as explained by PCC student David Guerrero.
"My History of Mexico teacher, Professor Cairo, was really supportive of this walkout, so he had us all walk out with him," Guerrero said. "Even if he didn't come out, I would have walked out by myself because I wanted to support this event. I always see protests on the news, but being a part of one makes you realize how important it is to be active and not stay silent"
Guerrero even offered his thoughts on what would be best for PCC to do in order to spread more awareness about this issue.
" I would like to see clubs or groups that constantly inform the campus and educate us on issues such as this." said Guerrero. "I think it would be beneficial if more of us learned more about what we can do if we want to take action."
Most of the students who partook in the walkout were hoping that some kind of message would come out of this.
"I hope that this gets the message through to Congress that enough is enough, and we're done hearing about all these school shootings," Askew stated. "I remember when Sandy Hook happened, that was a big deal, but now the effect school shootings has on our emotions has drastically gone down. That doesn't mean lives aren't being lost, we need to fight for change."
Along the walls outside of the C building were posters. On them, students wrote their feelings about the situation and what they demand to see from leaders. Askew's message on the poster was inspired by recent events that have hit close to home.
" I wrote, 'I'm not just standing here for my peers, but for the children that shouldn't need to know what a shooting drill is,'" Askew explained. "I babysit two children who are in the third grade, and they had a serious threat to their school and had to go on lockdown."
As students slowly returned to class, or left for the day, they left with hope that this walkout, like so many others, will not be forgotten. They hope that they can get their message through.
Latest posts by Matthew Brown
(see all)