The Allendale Library was filled with people ready to ask Pasadena-based author Lynell George questions about her latest book, "After/Image: Los Angeles Outside the Frame." Even though the book signing was swift and mellow, George became passionate and emotional when she talked about influential Black figures such as Rodney King and how his experience with police brutality affected her.
"A Conversation with Lynell George" took place on Feb. 29 at the Allendale Library in Pasadena for its Black History Month celebration. George addressed Los Angeles' gentrification problem, as well as how she felt about seeing different groups come together to discuss the issue to promote a stronger community.
"I loved her respect, love and knowledge of Los Angeles," said Teresa Grenot, an attendee of the book signing. "I loved how she shared her favorite books and music with us. I loved how she pulled musicians, authors, men and women together. LA is not linear."
One hot spot for George in Los Angeles was the now-closed restaurant Cha, Cha, Cha, which served Caribbean cuisine in East Hollywood. It was one of the few places where she truly felt a sense of community and diversity.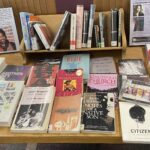 From creating short stories when she was only 11-years old to publishing a book about her experiences about being an Angelino, George has always had a yearning for reading and writing. She never imagined that the path she was following would lead her to great success.
Some achievements include a Grammy for her liner notes on Otis Redding's album, "Live at The Whiskey A Go Go."
"It's one of those things that in a million years, I wouldn't have ever thought that that would be on the lists of wants or possibilities," George said. "Otis didn't live long enough to win a Grammy, so I was winning in his honor."
George also opened up about her writing process. She compares her perfectionist ways to being in a deep body of water. Whenever she tries to complete a task and has to constantly revise her work, it feels like she's struggling to swim to the other side. If she could tell her younger self anything, she would say "Don't worry so much because we are constantly learning."
"Knowing Lynell and knowing her writing was a lot of pressure, being the moderator," said Terry Cannon, a library assistant at Allendale Library who interviewed George during the event. "I had to carefully select each part of her book to talk about."
George is also currently writing her third book and hopes to have it published this year—the book theme and actual release date is currently unknown.
Latest posts by Megan Freeman
(see all)