Bat Vardeh, the founder of the group 'Foraging and Mushroom Hunting Women of Socal' got her start as a foraging expert in childhood, collecting mulberries and figs nearby–spreading the fruitful news to the rest of the kids in the neighborhood.
"For me, it started when I was really, really young. When I was elementary age, my favorite fruits were figs and mulberries–and you cannot always find them at the store. So, naturally, for some reason, I knew what a fig tree and what a mulberry tree looked like as a kid, and I would go find them in my neighborhood. And year after year, I would go back to the same trees, and I would get my fill of figs and mulberries. And of course, I would take all of the neighborhood kids there with me, too, and show them all of the trees, and I'd be like, 'this is a fig tree, this is a mulberry tree. Eat it, it's delicious!' And of course their parents would be like, 'stop hanging out with that girl!'" Vardeh shares with laughter.
Now, as founder of a foraging and mushroom hunting group, as well the Field Trip Chair holder for the Los Angeles Mycological Society, Vardeh now regularly leads groups on forays in her adult life, too. 
"It was very shocking when foraging became popularized. And I was also getting into learning about mushrooms because they were sort of the last frontier for me, and I realized that all of these spaces were mostly inhabited by old white men that wanted to take you out hunting for the wrong reasons, and I didn't like that. So I was like 'we need our own group.'" said Vardeh.
When Vardeh founded the group Foraging and Mushroom Hunting Women of Socal, she wanted it to be based on safety and sharing knowledge, and notes it's free of "mansplaining", judgment and competition.
Vardeh shared, "It's really given me, personally, a safe space to build on my current foraging expertise and mushroom expertise, and it's given me like–you know how sometimes we learn better when we teach others? It's sort of giving me a safe space and a non-judgmental space where I can kind of just go at my own pace and teach others and others teach me. And it's a safe space, like overall, that's the magic word."
As a resident of Pasadena, Vardeh shares a few places where nature-curious people can potentially see mushrooms: Eaton Canyon Nature Center (there's strict rules against picking anything there), Lower Arroyo Park and Hahamongna Watershed Park. 
While Bat began foraging as a child, Jess Starwood, who will be speaking with Vardeh at Pasadena Patagonia's event "The Magic of Women in Mycology" got her start in foraging, herbalism and mycology post-motherhood. 
Jess Starwood is founder of The Wild Path, a wild food and foraging apprenticeship program, a founder and owner of an Apothecary called SunRaven Apothecary, is a co-founder of Cat + Raven, a creative-community space in Thousand Oaks and she's also an author. Her book is titled "Mushroom Wanderland: A Forager's Guide to Finding, Identifying and Using More than 25 Wild Fungi". Starwood also holds the position of editor as a board member of the Los Angeles Mycology Society.
Starwood shared about her introduction to the world of mycology and herbalism, "It was right after my first daughter was born and I just kind of had this almost epiphany of like, whoa, I need to, you know, look at what I'm eating because it's gonna affect her and then I really just started coming down this rabbit hole of health and and looking at diet and trying to get as close to the source as possible. And you know, really taking a look at where food comes from, and how more natural foods affect your body in a more positive way than fast foods and highly processed foods." 
While working on her master's degree in herbal medicine, Starwood came upon research about medicinal mushrooms that caught her attention. 
"That research was on things that I felt, 'oh, you have to go to some exotic country on the other side of the world to find these magical mushrooms,' but then I soon found out that they actually grow here and I can go foraging for them and collect them. So that really opened up my eyes to the landscape around me, and how I can work with it and find what I need right here, which, you know, is actually more potent than something that's shipped across the world." 
Now, Starwood teaches others how to forage and leads foraging forays for her herbal school, The Wild Path. She shared that her philosophy is: "food, medicine, and community."
Starwood continued, "Those three things are the three pillars of a healthy, holistic lifestyle–where you're connected to your food, you're connected to medicine. It's not pharmaceuticals–it's, you know, medicine as in nature and connectedness to what brings us balance in our life, that's medicine–whether that's a medicinal herb, whether that's a physical modality, or spending time in nature. And then community! Community is that one part that I feel is missed in a lot of educational systems."
Bat Vardeh and Jess Starwood will both be leading a free and informative event on mushrooms titled "The Magic of Women in Mycology" at the Patagonia store in Pasadena, Friday, Nov. 18 from 6 p.m. until 8:30 p.m.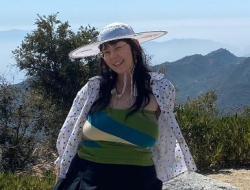 Latest posts by Casey Redd
(see all)