Languages from around the globe could be heard as students and faculty gathered in the Circadian on April 18 for a night of cultural interaction known as "Cultural Encounters."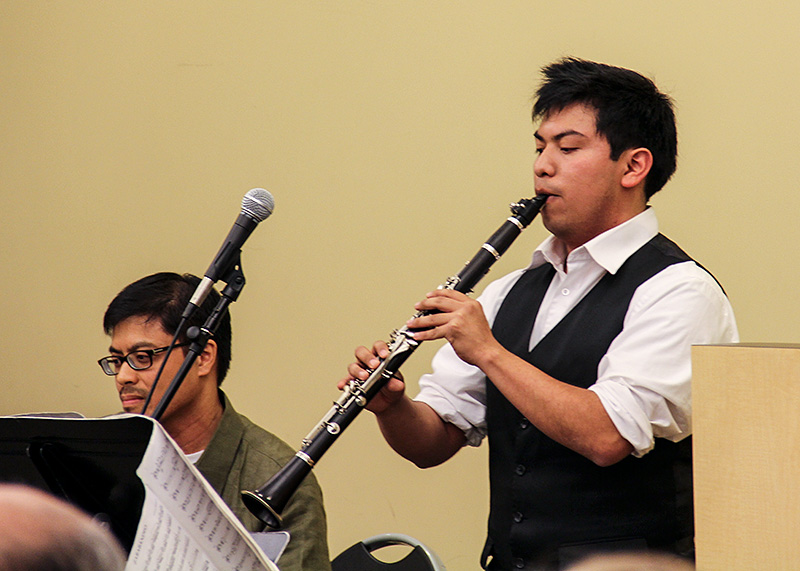 Arabic, French, Italian, Spanish, English, Japanese, Bengali and German were all represented and participated to some degree.
"This is the very first cultural encounters," said Carlos Herrera, club president of Le Circle Français French Club.
"We were trying to bring everything together because languages have a lot of similarities to each other," said Herrera.  "They all have influences from each other."
Herrera wanted to bring people together to hear and listen to languages they may not understand but to recognize they could receive the sentiments being said.
"You might not understand but you have it in you to hear what other people feel when they don't speak your language and you don't speak theirs."
The highlight of the night came when members of the audience got out of their seats and participated in a "Tarantella Napoletana," a traditional Italian folk dance where people link arms and move quickly around the room. As the music quickened in tempo the line of people kept up.
Herrera joked that everyone who participated was now an Italian citizen.
Lydia Summerville, ESL, heard about the event in her Spanish class and now plans on taking up French at some point.
"I'm in a Spanish class, and I heard there would be food and entertainment," said Summerville. "I think it went really well. I love seeing cultures coming together. If I learn another language it would probably be French. I was understanding it to the point where I could say 'I guess they're saying this.'"
Michele Pedrini, language instructor, was all smiles at the end of the night as she munched on cheese and crackers.
"To have all the different language groups represented and come together was a great idea," said Pedrini.
"We have catering from Portos, which is Cuban food," said Herrera. "We have a lot of French pastries and salads with Italian influences. We also have a lot of different cheeses, crackers and grapes which is traditionally very very French."
Some of the members in attendance were indeed international students like Yasmin Rehman.
"I'm from Switerzaland, so my mother tongue is German. I moves to the United States and my husband is over here and I decided to go to school," said Yasmin Rehman.
At the end of the night there were no croissants or biscotti in sight as people both literally and figuratively took in a little culture.
Latest posts by Luis Rodriguez
(see all)