DJ pop sounds filled the quad as students filed up dozens-deep under the collective tent of the Extended Opportunity Programs and Services (EOP&S) and Scholars Transitioning and Realizing Success (STARS)/Foster Youth programs earlier this month.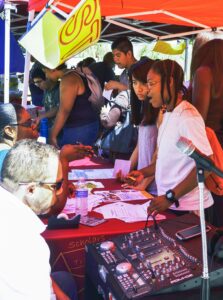 Recipients of school supplies and a lunch of burgers, chips, apples, fruit water, and popcicle big sticks to help cool off in one of summer's hottest days, the eager students completed applications during the Sept. 8 event in anticipation of receiving benefits and assistance from the program for the fall semester.
Students Mallory Covarrubias, music and music education, and Nathan Jimenez, electrical engineering, emerged from the bustling tents with goodies in hand, having just completed their applications and anxious to see the results.
Covarrubias heard of PCC while watching the Rose Parade. Now here and excited that she has been recently accepted into the Pasadena City College Tournament of Roses Honor Band, she is also hopeful about potential assistance from the EOP&S program.
"It was surprisingly easing and straight forward to apply," said Covarrubias. "I'm hoping to get accepted into the program. It's pretty cool, the priority registration, and I just pretty much want to get my schooling done as fast as possible, get my AA, and then continue on to a four-year college. And there is free food, so I am pretty happy about that."
Jimenez, also a musician, is unsure of all the benefits that are to come from the program. But she was happy about some of the perks available at the event.
"They talked to me about the EOP and it sounded like something I'd want to sign up for," said Jimenez.
A success story herself as a foster student, Theresa Reed, a STARS advisor, completed her education at PCC, earned her Master's degree in education, and is currently seeking her doctorate in educational leadership. She hopes to inspire students to seek their own goals, and the day's event was an outreach and awareness to the entire campus.
"I am working with any student that was/is a foster care student in any way, shape or form for any length, any time," said Reed, a volunteer in the quad tent. "The hope is to connect as many students who have an interest into going to school, to pursue their education, and what are their options. It's kind of a 'if I can do it, you can do it.'"
A first year for this outreach event, Niki Dixon-Harrison, acting coordinator for EOP&S foster youth programs, provided over a hundred students in the Creveling Lounge with information on the program while they enjoyed a lunch and received backpacks with supplies to get the students started in their first week back to school.
"Our department was awarded student equity funds, which was to increase awareness to our programs," said Dixon-Harrison. "And not just for students, but also faculty and staff so that we are aware of the students if they are working with a student in need so that they can refer that student."
Per Dixon-Harrison, $100,000 was provided for the combined programs, which will also allow for the hiring of adjunct counselors who will work exclusively with foster youth "whether the student is in EOP&S or not," she said.
The funds also assist in providing community outreach outside the campus as well, including at annual festivals and events such as the African American Heritage Day parade and the Latino Heritage Day parade.
"There is a Town Hall for foster youth that is sponsored by Senator Carol Liu's office that we've supported, so there's a lot of existing community outreach that we do that we connect ourselves to," Dixon-Harrison said.
At PCC, the percentage of students currently in need is not clear. However, there are about 4,000 potentially eligible students who currently receive federal grant funds.
"There are a lot of barriers that still exist and that's why EOP&S is critical today, just as it was when it was founded in the late 1960s," she said. "We realize that students struggle with getting books. We realize that students struggle with just to getting to class. We realize that some environments are not conducive for student learning at a college level and so we do these things to help remove these barriers."
The Student Equity funds received are being used to provide benefits such as counselors for student support, bus passes, parking permits, and $400 book vouchers available just this year.
"These are barriers that prevent student from continuing their education and drop out," said Dixon-Harrison. "And we don't want our students to drop out."