Pulsating bass and the smell of beer consumed me as soon as I entered Angels Stadium in Anaheim last weekend. Immersed in the rhythmic beats and syncopated rap verses, Day N Night festival, presented by Revolt and sponsored by Postmates, delivered a rap and hip-hop three-day extravaganza worthy of Coachella status.

The festival, held directly outside of the stadium, showcased a main stage, dubbed the Postmates stage, which was flanked by two smaller stages, Day Stage and Night Stage on opposite ends of the venue.
Friday morning was kicked off with a performance from De'Wayne Jackson on the Day Stage, while several food trucks had long lines of people hoping to get some tacos, loaded fries or burgers with their beer.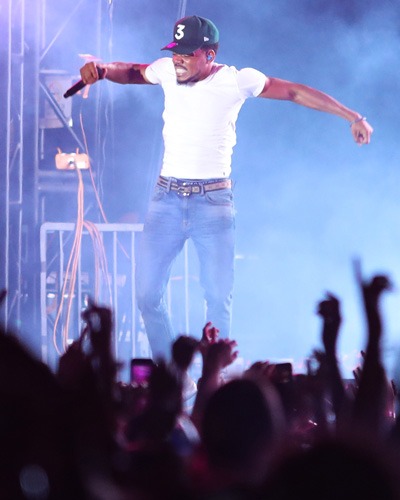 Attendees had a large choice of beverages from Heineken, Corona, Modelo Especial, Ballast Point Ale, Jack Daniels Tennessee Honey cocktails and even delicious dry berry cider from 2 Town's Ciderhouse. For those looking for an energy kick to propel them through the festival, Monster Energy was on hand with their signature drinks.
HUF, clothing line and one of the festival sponsors, gave away 1,000 free pairs of their socks every day of the festival. Millennials, known for loving free swag, stood in line for the free foot warmers which ran out within two hours every day.
A wonderful addition were all of the cooling stations set up for attendees, which were huge fan machines blowing cool water all over the fans who stood in front of them, when they needed a quick cool down and respite from the heat.
The Good
The live performances. No one can deny that Travis Scott brought the house down on opening night of the festival. However, other standout performances came from MadeIntYo, They, Kamaiyah, Azizi Gibson and Kodak Black. The big surprise came from the MadeIntYo performance that turned into a mosh pit, causing the rapper to taunt the men who crowd-surfed out of the pit.
"I don't respect any male out here crawling out of the fucking crowd," he said. "If you wanna be a cool guy [and just stand there], get the fuck out of this bitch."
Gibson chose a more inspirational route when engaging with his audience, encouraging them to work towards their dreams, even if they happen to accel at something else.
"If you want to be a football player, but you happen to be really good at baseball, that doesn't mean you shouldn't be a football player," Gibson said.
"You practice hard as shit and be the best football player you can be. You're all here today for a reason because you're special."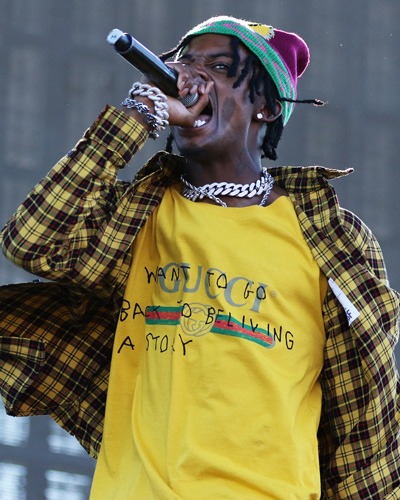 On Saturday, this trend continued with soulful performances from Sza and Ari Lennox, to powerhouse rap performances by Playboi Carti, Lil Uzi Vert,  Rich Chigga and Vic Mensa, who got the crowd hyped with a "Fuck the Police," chant after performing his harrowing song "16 shots." Saturday night closed out with Chance the Rapper, who basically held the equivalent of a millennial church sermon on the main Postmates stage.
Chance had the crowd feeling the spirit as he performed "All We Got" and "Blessings." In the spirit of a young pastor speechifying to his flock, each song was executed as if he was delivering a rousing and motivational sermon from the pulpit.
He then gave a word to the crowd before his final song of the evening when he said, "I noticed on that last joint … you know the one thing scarier, the one thing crazier, the one thing stronger than a strong person, is a fearless person."
Sunday night was by far the most anticipated of the festival due to the final night's line up. While great performances took place on the smaller Day and Night stages, the place to be was the Postmates stage where everyone waited in anticipation for 21 Savage, YG and the closing performance from Kendrick Lamar. 
YG was by far the most lit performance of the evening, bringing out two strippers who performed on poles on the strip club set that was constructed. After their performance, YG took the opportunity to give some sage financial advice to both women.
"Ladies, don't spend your money on no red-bottom heels and Louis Vuitton, save your money," YG said. "Stack your shit, flip it, build it, stack it, flip it and build it and keep doing it."
He then closed out his set on a political note with a Donald Trump impersonator who came out to a booing crowd, who YG then chased off the stage and performed one of his signature hits, "Fuck Donald Trump."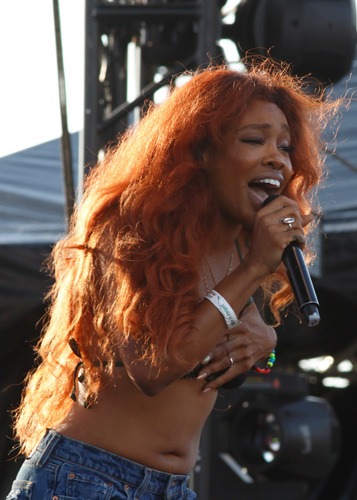 Kendrick Lamar was by far the most anticipated performer of the entire festival, and for good reason. A thunderous cacophony of cheers rose into the darkness, as the lights went down and his intro video began on the screen.
Lamar's video introduced his character "Kung Fu Kenny" in its signature cheesy Kung Fu exploitation movie style, then segued into Lamar appearing onstage with pyrotechnic explosions as he launched into his hit song, "DNA."
Lamar continued to put fans to the test performing songs from his older albums to see who the long-time fans were. Fan favorites such as "King Kunta," "Alright," "Element" and "Loyalty" were also performed during his visually stunning set. Lamar closed out his set and the festival with his current hit single "Humble" which had fans singing the chorus for him while he held the microphone out to the crowd. Fans were still rapping the words to his songs as the stadium emptied out.
The Bad
As much as it pains me to say this, 21 Savage gave a seriously underwhelming performance. Appearing on stage with little theatricality wearing a pair of black and white checkered overalls, the rapper walked through his set with lackluster energy as if he was doing a tech run through. There weren't even any visuals to help make the performance more interesting besides images of his name on the screen in red horror-movie font and the Jason mask from the "Friday the 13th" films. The best part of 21 Savage's performance was seeing his girlfriend, Amber Rose on the side of the stage cheering him on.
Then there was the price of water. All three days were incredibly hot and required attendees to stay hydrated. That was an expensive task as practically every vendor was selling 500 ml bottles of generic bottled water for $3 a pop. Bringing your own bottled water was allowable, but if you wanted ice cold water after four hours of dancing and moshing, you had to fork over the $3 for each bottle. Even gas stations and drug stores, known for their ridiculously high markups, only sold those same bottles for $1 a piece.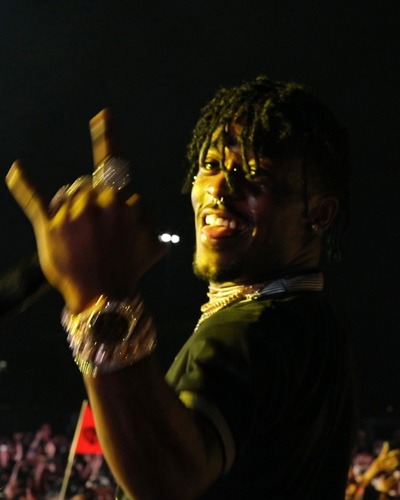 The Ugly
The food offerings.
While this year boasted much more extensive food choices than the previous year, much was left to be desired. On a positive note, the standout was Belly Bombz Korean-Inspired wings and Pork Belly sliders, in taste and in price. The Pork Belly sliders melted in your mouth while interspersed with a tangy slaw, and their soy caramel flavored chicken wings tasted like pure heaven. That's where the good part ends.
Bob's Country Cookin served up hand breaded chicken tenders that tasted like biting into a breaded sponge, which left me questioning the authenticity of this so-called "chicken" and how much of it was actual meat.
Street Kitchen LA, normally a popular food truck, failed to deliver on quality and service. Due to their popularity they were out of all of their macaroni and cheese dishes, so I ordered their filet mignon tater tots. What I got was a disgusting looking blob of dry steak, tater tots and some kind of orange semi-spicy sauce. When you order, there were no prices listed on anything. You were told you had to order first then be told your price, leading many to hold the line up by having to reorder when the price was too expensive for them. My steak tater tots blob carried a $15 price tag, which was double what it was worth.
Day N Night festival delivered in the best possible ways. While the logistics of the refreshments should certainly be reevaluated next year, along with the vendor choices, the most important part of the weekend was the artist line up and their subsequent performances.
They are what bring these loyal fans out to begin with and the majority of the artists proved why they have such large legions of supporters by delivering heart pounding, fun and turnt performances that no one can deny made every penny spent on the tickets worth it.
Latest posts by Amber Lipsey
(see all)