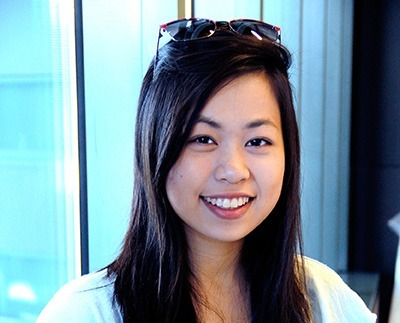 This past summer has been a fruitful one for 21-year-old Cydney Ee, who beat out fellow pop star hopefuls from Los Angeles, New York and San Francisco to emerge as the champion in the Chinese-American talent competition ETTV Top Idol.
If there was anything that influenced Ee's passion for music, it was Disney Channel. As a child growing up watching shows like "High School Musical" and "Hannah Montana," she realized from a young age that she wanted to be a singer someday.
When a friend sent her information about Top Idol via Snapchat over the summer, she decided to try it out for fun. An innocent audition transformed into six weeks of competitive performing.
"I really didn't plan to [join the competition]," Ee admitted. "But I just went for it and it became this."
In between working at a regular job in the mall, taking summer classes, and being on an internationally televised singing competition, it was not entirely a smooth ride for her. Every week would involve learning a new song, working on new choreography, picking out a new outfit and several hours of rehearsal and preparation.
"Finding your own outfit was the hard part," Ee said.
All her efforts finally paid off when she placed first in the Top Idol national finals in August.
"I wasn't really expecting the win," Ee said. "I didn't really feel anything crazy—it hasn't really sunk in yet!"
"We [the family] are proud of her because she persisted through good and tough times," said her older brother Jermaine Ee. "Winning the competition is a wonderful encouragement for her and others to keep doing what they love."
After her victory, Ee made a trip to Taiwan to shoot promotional content for ETTV and China Airlines.
"I wouldn't say [my Mandarin is] the best," she joked, "but I can understand and speak some."
In spite of her newfound success, Ee is committed to remaining focused on school.
"Music is definitely just something I do on the side," she said. "College gives you a reality check for what you want to do in your future."
She added that although she started off posting covers and original songs on YouTube and SoundCloud two to three years ago, she stopped because "school and life got in the way."
The communications major, who has been a student at PCC since the fall of 2012, plans on transferring to CSU Long Beach—where she has been accepted—or CSU Fullerton in the spring.
"I'm looking into getting into public relations or maybe marketing in the future," she said. "If anything, I'll start doing event planning. You can find your own clients, build your own relationships … It's all based on yourself."
Ee cites performing arts instructors Brad Steed and Zachary Matthews as mentor-like figures to her. Although she has never taken any of their classes, she forged strong relationships with them and her fellow co-workers when she worked at PCC's music lab.
"The music lab staff was pleasantly surprised to learn that Cydney Ee, one of our student workers in the lab, had won a pop vocal competition!" said Steed. "Although she isn't working in the lab any more, we were all thrilled that she was chosen as a winner, and hope that by her participation in this event, she will receive more recognition and acclaim for her singing ability."
Coming up next for this promising young musician is a performance at the "Dream Idol Night" event at Club Nokia on Oct. 9. The event, headlined by YouTube star Jason Chen and Taiwanese pop star Princess Ai, will celebrate the best of Mandopop and Asian-American music.
Chen and Ai will be joined onstage by Ee, fellow Top Idol contestant Tony Tseng and previous Top Idol winners. "It's going to be a fun show [followed by] an after-party!" Ee said.
Also coming up on Ee's slate is new music.
"I'm looking to make more songs," she said. "I'm writing a little but that bit's a little hard to get back into."