A hard worker his whole life, Don Eckmann, facilities services supervisor, has come a long way since he first started working construction for a family friend at the age of 12. "I started around my dad's house with a contractor he knew and then worked for his company," said Eckmann.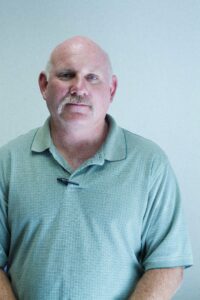 He learned early about hard work that's why it was no surprise when Eckmann was awarded the 2013 California Community College Classified Employee of the Year Award. "It's nice to be recognized and when I found out it was exciting. To say it wasn't wouldn't be truthful," he said.
When Eckmann arrived at PCC in 1988, he had plenty of experience working in construction and even supervising small construction crews. But, he started his career here as a carpenter.
When a supervisor position opened in 2000, Eckmann's previous experiences got him the job.
Jack Schulman, director of Measure P Projects, who has known Eckmann since he began working at PCC, said Eckmann received the award because he takes his job seriously. "The awards are given because of the support to students and staff, and Don has always made that his first priority," said Schulman.
Eckmann attributes his hard work ethic to his father whom he described as the type of man that would fix the toaster when it was broken as opposed to taking it to Sears.
"My father did everything out of necessity. He was the type of person who could read a book and then rebuild a car engine. My whole family is that way, [but my] work ethic comes from dad," he said.
Anni Kocharyan, accountant clerk II, who has been working with Eckmann for nine and a half years, describes him as an overall good man.
"[He is] very pleasant, hard working, helpful and an understanding man with a good heart," said Kocharyan.
Despite receiving such a prestigious award, the humble Eckmann is not the type to let it go to his head. Instead, he sees it as a validation of a job well done. "It's not going to change my attitude on what I do. What the award signifies is that I'm doing the right things," he said.
Latest posts by Paul Ochoa
(see all)